Mon Jul 29, 2013, 09:55 PM
Purveyor (29,655 posts)
NASA Turns 55: Iconic Moments in America's Space Program
WASHINGTON, July 29 (Suleiman Wali for RIA Novosti) — Spurred to action by the Soviet Union's successful space program that sent the world's first satellite into orbit, US President Dwight Eisenhower knew that America needed a more organized and focused effort that could compete with the country's Cold War adversary. That realization led to the creation 55 years ago of the National Aeronautics and Space Administration (NASA).
With the Cold War over, and with space cooperation replacing the space race, NASA has had many milestones since its creation in 1958—the early ventures of which were initiated merely to keep up with the Soviets.
Here are 15 iconic moments in NASA's 55-year history.
1. After Russia launched the world's first satellite, Sputnik (Russian for "traveling companion"), NASA immediately began work on its own design. Following three months of development, Explorer 1 was launched and began circling the earth 12 times per day for a dozen years. Here, the scientists who created the satellite hold up a full-scale model of Explorer 1 in Washington in 1958, after confirmation that it was successfully in orbit.
2. The X-15 rocket aircraft—a joint program by NASA, the US Air Force and Navy, and North American Aviation—made 199 flights to the edge of space between 1959 and 1968, breaking speed and altitude records at the time. Among its pilots was a young Neil Armstrong, pictured here.
MORE...
http://en.rian.ru/news/20130730/182483177/NASA-Turns-55-Iconic-Moments-in-Americas-Space-Program.html
5 replies, 739 views
Replies to this discussion thread
| | | | |
| --- | --- | --- | --- |
| 5 replies | Author | Time | Post |
| NASA Turns 55: Iconic Moments in America's Space Program (Original post) | Purveyor | Jul 2013 | OP |
| | MintyWriter | Jul 2013 | #1 |
| | DreamGypsy | Jul 2013 | #2 |
| | DreamGypsy | Jul 2013 | #3 |
| | bettyellen | Jul 2013 | #4 |
| | tritsofme | Jul 2013 | #5 |
---
Response to Purveyor (Original post)
Mon Jul 29, 2013, 10:02 PM
MintyWriter (17 posts)
1. No doubt
one of the best investments our country has made.
---
Response to Purveyor (Original post)
Mon Jul 29, 2013, 10:16 PM
DreamGypsy (2,248 posts)
2. Here's an iconic photo from NASA, just six days ago ...
...from 2013 July 23: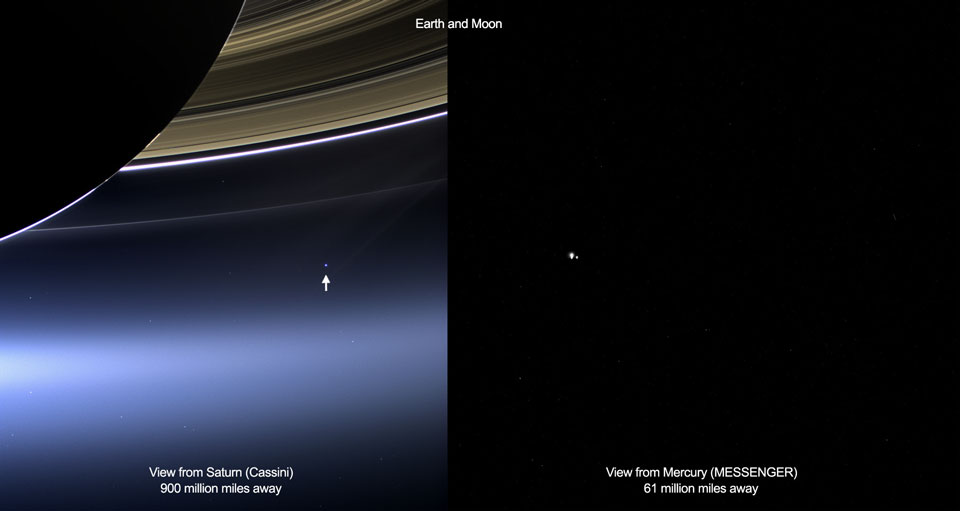 In a cross-Solar System interplanetary first, our Earth was photographed during the same day from both Mercury and Saturn. Pictured on the left, Earth is the pale blue dot just below the rings of Saturn, as captured by the robotic Cassini spacecraft now orbiting the gas giant. Pictured on the right, the Earth-Moon system is seen against a dark background, as captured by the robotic MESSENGER spacecraft now orbiting Mercury. In the MESSENGER image, the Earth (left) and Moon (right) shine brightly with reflected sunlight. MESSENGER took the overexposed image last Friday as part of a search for small natural satellites of the innermost planet, moons that would be expected to be quite dim.
NASA is our transporation for the ultimate trip.
https://encrypted-tbn3.gstatic.com/images?q=tbn:ANd9GcTPyP0_zb_1eXjYygg9M6XOpdTCN4IztIV2j_0pD6JMuo9pPI4U
---
---
Response to Purveyor (Original post)
Mon Jul 29, 2013, 10:46 PM
bettyellen (43,871 posts)
4. good stuff- thank you!
---
Response to Purveyor (Original post)
Mon Jul 29, 2013, 10:48 PM
tritsofme (12,617 posts)
5. It is a sad time for NASA and America
that we cannot even send a man into space without hitching a ride from the Russians.