Mon Jul 22, 2013, 09:23 AM
MrScorpio (67,950 posts)
Enough Is Enough...
Last edited Mon Jul 22, 2013, 03:54 PM - Edit history (1)
Quite frankly, the GOP should have lost any kind of respect from Democrats eons ago. This current collection of Right Wing demagogues, conspiracy theorists, misogynists, Jim Crow promoters and war mongers must not be co-operated with any more.
They are the party of all the worst ideas imaginable.
Democrats should stop thinking that any of their ideas can be rehabilitated in any way, as if a Democratic version of a Republican bad idea could work either. The realization is that they can't, Republican ideas are all inherently bad.
There are some things that I wish Democrats would stop doing... First thing is giving up and simply letting Republicans have their way. Democrats should be fighting tooth and nail against bad Republican ideas, whatever the outcome... Win, lose or draw. I don't care.
With apologies to the "Galaxy Quest" crew, "Never give up, never surrender."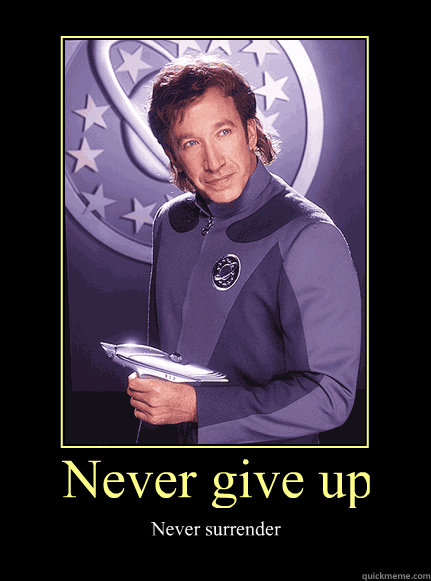 This should be a motivational poster on every Democrat's wall.
Next, and this is a hard one... Stop trying to convince Republicans that they're wrong and all Democrats need to do is to use a factual convincing argument to change their ways
.
I'm sorry, Republicans just simply aren't interested in facts and they most certainly aren't concerned with the concerns of Democrats in a way that they would change their minds.
Republicans are a lost cause. The only good Republican is one who would stop being a Republican, in order to change into either an Independent or a Democrat.
Yes, it's an innate trait of Democrats to rehabilitate, guide, teach and convert people with logic and facts. There are plenty of people out in the world who will be convinced of what is right when exposed to those things... However, today's Republicans will never be those people.
[bNext, which is the very hardest for Democrats; stop saving their asses when they fail.
If you can't stop them, simply let the chips fall as they may. Sure, even when they're the only ones in charge, they'll create scapegoats and straw men to explain away why they've tanked the economy or threw hundreds of thousands into unemployment. Instead of Democrats coming around and fixing their bad ideas... If we get the chance to take over, we should completely scrap their bad ideas and replace them with what we know works.
They've lost all legitimacy and aren't worth the effort.
A friend of mine suggested that the two previously mentioned types of behavior amounted to a form of co-dependency by Democrats. Republicans are addicted to their bad ideas and all Democrats are doing to simply validating the basic premise of those bad ideas. Frankly, we should stop conducting interventions with Republican bad ideas. It's annoys them and takes up too much of out precious time and effort.
Their ideas can't be fixed or changed to be made practical or functional. They needs to scrapped completely.
Next. stop being fucking scared of Republican accusations and fear mongering. When Democrats takes that crap under advisement, Democrats invariably end up with eggs on their faces.
Stop paying attention to garbage... And it's all garbage where the Republicans are concerned.
Now, I suppose you're wondering what the result would be if Democrats stop supporting the basic premises of Republican bad ideas... Well, quite simply, those ideas will fail. When and where the Republicans are in completely charge, and there is absolutely nothing that Democrats can do to stop those bad ideas, the result will obviously be a bottoming out effect from the catastrophic failure that would be brought about from their bad ideas.
Now, frankly I seriously doubt that any long standing Democrat has it within himself or herself to practice tough love with Republicans as they fling themselves, and by extension, everyone else head-long into the abyss.
Talk about hard, that Chinese trigonometry hard for Dems. But I'm sorry, but we just can't continue doing this yo-yo effect of bad ideas and rehabilitated bad ideas, because one way or the other, faster or slower, we're just going to bottom out anyway.
It's about time they faced their failures without Democratic interference.
Cruel and harsh? Yes... But necessary.
The reason being stems from an age old traditional American trait of only doing the right thing when all other options have been completed exhausted.
If Democrats can't fight or fail after fighting against them, the only thing left is to let them defeat themselves. Don't try to save them, they won't appreciate the effort anyway.
One main problem that we have today is that we are all existing within a patchwork of mitigated bad Republican ideas... Democrats are simply not building their own ideas, promoting them and implanting them.
Lewis Black said it quite succinctly, "Republicans are the party of bad ideas and Democrats are the party of no ideas." If all Democrats are doing is attempting to rehabilitate one bad Republican idea after another, when do they have the time, effort and will to develop, promote and implement ideas that are uniquely all their own? It's not happening and hasn't happened in decades.
Hence, this Republican borne hell that we're all living in today.
Lastly... Start working and thinking like DEMOCRATS.
Do you want grass roots support? Of course, you do. The only way that Democrats can move into the greater and undisputed political preference is when the people feel desperate enough to stop living off of Republican fantasies and start living in the real world.
Yes, restructuring the nation after their failures will be a very difficult charge to lead. But it's the only choice that Republicans have left behind of everyone else.
Be firm, but fair... There is NO other choice.
4 replies, 978 views
Replies to this discussion thread
| | | | |
| --- | --- | --- | --- |
| 4 replies | Author | Time | Post |
| Enough Is Enough... (Original post) | MrScorpio | Jul 2013 | OP |
| | LisaLynne | Jul 2013 | #1 |
| | Scuba | Jul 2013 | #2 |
| | Mnemosyne | Jul 2013 | #3 |
| | woofless | Jul 2013 | #4 |
---
Response to MrScorpio (Original post)
Mon Jul 22, 2013, 09:33 AM
LisaLynne (14,554 posts)
1. This one is particularly hard to swallow for a lot of people on the reality side of life:
Stop trying to convince Republicans that they're wrong and all Democrats needs to do is to use a factual convincing argument to change their ways.
That and that pointing out their hypocrisy should make a difference to them or at least to those who would vote for them. You would think it would. You would think looking at the facts would matter or cause them to rethink their positions or SOMETHING. But, no, it doesn't. Some of them are immune to cognitive dissonance and others are actually working towards some other agenda, but using whatever nonsensical cause they are on at the moment to get the votes/power/money they need.
But most of us are liberals, progressives, and Democrats because we like facts and we use facts to shape our world view. They don't. And we need to realize that and stop thinking that showing them factually that they are wrong, that they are being hypocritical, is going to actually change them. It's not. We're wasting our time there.
As always, great post, BTW.
---
Response to MrScorpio (Original post)
Mon Jul 22, 2013, 09:52 AM
Scuba (53,475 posts)
2. Well done Scorpio, thanks. Recommend reading "The Political Brain" by Drew Weston ...
... a great read about how Dems have failed to sieze opportunity after opportunity to control the message and win elections.
---
Response to MrScorpio (Original post)
Mon Jul 22, 2013, 12:34 PM
Mnemosyne (21,363 posts)
3. Hear, hear! Nt
---
Response to MrScorpio (Original post)
Mon Jul 22, 2013, 01:53 PM
woofless (2,584 posts)
4. Superb post MrS.