Wed Jul 17, 2013, 06:51 PM
MrScorpio (68,459 posts)
When the Media warned of post-verdict riots, did any of them think about Tulsa, OK in 1921?
Tulsa race riot
The Tulsa Race Riot was a large-scale, racially motivated conflict on May 31 and June 1, 1921, in which whites attacked the black community of Tulsa, Oklahoma. It resulted in the Greenwood District, also known as 'the Black Wall Street'[1] and the wealthiest black community in the United States, being burned to the ground. During the 16 hours of the assault, more than 800 whites were admitted to local white hospitals with injuries (the black hospital was burned down), and police arrested and detained more than 6,000 black Greenwood residents at three local facilities, in part for their protection.[2] An estimated 10,000 blacks were left homeless, and 35 city blocks composed of 1,256 residences were destroyed by fire. The official count of the dead by the Oklahoma Department of Vital Statistics was 39, but other estimates of black fatalities have been up to about 300.[2]
The events of the riot were long omitted from local and state histories. "The Tulsa race riot of 1921 was rarely mentioned in history books, classrooms or even in private. Blacks and whites alike grew into middle age unaware of what had taken place."[3] With the number of survivors declining, in 1996, the state legislature commissioned a report to establish the historical record of the events, and acknowledge the victims and damages to the black community. Released in 2001, the report included the commission's recommendations for some compensatory actions. The state has passed legislation to establish some scholarships for descendants of survivors, economic development of Greenwood, and a memorial park to the victims in Tulsa. The latter was dedicated in 2010.
http://en.wikipedia.org/wiki/Tulsa_race_riot
10 replies, 3118 views
Replies to this discussion thread
| | | | |
| --- | --- | --- | --- |
| 10 replies | Author | Time | Post |
| When the Media warned of post-verdict riots, did any of them think about Tulsa, OK in 1921? (Original post) | MrScorpio | Jul 2013 | OP |
| | okaawhatever | Jul 2013 | #1 |
| | truebluegreen | Jul 2013 | #2 |
| | JVS | Jul 2013 | #7 |
| | truebluegreen | Jul 2013 | #10 |
| | KittyWampus | Jul 2013 | #3 |
| | chervilant | Jul 2013 | #4 |
| | BlueToTheBone | Jul 2013 | #5 |
| | rurallib | Jul 2013 | #6 |
| | freshwest | Jul 2013 | #8 |
| | HipChick | Jul 2013 | #9 |
---
Response to MrScorpio (Original post)
Wed Jul 17, 2013, 06:55 PM
okaawhatever (8,247 posts)
1. Damn. this also brings up something I was reading yesterday about the former Gov of Indiana
editing history class teachings and banning books by certain historians. We need to come up with a national history council or something and decide what will be taught.
---
Response to okaawhatever (Reply #1)
Wed Jul 17, 2013, 07:02 PM
truebluegreen (9,033 posts)
2. There used to be a joke about the USSR
being the only country with an uncertain past...because it kept being rewritten.

If the national history council you propose could be made up of the equivalent of peer-reviewed historians I'd support it. Otherwise it is just another outlet for propaganda.

With a master's in history I think the latter is far more likely.
---
Response to truebluegreen (Reply #2)
Wed Jul 17, 2013, 08:36 PM
JVS (61,935 posts)
7. I was under the impression that the people who select the textbooks for all the schools in Texas...
constituted a de facto council on various subjects.
---
Response to JVS (Reply #7)
Thu Jul 18, 2013, 08:17 AM
truebluegreen (9,033 posts)
10. I think you are right--
which explains a lot about the state of education doesn't it?
---
---
Response to MrScorpio (Original post)
Wed Jul 17, 2013, 07:16 PM
chervilant (8,250 posts)
4. Thank you for posting this.
Sad that -- at this point in our nation's history -- the color of a child's skin would have any bearing on his relative safety walking home with skittles and an Arizona Tea...
---
Response to MrScorpio (Original post)
Wed Jul 17, 2013, 07:53 PM
BlueToTheBone (3,747 posts)
5. According to my friend who lived through this horror
there were 600 to 900 people killed... the Arkansas River was choked with bodies.
---
Response to MrScorpio (Original post)
Wed Jul 17, 2013, 08:33 PM
rurallib (46,271 posts)
6. have heard said this and the "Trail of Tears"
are the 2 most under reported events in US history.
Both entailed calamitous treatments of minorities.
---
Response to MrScorpio (Original post)
Wed Jul 17, 2013, 09:09 PM
freshwest (53,661 posts)
8. I was telling a friend about it yesterday in detail after the faux riot dialogue on teevee and...
The Rosewood massacre
The remains of Sarah Carrier's house where two blacks and two whites were killed in Rosewood in January 1923

The Rosewood massacre was a violent, racially motivated conflict that took place during the first week of January 1923 in rural Levy County, Florida, United States. At least six blacks and two whites were killed, and the town of Rosewood was abandoned and destroyed in what contemporary news reports characterized as a race riot. Racial disturbances were common during the early 20th century in the United States, reflecting the nation's rapid social changes. Florida had an especially high number of lynchings in the years before the massacre, including the well-publicized Perry race riot where a black man had been burned at the stake in December 1922.

Rosewood was a quiet, primarily black, self-sufficient whistle stop on the Seaboard Air Line Railway. Spurred by unsupported accusations that a white woman in nearby Sumner had been beaten and possibly raped by a black drifter, white men from nearby towns lynched a Rosewood resident. When black citizens defended themselves against further attack, several hundred whites combed the countryside hunting for black people, and burned almost every structure in Rosewood. Survivors hid for several days in nearby swamps and were evacuated by train and car to larger towns. Although state and local authorities were aware of the violence, they made no arrests for the activities in Rosewood. The town was abandoned by black residents during the attacks. None ever returned.

Although the rioting was widely reported around the country, few official records documented the event. Survivors, their descendants, and the perpetrators remained silent about Rosewood for decades. Sixty years after the rioting, the story of Rosewood was revived in major media when several journalists covered it in the early 1980s. Survivors and their descendants organized to sue the state for having failed to protect them. In 1993, the Florida Legislature commissioned a report on the events. As a result of the findings, Florida became the first U.S. state to compensate survivors and their descendants for damages incurred because of racial violence. The massacre was the subject of a 1997 film directed by John Singleton. In 2004, the state designated the site of Rosewood as a Florida Heritage Landmark...
More at link:
http://en.wikipedia.org/wiki/Rosewood_massacre
I told my friend they could not bear to see black success. Based on their hard work and industry. It was ethnic cleansing, why not call it what it was?
Ethnic cleansing
is a euphemism describing the process or policy of eliminating unwanted ethnic or religious groups by deportation, forcible displacement, mass murder, or by threats of such acts, with the intent of creating a territory inhabited by people of a homogeneous or pure ethnicity, religion, culture, and history. Ethnic cleansing usually involves attempts to remove physical and cultural evidence of the targeted group in the territory through the destruction of homes, social centers, farms, and infrastructure, and by the desecration of monuments, cemeteries, and places of worship...

An earlier draft by the Commission of Experts defined ethnic cleansing as "the planned deliberate removal from a specific territory, persons of a particular ethnic group, by force or intimidation, in order to render that area ethnically homogenous." It based this definition on "the many reports describing the policy and practices conducted in the former Yugoslavia, 'ethnic cleansing' has been carried out by means of murder, torture, arbitrary arrest and detention, extra-judicial executions, rape and sexual assaults, confinement of civilian population in ghetto areas, forcible removal, displacement and deportation of civilian population, deliberate military attacks or threats of attacks on civilians and civilian areas, and wanton destruction of property. Those practices constitute crimes against humanity and can be assimilated to specific war crimes. Furthermore, such acts could also fall within the meaning of the Genocide Convention"....

The idea in ethnic cleansing is "to get people to move, and the means used to this end range from the legal to the semi-legal."[7] Some academics consider genocide as a subset of "murderous ethnic cleansing."[8] Thus, these concepts are different, but related, "literally and figuratively, ethnic cleansing bleeds into genocide, as mass murder is committed in order to rid the land of a people..."
http://en.wikipedia.org/wiki/Ethnic_cleansing#Definitions
And the lies told endlessly of welfare queens are not based on reality or logic. The problems of poverty and dysfunction exist in all races.
Black people are not a pit for people to dump garbage in regards to behavior or race. They have served in every capacity anyone of any race ever has, and suffered like this soldier: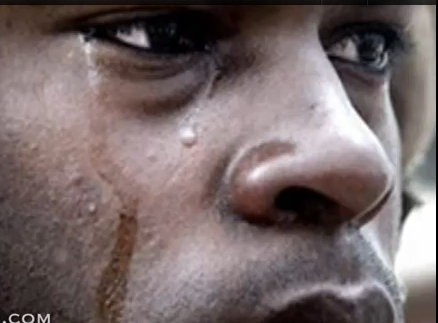 For some people, a person's destiny is set in stone at birth. That's not the Democratic Party ideal. It doesn't allow freedom or progress for anyone.
The misery that is set upon one group, will eventually be visited on others. Is this how majority groups want to be treated?
Set a better example, folks. This is the future you build when you hate and discriminate. America has had some of the best ideals ever according to MLK. It is not a place, he said, but a dream that is coming.
We can do better than this.
---
Response to MrScorpio (Original post)
Wed Jul 17, 2013, 09:12 PM
HipChick (18,573 posts)
9. Thank you for posting..it was written out of history books..