Fri May 31, 2013, 11:54 AM
kpete (70,131 posts)
On behalf of Science-Lovers---Please don't say the word Science when your Ideology is talking
All-Male Fox Panel Freaks Out About Female Breadwinners
"When you look at biology, look at the natural world, the roles of a male and a female in society, and other animals, the male typically is the dominant role. The female, it's not antithesis, or it's not competing, it's a complementary role. We as people in a smart society have lost the ability to have complementary relationships in nuclear families, and it's tearing us apart."
http://www.huffingtonpost.com/2013/05/30/fox-female-breadwinners_n_3358926.html
............................
Dear Fox Business: Nature's Calling
Posted: 05/31/2013 8:52
....................
There are many balanced perspectives on the pros and cons of four out of 10 breadwinners in family households being women, but none are to be found on Fox Business. Watching a collection of supposed experts trying to positively align the idealised (and increasingly narrow) vision of a conservative "nuclear family" and the natural world should be funny, but instead it's just deeply worrying.
.......................
Let's be perfectly honest here, guys. I'm a cartoonist, I'm just gonna draw my doodle and poke a little fun at those who have left themselves embarrassingly open to ridicule, and the nuances and subtleties of exactly how wrong these opinions are will not require my satire to be self-evident.
But that being said, and speaking as someone who knows far from everything, here's my one piece of advice for the Fox Business panel, y'know, just between us blokes:
On behalf of science-lovers everywhere, please please don't say the word Science when your Ideology is talking. It makes you look like an idiot.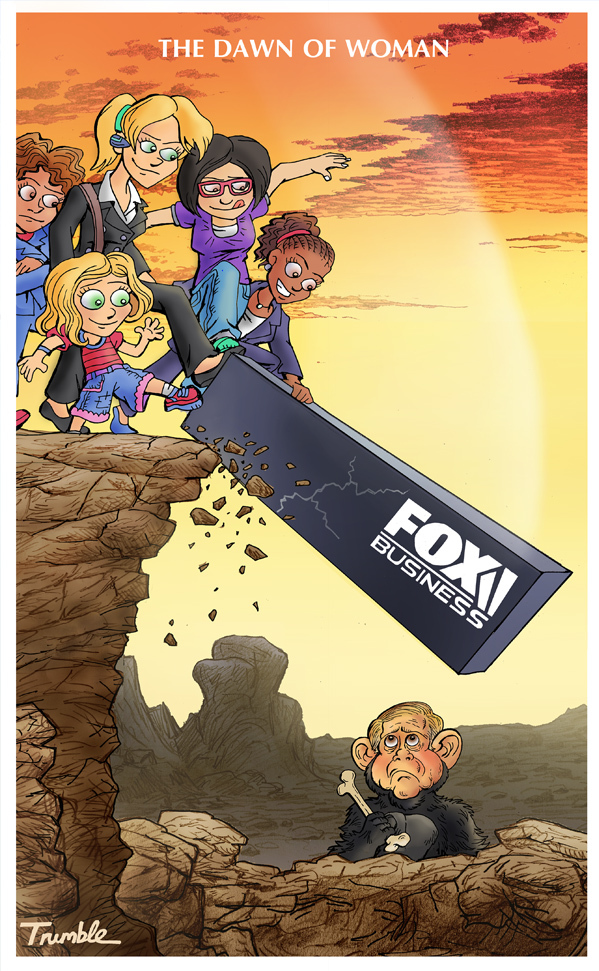 David TrumbleAward-winning artist, cartoonist and illustrator
0 replies, 1588 views