Tue Apr 9, 2013, 11:48 PM
MrScorpio (72,352 posts)
Why Would Anyone Celebrate the Death of Margaret Thatcher? Ask a Chilean
Never have I witnessed a gap between the mainstream media and the public quite like the last twenty-four hours since the death of Margaret Thatcher. While both the press and President Obama were uttering tearful remembrances, thousands took to the streets of the UK and beyond to celebrate. Immediately this drew strong condemnation of what were called "death parties," described as "tasteless", "horrible" and "beneath all human decency." Yet if the same media praising Thatcher and appalled by the popular response would bother to ask one of the people celebrating, they might get a story that doesn't fit into their narrative, which is probably why they aren't asking at all.
I received a note this morning from a friend of a friend. She lives in the UK, although her family didn't arrive there by choice. They had to flee Chile, like thousands of others, when it was under the thumb of General Augusto Pinochet. If you don't know the details about Pinochet's blood-soaked two-decade reign, you should read about them but take care not to eat beforehand. He was a merciless overseer of torture, rapes and thousands of political executions. He had the hands and wrists of the country's greatest folk singer Victor Jara broken in front of a crowd of prisoners before killing him. He had democratically elected Socialist President Salvador Allende shot dead at his desk. His specialty was torturing people in front of their families.
As Naomi Klein has written so expertly, he then used this period of shock and slaughter to install a nationwide laboratory for neoliberal economics. If Pincohet's friend Milton Friedman had a theory about cutting food subsidies, privatizing social security, slashing wages or outlawing unions, Pinochet would apply it. The results of these experiments became political ammunition for neoliberal economists throughout the world. Seeing Chile-applied economic theory in textbooks always boggles my mind. It would be like if the American Medical Association published a textbook on the results of Dr. Josef Mengele's work in the concentration camps, without any moral judgment about how he accrued his patients.
Pinochet was the General in charge of this human rights catastrophe. He also was someone who Margaret Thatcher called a friend. She stood by the General even when he was in exile, attempting to escape justice for his crimes. As she said to Pinochet, &quot
Thank you) for bringing democracy to Chile."
http://www.thenation.com/blog/173731/why-would-anyone-celebrate-death-margaret-thatcher-ask-chilean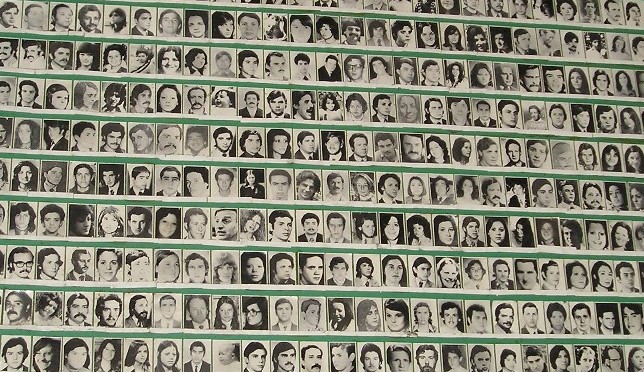 6 replies, 1854 views
Replies to this discussion thread
| | | | |
| --- | --- | --- | --- |
| 6 replies | Author | Time | Post |
| Why Would Anyone Celebrate the Death of Margaret Thatcher? Ask a Chilean (Original post) | MrScorpio | Apr 2013 | OP |
| | 2ndAmForComputers | Apr 2013 | #1 |
| | Beacool | Apr 2013 | #2 |
| | ReRe | Apr 2013 | #3 |
| | Spitfire of ATJ | Apr 2013 | #4 |
| | Gravitycollapse | Apr 2013 | #5 |
| | Ron Obvious | Apr 2013 | #6 |
---
Response to MrScorpio (Original post)
Tue Apr 9, 2013, 11:59 PM
2ndAmForComputers (3,527 posts)
1. K&R
---
Response to MrScorpio (Original post)
Wed Apr 10, 2013, 12:06 AM
Beacool (29,916 posts)
2. "(Thank you) for bringing democracy to Chile."
One more reason to despise the woman. I remember people trying to escape Pinochet's butchers by crossing the Andes on foot to try to reach Argentina. The lucky ones went into exile, the unlucky ones were tortured, like future president Michelle Bachelet and her mother. At least they survived, many others didn't.
Salvador Allende was duly elected by the people of Chile. Who elected Pinochet?
I hope that Maggie and her friend are united in Hell!!!
---
Response to MrScorpio (Original post)
Wed Apr 10, 2013, 01:59 AM
ReRe (10,593 posts)
3. TheNation.com article on Maggie Thatcher...
...marking so I can come back and read. Thanks MrScorpio...
---
---
Response to MrScorpio (Original post)
Wed Apr 10, 2013, 02:07 AM
Gravitycollapse (8,155 posts)
5. But...her spirit...crossing over...forgiveness.
---
Response to MrScorpio (Original post)
Thu Apr 11, 2013, 12:08 AM
Ron Obvious (5,530 posts)
6. On the death of Allende...
I had always assumed it was common knowledge that Allende was killed in a CIA-backed coup. But I moved to the US in 1980, and one of the first magazines I read here was a Reader's Digest (yeah, I know...) which had an article in it describing how Allende had killed himself with a machine gun he had gotten from Castro. It was so blatantly at odds with what I thought I knew, I was utterly astonished. So much so that I still remember it.

I've since realised that this is still mostly the accepted version of his death here, and while I don't claim to know, it seems very unlikely to me to kill yourself with a machine gun. It definitely reeked of propaganda, especially with that gratuitous mention of Castro thrown in. Still, I don't know. Is there a definitive account?