Sat Feb 23, 2013, 07:23 PM
WillyT (72,631 posts)
Georgia Rushes Through Executions Before Lethal Injection Drugs Expire - GuradianUK
Georgia rushes through executions before lethal injection drugs expire
Andrew Cook hurriedly put to death, with US state also seeking to execute disabled Warren Hill before 1 March
Ed Pilkington in New York - The Guardian
Thursday 21 February 2013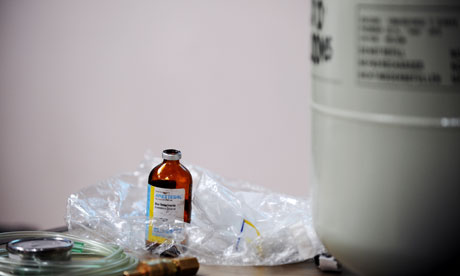 Georgia has 94 people on death row, including the intellectually disabled Warren Hill, but its stock of lethal injection drug pentobarbital expires on 1 March. Photograph: Linda Nylind
<snip>
The US state of Georgia has hurriedly executed Andrew Allen Cook amid a legal scramble to carry out capital sentences before its supply of lethal injection drugs reaches its expiry date of 1 March.
Cook, 38, had been on death row for the killing of two college students in 1995.
The Georgia appeals court on Wednesday temporarily stayed Cook's execution to consider a challenge to the state's lethal injection procedure. But the Georgia supreme court lifted the stay on Thursday. Other appeals were exhausted.
Cook was the first inmate to be executed since the state changed its execution procedure in July from a three-drug combination to a single dose of the sedative pentobarbital.
Georgia is also pushing to execute Warren Hill, who has been diagnosed as intellectually disabled, before 1 March. Hill's death warrant runs until 26 February and Cook's had been due to run out on 28 February.
The attorney general of Georgia – the state's chief prosecutor – is hurriedly trying to have Hill's stays of execution overturned. The courts intervened after it was found that pentobarbital was being ordered by the corrections department for use as a lethal injection without a prescription from a doctor – a breach of federal rules over the distribution of a controlled substance.
The attempt to execute Hill has provoked international condemnation because of his disability...
<snip>
More:
http://www.guardian.co.uk/world/2013/feb/21/georgia-executions-lethal-injection-drug-pentobarbital
2 replies, 833 views
Replies to this discussion thread
| | | | |
| --- | --- | --- | --- |
| 2 replies | Author | Time | Post |
| Georgia Rushes Through Executions Before Lethal Injection Drugs Expire - GuradianUK (Original post) | WillyT | Feb 2013 | OP |
| | Laelth | Feb 2013 | #1 |
| | tblue | Feb 2013 | #2 |
---
Response to WillyT (Original post)
Sat Feb 23, 2013, 07:32 PM
Laelth (20,977 posts)
1. How embarrassing! n/t
---
Response to WillyT (Original post)
Sat Feb 23, 2013, 07:33 PM
tblue (16,350 posts)
2. Ugh.
Well after Troy Davis I decided I have no use for Georgia. A person can be framed and sentenced to death in that state, and remain there despite recanted witness testimony, and now they want to expedite the death penalty before they have to throw the bottle away? Oh hell no.