Sat Feb 23, 2013, 04:19 PM
ashling (24,856 posts)
9 replies, 1807 views
Replies to this discussion thread
| | | | |
| --- | --- | --- | --- |
| 9 replies | Author | Time | Post |
| Being hungry (Original post) | ashling | Feb 2013 | OP |
| | siligut | Feb 2013 | #1 |
| | namaste2 | Feb 2013 | #6 |
| | Diclotican | Feb 2013 | #2 |
| | Smilo | Feb 2013 | #3 |
| | blaze | Feb 2013 | #4 |
| | Demo_Chris | Feb 2013 | #5 |
| | midnight | Feb 2013 | #7 |
| | Skittles | Feb 2013 | #8 |
| | dkf | Feb 2013 | #9 |
---
Response to ashling (Original post)
Sat Feb 23, 2013, 05:14 PM
siligut (12,272 posts)
1. The imbalance in the US has become extreme
The irony is that it is driven by those who profess most to support the teachings of the bible.

Is that a picture from the 50s? Somehow kids were a different kind of cute back then.
---
Response to siligut (Reply #1)
Sat Feb 23, 2013, 11:35 PM
namaste2 (74 posts)
6. This is actually a photo from the Dust Bowl era ~ n/t
---
Response to ashling (Original post)
Sat Feb 23, 2013, 05:43 PM
Diclotican (5,094 posts)
2. ashling
ashling

To have ONE hungry person in a country of plenty is a crime against humanity - to have ten of thousands hungry in a country of plenty is a tragecy...

I hope one day, the ones who is following us - will look back at our age, and wonder, why we was that barbaric, that we was not able, or willing to help everyone to have a decent living - a roof over their head - a bed to sleep in - and at least 3 decent meals to eat every day...

Diclotican
---
Response to ashling (Original post)
Sat Feb 23, 2013, 05:58 PM
Smilo (1,895 posts)
3. But by God we will make
them have those babies knowing they can't put food in their bellies.


---
Response to ashling (Original post)
Sat Feb 23, 2013, 06:07 PM
blaze (2,752 posts)
4. I have never been hungry
I almost feel guilty typing those words... but the fact remains, I have never suffered for want of food. And I am 58 years old.
I make a monthly (automatic) donation to
Food Bank of the Rockies
but it never really feels like I've done enough to help.
As an adult, I can't imagine being that hungry.
As a child... my words cannot express.
---
Response to blaze (Reply #4)
Sat Feb 23, 2013, 07:13 PM
Demo_Chris (6,234 posts)
5. One in five US children go to bed every night without food
They go to sleep hungry and wake up hungry. Their main meal of the day is their school lunch.

In many families, millions of children, the kids get to take turns eating dinner. Tonight it's Billy's turn to eat, and his sister Sarah can watch and wait for her turn tomorrow. And while this is going on we are passing permanent tax cuts for the wealthy -- and there are people here posting about how hard it is to get by on only 30K a month.

I used to help run a charity event for the poor kids in my area. We raised about 70K a year and even penny went to help provide something for local poor kids at Christmas. We would take these kids Christmas shopping at Walmart, no parents allowed. We tried to make sure that every kid got at least one toy they wanted, but most of them had other ideas about what would make a good present.

It's pretty sad when some little girl tells you that she really wants a coat for herself because she doesn't have one, and they have no heat in their house. These are kids, and in my little county alone there were more kids getting nothing than we had money to help.

I have been hungry myself. I'm not now, TODAY, because my wife went to the food bank on Friday. I just had three pieces of bread. Score!
---
Response to ashling (Original post)
Sun Feb 24, 2013, 12:56 AM
midnight (26,624 posts)
7. Why is this notion so hard for people to acknowledge via their mindless deficit talk...
Stop funding deficits, drones and guns, and war... Start funding jobs, and education and health care even if you can't pay for it.... Make minimum wage 16.50....
P.S. link:
http://www.timeforaraise.org/
---
Response to ashling (Original post)
Sun Feb 24, 2013, 03:32 AM
Skittles (113,918 posts)
8. that pic reminds me of me and two of my brothers
my mum had all three of us within 22 months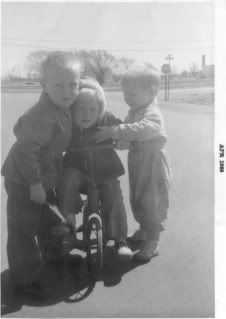 times were very lean but we never went hungry
---
Response to ashling (Original post)
Sun Feb 24, 2013, 04:08 AM
dkf (37,305 posts)
9. Which is why your local food bank is the most important donation you can make.