Sat Feb 23, 2013, 11:08 AM
ProSense (116,464 posts)
Kathleen Sebelius: Holding Insurance Companies Accountable for High Premium Increases
Sec. Kathleen Sebelius
Holding Insurance Companies Accountable for High Premium Increases
The Affordable Care Act prohibits some of the worst insurance industry practices that have kept affordable health coverage out of reach for millions of Americans. It provides families and individuals with new protections against discriminatory rates due to pre-existing conditions, holds insurance companies accountable for how they spend your premium dollars, and prevents insurance companies from raising your insurance premium rates without accountability or transparency.
For more than a decade before the Affordable Care Act health insurance premiums had risen rapidly, straining the pocketbooks of American families and businesses. Oftentimes, insurance companies were able to raise rates without explanation to consumers or public justification of their actions.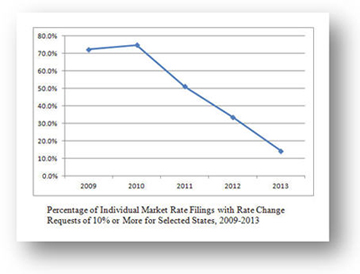 The Affordable Care Act brought an unprecedented level of scrutiny and transparency to health insurance rate increases by requiring insurance companies in every state to publicly justify their actions if they want to raise rates by 10% or more. Insurance companies are required to provide easy to understand information to their customers about their reasons for significant rate increases, and any unreasonable rate increases are posted online.
And it's working.
A new report released today shows that the health care law is helping to moderate premium hikes. Since this rule was implemented, the number of requests for insurance premium increases of 10% or more has dropped dramatically, from 75% to 14%. The average premium increase for all rates in 2012 was 30% below what it was in 2010. And available data suggest that this slowdown in rate increases has continued into 2013.
- more -
http://www.huffingtonpost.com/sec-kathleen-sebelius/holding-insurance-compani_b_2742501.html
Rules finalized for the good stuff in Obamacare
http://www.democraticunderground.com/10022415967
3 replies, 917 views
Replies to this discussion thread
| | | | |
| --- | --- | --- | --- |
| 3 replies | Author | Time | Post |
| Kathleen Sebelius: Holding Insurance Companies Accountable for High Premium Increases (Original post) | ProSense | Feb 2013 | OP |
| | ProSense | Feb 2013 | #1 |
| | mucifer | Feb 2013 | #2 |
| | ProSense | Feb 2013 | #3 |
---
Response to ProSense (Original post)
Sat Feb 23, 2013, 11:54 AM
ProSense (116,464 posts)
1. Kick! n/t
---
Response to ProSense (Original post)
Sat Feb 23, 2013, 12:19 PM
mucifer (12,276 posts)
2. That's good but unless the premiums actually go down and don't keep going up,
people are still going to be angry.
---
Response to ProSense (Original post)
Sat Feb 23, 2013, 07:10 PM
ProSense (116,464 posts)
3. Kick! n/t