Thu Feb 21, 2013, 10:04 PM
trailmonkee (2,656 posts)
Nasty New NC Law Brands DACA (temp dream act) Licenses w/Pink Stripe and 'NO LAWFUL STATUS' Mark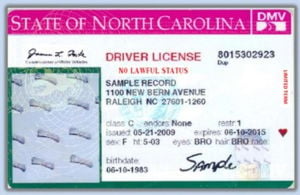 link
to ap story
A new North Carolina driver's license set to be issued to some illegal immigrants has a bright pink stripe and the bold words "NO LAWFUL STATUS," raising concerns about whether the design will brand those who show it.
The North Carolina Division of Motor Vehicles announced last week they would begin issuing the licenses March 25 following a lengthy legal review. The Obama administration's Deferred Action for Childhood Arrivals program grants valid federal work permits to qualified applicants brought to the U.S. as children without legal authorization.
-snip
"A lot of us are just scared," said Marroguin, who came to the U.S. from Mexico when she was 15. "We just want to be able to get a job and drive to work. Having that license is just going to show everybody you're here illegally, just buying a beer or writing a check. You don't know how people might react."
The American Civil Liberties Union of North Carolina also takes issue with the designation.
"North Carolina should not be making it harder for aspiring citizens to integrate and contribute to our communities by branding them with a second-class driver's license," said ACLU attorney Raul Pinto. "There is simply no reason for officials to stigmatize people who are in the U.S. legally with an unnecessary marker that could lead to harassment, confusion, and racial profiling."
-snip
The office of the state's Democratic attorney general in an opinion last month said that under federal law, DACA participants have a "legal presence," even if they do not have "lawful status." Therefore, state law requires that DACA participants be granted licenses. Republican Gov. Pat McCrory's administration of agreed, announcing last week the DMV would begin issuing the licenses.
-snip
Jose Rico, a 23-year-old Raleigh resident from Mexico who has already been issued DACA work permit, said he plans to be in line at the DMV on March 25 to get a license, even if it's pink. He will be extremely disappointed if state legislators pass a bill delaying or a denying his ability to do so.
"I don't know what's wrong with these people, what they're so afraid of people like me," said Rico, who has lived in the U.S. since he was 13. "It's so frustrating. I passed a federal background check, done everything right by the book. I'm paying taxes. I mean, we're just kids trying to go to school."
0 replies, 1100 views