Wed Feb 20, 2013, 11:36 AM
marmar (70,152 posts)
Are the big banks going to take us down.....again?
(
Bloomberg
) Warning: Banks in the U.S. are bigger than they appear.
That label, like a similar one on automobile side-view mirrors, might be required of the four largest U.S. lenders if Thomas Hoenig, vice chairman of the Federal Deposit Insurance Corp., has his way. Applying stricter accounting standards for derivatives and off-balance-sheet assets would make the banks twice as big as they say they are -- or about the size of the U.S. economy -- according to data compiled by Bloomberg.
"Derivatives, like loans, carry risk," Hoenig said in an interview. "To recognize those bets on the balance sheet would give a better picture of the risk exposures that are there."
U.S. accounting rules allow banks to record a smaller portion of their derivatives than European peers and keep most mortgage-linked bonds off their books. That can underestimate the risks firms face and affect how much capital they need. ...................(more)
The complete piece is at:
http://www.bloomberg.com/news/2013-02-20/u-s-banks-bigger-than-gdp-as-accounting-rift-masks-risk.html
4 replies, 837 views
Replies to this discussion thread
| | | | |
| --- | --- | --- | --- |
| 4 replies | Author | Time | Post |
| Are the big banks going to take us down.....again? (Original post) | marmar | Feb 2013 | OP |
| | leveymg | Feb 2013 | #1 |
| | msongs | Feb 2013 | #2 |
| | bvar22 | Feb 2013 | #3 |
| | just1voice | Feb 2013 | #4 |
---
Response to marmar (Original post)
Wed Feb 20, 2013, 11:51 AM
leveymg (36,418 posts)
1. Structural failure being treated with give-aways, negative real interest loans, and band-aids.
We are indeed going to get fucked over, again, and again. That is Capitalism by its nature.
---
Response to marmar (Original post)
Wed Feb 20, 2013, 01:25 PM
msongs (45,696 posts)
2. our president and congress at work.... nt
---
Response to marmar (Original post)
Wed Feb 20, 2013, 02:33 PM
bvar22 (39,909 posts)
3. Too Big to Fail !!!
That is the Corporate Holy Grail that magically opens the door to the Public Treasury,
and we have nobody with enough balls to
Take-on-the-Dragon
,
except maybe Elizabeth Warren.
The Banks were richly rewarded for their criminal/corrupt behavior.
They didn't even get a hand slap, so OF COURSE they will DO IT again.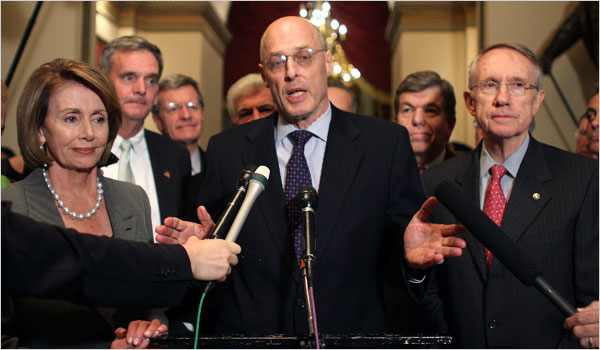 [font size=3]
"Hey. Its A-OK with us.
Don't forget "the envelope" (wink, wink)
.[/font]
So whatcha gonna do?
---
Response to marmar (Original post)
Wed Feb 20, 2013, 03:38 PM
just1voice (1,362 posts)
4. Quick answer: Yes
The student load bubble is bigger than the real estate bubble was and the same criminals are running the big banks that pulled off the last few bubbles. There's also a bond market bubble about to burst and, as most people don't even care to acknowledge, the entire financial sector is rigged, manipulated by a few large banks.

The upside to the next banking sector collapse will be the possibility that some of the criminals will finally be held accountable and Americans can go back to trusting the financial sector again. The downside is minimal to most of us 99%ers as the big corrupt banks have already stolen most of what we own.