Sat Feb 9, 2013, 11:50 AM
rug (82,333 posts)
The Cost of War Includes at Least 253,330 Brain Injuries and 1,700 Amputations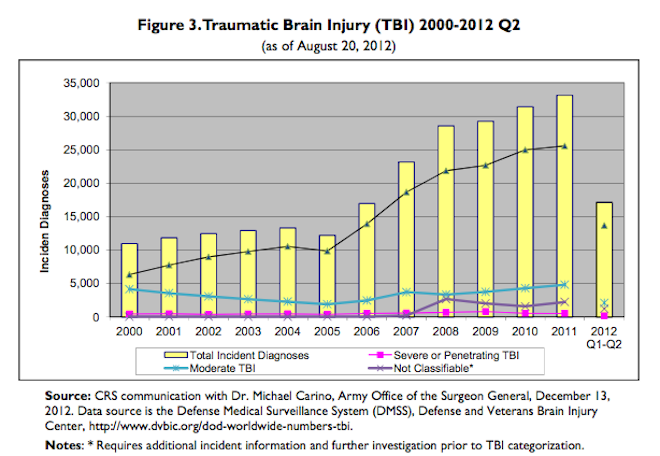 By Spencer Ackerman
02.08.13 1:55 PM
Here are indications of the lingering costs of 11 years of warfare. Nearly 130,000 U.S. troops have been diagnosed with post-traumatic stress disorder, and vastly more have experienced brain injuries. Over 1,700 have undergone life-changing limb amputations. Over 50,000 have been wounded in action. As of Wednesday, 6,656 U.S. troops and Defense Department civilians have died.
That updated data (.pdf) comes from a new Congressional Research Service report into military casualty statistics that can sometimes be difficult to find — and even more difficult for American society to fully appreciate. It almost certainly understates the extent of the costs of war.
Start with post-traumatic stress disorder, or PTSD. Counting since 2001 across the U.S. military services, 129,731 U.S. troops have been diagnosed with the disorder since 2001. The vast majority of those, nearly 104,000, have come from deployed personnel.
But that's the tip of the PTSD iceberg, since not all — and perhaps not even most — PTSD cases are diagnosed. The former vice chief of staff of the Army, retired Gen. Peter Chiarelli, has proposed dropping the "D" from PTSD so as not to stigmatize those who suffer from it — and, perhaps, encourage more veterans to seek diagnosis and treatment for it. (Not all veterans advocates agree with Chiarelli.)
http://www.wired.com/dangerroom/2013/02/cost-of-war/
Full report:
http://www.fas.org/sgp/crs/natsec/RS22452.pdf
7 replies, 1010 views
Replies to this discussion thread
| | | | |
| --- | --- | --- | --- |
| 7 replies | Author | Time | Post |
| The Cost of War Includes at Least 253,330 Brain Injuries and 1,700 Amputations (Original post) | rug | Feb 2013 | OP |
| | niyad | Feb 2013 | #1 |
| | duhneece | Feb 2013 | #2 |
| | bluestate10 | Feb 2013 | #3 |
| | niyad | Feb 2013 | #4 |
| | Barrett50 | Feb 2013 | #5 |
| | marions ghost | Feb 2013 | #6 |
| | libtodeath | Feb 2013 | #7 |
---
Response to rug (Original post)
Sat Feb 9, 2013, 01:09 PM
niyad (59,767 posts)
1. let's see--the ongoing cost of treating these people, not to mention the cost to their families
---
Response to rug (Original post)
Sat Feb 9, 2013, 03:32 PM
duhneece (2,651 posts)
2. And then there's the suicides
And the human costs attached to all of these human losses.
---
Response to rug (Original post)
Sat Feb 9, 2013, 03:54 PM
bluestate10 (10,942 posts)
3. You didn't mentioned the number of people in the countries that we went to war in that
are dead or have brain injuries or missing limbs. If they were combatants, screw them, our troops were right to damage them.

Our challenge as a society is to provide aid to our troops that have been physically and mentally damaged by war and provide aid to their families, we owe them that, we absolutely owe them.

I have been one of the people on DU that have pushed for Drones and greater use of Drones. My decision come from the realization that there ARE evil people in the world and we MUST either arrest them for trial or kill them if they make arrest impossible. Drones are the most efficient way to get to evil people that won't turn themselves in to authority. Drones are being developed that will kill a single bad person, regardless of where that person is at the time, and not hurt or kill anyone else - that day is soon upon us and I couldn't be happier when it comes because we can deal with evil more efficiently without creating damage to our troops and their families.
---
Response to bluestate10 (Reply #3)
Sat Feb 9, 2013, 05:43 PM
niyad (59,767 posts)
4. and if they were not troops? what then? how many civilians have been killed by these drones,
sent in our name? do you seriously believe it is only bad guys being killed? and just WHO says they are bad , or, in your word, evil, guys? no proof is needed, no evidence, just someone's say-so. and are you okay with that? seriously? please spare me the pious platitudes about how many lives these anonymous killing machines will save. I am much more concerned about the innocent lives being sacrificed to them, and what the endless killing and conflict is doing to our psyches and our souls, not to mention what it is doing to the people on the receiving end, and their countrymen and women.
---
---
Response to Barrett50 (Reply #5)
Sat Feb 9, 2013, 06:12 PM
marions ghost (19,841 posts)
6. Cost of wars for profit
---
Response to rug (Original post)
Sat Feb 9, 2013, 06:15 PM
libtodeath (2,805 posts)
7. The profits of war go to a few,the costs go to many