Thu Feb 7, 2013, 03:53 PM
Liberal_in_LA (44,397 posts)
Dad pays 14 year old daughter $200 to quit Facebook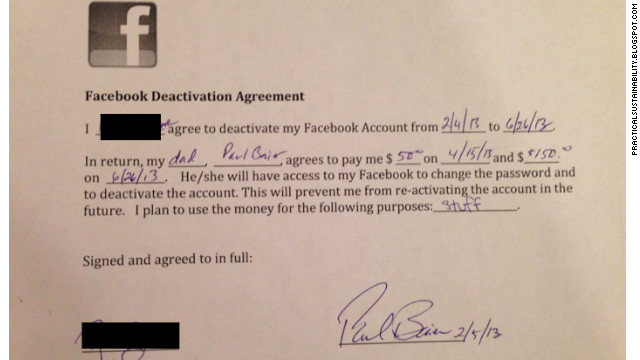 How do you get a teenager to volunteer to quit Facebook?
Apparently, with cold, hard cash.
A Boston father is paying his 14-year-old daughter $200 to quit using the social site for almost five months, according to a post on his blog.
On Tuesday, Paul Baier, a research consultant from Boston, posted an image of a "Facebook Deactivation Agreement" with his daughter.
"Her idea which I support fully," he wrote.
In the signed agreement, his daughter agrees to deactivate Facebook from this past Monday until June 26 (which, perhaps notably, would be well into summer break for most schools). In return, he'll give her $50 in April and the remaining $150 in June.
Baier gets access to change her password and deactivate the account. Rachel's one-word response on the line asking what she'll use the money for: "Stuff."
http://www.cnn.com/2013/02/07/tech/social-media/dad-daughter-facebook/
5 replies, 940 views
Replies to this discussion thread
| | | | |
| --- | --- | --- | --- |
| 5 replies | Author | Time | Post |
| Dad pays 14 year old daughter $200 to quit Facebook (Original post) | Liberal_in_LA | Feb 2013 | OP |
| | FSogol | Feb 2013 | #1 |
| | ScreamingMeemie | Feb 2013 | #2 |
| | Rabid_Rabbit | Feb 2013 | #3 |
| | Victor_c3 | Feb 2013 | #5 |
| | MiniMe | Feb 2013 | #4 |
---
Response to Liberal_in_LA (Original post)
Thu Feb 7, 2013, 03:58 PM
FSogol (35,931 posts)
1. Wonder if the Dad knows that "Stuff" is slang for heroin?
---
Response to Liberal_in_LA (Original post)
Thu Feb 7, 2013, 04:04 PM
ScreamingMeemie (68,918 posts)
2. Parenting by payment. How nice.
It really bothers me to sit in the stands watching my son play football/basketball/anything ball and listen to parents compare notes on how much they pay their kids for a catch/TD/tackle/basket/good play.
---
Response to ScreamingMeemie (Reply #2)
Thu Feb 7, 2013, 04:33 PM
Rabid_Rabbit (131 posts)
3. So it is not just me
I had a similar experience a while back. I was wondering if I was the odd man out - not paying my kids for performing. I tell my kids if they don't want to do a sport they don't have to, I would hate to think my kids where doing it only for the money. Wasn't there a plan a while ago to pay kids to attend school?
---
Response to Rabid_Rabbit (Reply #3)
Thu Feb 7, 2013, 05:06 PM
Victor_c3 (2,145 posts)
5. I was actually just going to post something about paying kids to attend school
I read something about that in the book Freakanomics. They did a variety of pay-schemes where they paid kids to flat out get an a good grade in a class, paid kids money for reading books/doing homework, paid kids to behave in school, and paid kids for good attendance to school. They found that when kids were paid to read books and paid to have good attendance that performance (in terms of grades) was the best.

I kind of have mixed feelings about that, but if I need to use those tricks in order to get my kids to perform better in school I'll use them.

My kids are 2 and 4 years old right now. My 4 year old just started going to the public pre-school program offered by my local school district (NY state is good about things like that). I stress over and over again how important her school work is and I am genuinely interested in hearing about her day and discovering what she is learning in school. I have an awesome job (it is probably a dream job for some coin collectors out there (I work for the US Mint as a chemist. I test the purity of the gold, platinum and silver they make the coins out of and I get to see some pretty cool stuff)). The only reason I have that job is because I busted my ass in school and I even tell my naive-to-the-world 4 year old that too. So I'm corrupting her towards thinking that education is important from the get-go.

However, if parents aren't always there or if they are on the crappy side of the scale, I think that a bribing scheme to get kids to perform well in school could be a good thing. However, performing in sports and paying them for that is just stupid. It's emphasizing the importance in a game, not something they can use in real life.
---
Response to Liberal_in_LA (Original post)
Thu Feb 7, 2013, 04:49 PM
MiniMe (16,319 posts)
4. They had that on the Today show this morning, it was the daughter's idea