Sat Feb 2, 2013, 10:04 AM
bigtree (69,366 posts)
National African American History Month, 2013 -- 'At the Crossroads of Freedom and Equality'
Emancipation Proclamation
This week marks the start of 'National African American History Month, 2013,' and the White House directs us to observe the theme,
"At the Crossroads of Freedom and Equality: The Emancipation Proclamation and the March on Washington."
President Obama observes, in his
Presidential Proclamation
, that self-determination for many black Americans 150 years ago was a 'dream denied' until Abraham Lincoln, the chief-emancipator, proclaimed an end to slavery in the southern states that the Union didn't yet control.
He also points to the 'dream deferred' 150 years later when Martin Luther King Jr. 'spoke of justice and brotherhood from the steps of the Lincoln memorial.'
"Today, because of that hope, coupled with the hard and painstaking labor of Americans sung and unsung, we live in a moment when the dream of equal opportunity is within reach for people of every color and creed," President Obama writes in his proclamation. "National African American History Month is a time to tell those stories of freedom won and honor the individuals who wrote them. We look back to the men and women who helped raise the pillars of democracy, even when the halls they built were not theirs to occupy. We trace generations of African Americans, free and slave, who risked everything to realize their God-given rights. We listen to the echoes of speeches and struggle that made our Nation stronger, and we hear again the thousands who sat in, stood up, and called out for equal treatment under the law. And we see yesterday's visionaries in tomorrow's leaders, reminding us that while we have yet to reach the mountaintop, we cannot stop climbing."
In that parallel between the two major leaders in the cause of freedom, equality, opportunity, and justice for black individuals in America, I see a resounding affirmation of the role and efficacy of the federal government asserting itself to, not only assert our basic rights as Americans and human beings, but to endeavor to support and defend those inalienable rights.
Just as importantly, President Obama recognizes in his proclamation that we are a nation of individuals who's collective action and activism helped to bring about the transformational changes that these two American giants so eloquently and ably represented.
Today, Dr. King, President Lincoln, and other shapers of our American story proudly watch over our National Mall," President Obama writes. "But as we memorialize their extraordinary acts in statues and stone, let us not lose sight of the enduring truth that they were citizens first. They spoke and marched and toiled and bled shoulder-to-shoulder with ordinary people who burned with the same hope for a brighter day. That legacy is shared; that spirit is American. And just as it guided us forward 150 years ago and 50 years ago, it guides us forward today. So let us honor those who came before by striving toward their example, and let us follow in their footsteps toward the better future that is ours to claim.
I'm certain that there will be much more substantive remarks from the President this month, but I would highlight an essay about Lincoln, written by Barack Obama in 2005:
Diane Sawyer kicked off the 8:30 hour of Friday's "Good Morning America" by reading aloud from an essay that President-elect Barack Obama wrote for Time magazine.

Sawyer: . . . we're going to take a second. There was something that made us all stop and think. And you know, it's 60 days now. 60 days until the inauguration of a new president. And we were thinking what it would be like to be a president-elect facing that incredible responsibility. And we saw that President-elect Obama has a favorite photograph, which he looks at. And here are the words that he wrote in Time magazine. An essay. These are his words about that face and why it inspires him . . .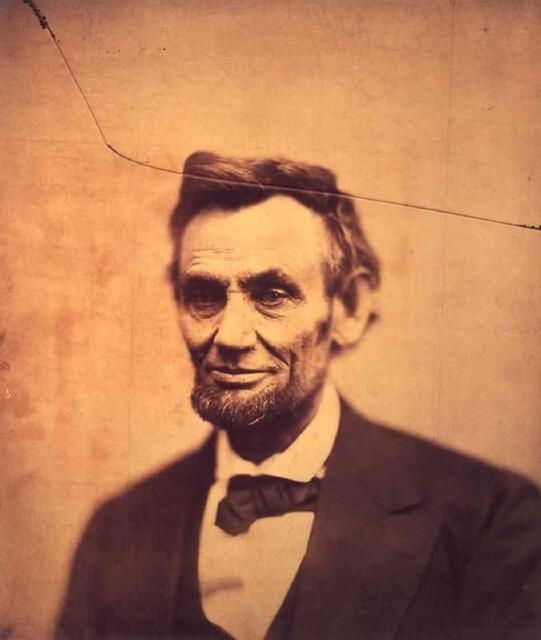 What I See in Lincoln's Eyes
by, Barack Obama
Monday, July 04, 2005
My favorite portrait of Lincoln comes from the end of his life. In it, Lincoln's face is as finely lined as a pressed flower. He appears frail, almost broken; his eyes, averted from the camera's lens, seem to contain a heartbreaking melancholy, as if he sees before him what the nation had so recently endured.
It would be a sorrowful picture except for the fact that Lincoln's mouth is turned ever so slightly into a smile. The smile doesn't negate the sorrow. But it alters tragedy into grace. It's as if this rough-faced, aging man has cast his gaze toward eternity and yet still cherishes his memories--of an imperfect world and its fleeting, sometimes terrible beauty. On trying days, the portrait, a reproduction of which hangs in my office, soothes me; it always asks me questions.
What is it about this man that can move us so profoundly? Some of it has to do with Lincoln's humble beginnings, which often speak to our own. When I moved to Illinois 20 years ago to work as a community organizer, I had no money in my pockets and didn't know a single soul. During my first six years in the state legislature, Democrats were in the minority, and I couldn't get a bill heard, much less passed. In my first race for Congress, I had my head handed to me. So when I, a black man with a funny name, born in Hawaii of a father from Kenya and a mother from Kansas, announced my candidacy for the U.S. Senate, it was hard to imagine a less likely scenario than that I would win--except, perhaps, for the one that allowed a child born in the backwoods of Kentucky with less than a year of formal education to end up as Illinois' greatest citizen and our nation's greatest President.
In Lincoln's rise from poverty, his ultimate mastery of language and law, his capacity to overcome personal loss and remain determined in the face of repeated defeat--in all this, he reminded me not just of my own struggles. He also reminded me of a larger, fundamental element of American life--the enduring belief that we can constantly remake ourselves to fit our larger dreams.
A connected idea attracts us to Lincoln: as we remake ourselves, we remake our surroundings. He didn't just talk or write or theorize. He split rail, fired rifles, tried cases and pushed for new bridges and roads and waterways. In his sheer energy, Lincoln captures a hunger in us to build and to innovate. It's a quality that can get us in trouble; we may be blind at times to the costs of progress. And yet, when I travel to other parts of the world, I remember that it is precisely such energy that sets us apart, a sense that there are no limits to the heights our nation might reach.
Still, as I look at his picture, it is the man and not the icon that speaks to me. I cannot swallow whole the view of Lincoln as the Great Emancipator. As a law professor and civil rights lawyer and as an African American, I am fully aware of his limited views on race. Anyone who actually reads the Emancipation Proclamation knows it was more a military document than a clarion call for justice. Scholars tell us too that Lincoln wasn't immune from political considerations and that his temperament could be indecisive and morose.
But it is precisely those imperfections--and the painful self-awareness of those failings etched in every crease of his face and reflected in those haunted eyes--that make him so compelling. For when the time came to confront the greatest moral challenge this nation has ever faced, this all too human man did not pass the challenge on to future generations. He neither demonized the fathers and sons who did battle on the other side nor sought to diminish the terrible costs of his war. In the midst of slavery's dark storm and the complexities of governing a house divided, he somehow kept his moral compass pointed firm and true.
What I marvel at, what gives me such hope, is that this man could overcome depression, self-doubt and the constraints of biography and not only act decisively but retain his humanity. Like a figure from the Old Testament, he wandered the earth, making mistakes, loving his family but causing them pain, despairing over the course of events, trying to divine God's will. He did not know how things would turn out, but he did his best.
A few weeks ago, I spoke at the commencement at Knox College in Galesburg, Ill. I stood in view of the spot where Lincoln and Stephen Douglas held one of their famous debates during their race for the U.S. Senate. The only way for Lincoln to get onto the podium was to squeeze his lanky frame through a window, whereupon he reportedly remarked, "At last I have finally gone through college." Waiting for the soon-to-be graduates to assemble, I thought that even as Lincoln lost that Senate race, his arguments that day would result, centuries later, in my occupying the same seat that he coveted. He may not have dreamed of that exact outcome. But I like to believe he would have appreciated the irony. Humor, ambiguity, complexity, compassion--all were part of his character. And as Lincoln called once upon the better angels of our nature, I believe that he is calling still, across the ages, to summon some measure of that character, the American character, in each of us today.
the essay:
http://www.time.com/time/magazine/article/0,9171,107728...
1 replies, 1804 views
Replies to this discussion thread
| | | | |
| --- | --- | --- | --- |
| 1 replies | Author | Time | Post |
| National African American History Month, 2013 -- 'At the Crossroads of Freedom and Equality' (Original post) | bigtree | Feb 2013 | OP |
| | bigtree | Feb 2013 | #1 |
---
Response to bigtree (Original post)
Sat Feb 2, 2013, 11:19 AM
bigtree (69,366 posts)
1. .