Sat Feb 2, 2013, 09:14 AM
xchrom (108,903 posts)
The unemployment crisis that lies behind the US monthly jobs report
http://www.guardian.co.uk/commentisfree/2013/feb/01/unemployment-crisis-us-monthly-jobs-report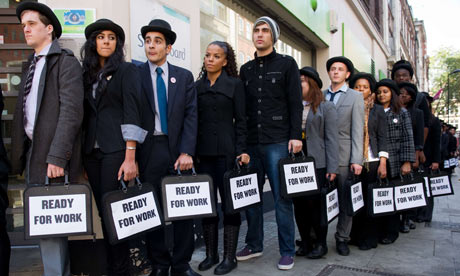 Generation Opportunity estimates that America's youth unemployment rate is 13% – nearly double the average. Photograph: Leon Neal/AFP/Getty Images
Friday brought a relatively good employment report. The economy added fewer jobs than economists had hoped for, but they were of good quality: most of them came from private companies, rather than the government. Construction did extremely well, as new houses are being built. Further math showed that the economy actually added more jobs than we thought it had in November and December.
It is tempting to call this a recovery. A number of economic indicators show that the economy is at least moving forward, rather than back. Housing is doing well, for instance. GDP, except for a blip late last year thanks to lower defense spending related to the fiscal cliff, shows every sign that it will continue to grow.
As much as the numbers move forward, though, there is some sadness embedded in them: we still have an joblessness crisis. And as long as the actual numbers appear to get "better", then it will not be treated like a crisis, but more like an inconvenience. For the duration of the US unemployment crisis, we have had no answers. No one is really working on any solutions to it except "wait and hope, and hope and see."
Note this glum start to the Bureau of Labor Statistics' news release today:
"The number of unemployed persons, at 12.3 million, was little changed in January."
Further down, something even more glum:
"In January, the number of long-term unemployed (those jobless for 27 weeks or more) was about unchanged at 4.7m and accounted for 38.1% of the unemployed."
7 replies, 1081 views
Replies to this discussion thread
| | | | |
| --- | --- | --- | --- |
| 7 replies | Author | Time | Post |
| The unemployment crisis that lies behind the US monthly jobs report (Original post) | xchrom | Feb 2013 | OP |
| | kentuck | Feb 2013 | #1 |
| | MannyGoldstein | Feb 2013 | #3 |
| | Jackpine Radical | Feb 2013 | #2 |
| | ananda | Feb 2013 | #4 |
| | KG | Feb 2013 | #5 |
| | xchrom | Feb 2013 | #6 |
| | leftstreet | Feb 2013 | #7 |
---
Response to xchrom (Original post)
Sat Feb 2, 2013, 09:19 AM
kentuck (83,900 posts)
1. What should we do about it?
Do we just accept that as the new status quo?
---
Response to kentuck (Reply #1)
Sat Feb 2, 2013, 10:04 AM
MannyGoldstein (34,589 posts)
3. Well, pretend economist Paul Krugman claims
It can be easily solved through some nonsense called "Keynesian pump priming".

Doesn't he know that FDR tried that and unemployment dropped 40% in 4 years? Well, bad example, but anyone who's really really serious knows that it wouldn't work now. We just know it. In our guts. That's what counts.

Regards,

Third-Way Manny
---
Response to xchrom (Original post)
Sat Feb 2, 2013, 09:19 AM
Jackpine Radical (45,274 posts)
2. Well, who wants to hire those kids anyway, with all their
tattoos and eyebrow rings and those awful earlobe thingies?

They damn better stay off my lawn too.
---
Response to xchrom (Original post)
Sat Feb 2, 2013, 10:06 AM
ananda (18,427 posts)
4. Also part of this crisis are all the people..
.. working at menial jobs for serf or slave wages.
---
Response to xchrom (Original post)
Sat Feb 2, 2013, 10:13 AM
KG (27,099 posts)
5. no matter how the labor turd is polished, the employment situation is still in the shitter.
---
Response to KG (Reply #5)
Sat Feb 2, 2013, 10:14 AM
xchrom (108,903 posts)
6. +1
---
Response to xchrom (Original post)
Sat Feb 2, 2013, 11:32 AM
leftstreet (30,851 posts)
7. DURec