Tue Jan 29, 2013, 10:49 AM
xchrom (108,903 posts)
Five reasons Republicans won't win Latino voters with immigration reform
http://www.guardian.co.uk/commentisfree/2013/jan/29/immigration-reform-republicans-latino-voters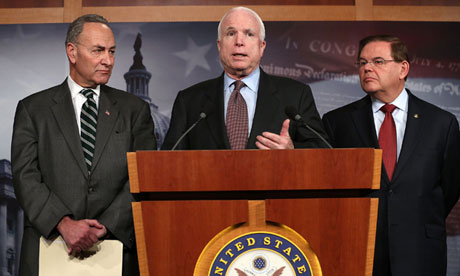 Immigration reform: John McCain is flanked by Democrats Chuck Schumer and Robert Menendez. Photograph: Alex Wong/Getty Images
***SNIP
1. ˇes la economía, estúpido!
Latinos didn't vote for President Obama because Mitt Romney was seen as insensitive on immigration. According to a Fox Latino poll before the election, only 6% of Latinos said that immigration was the most important issue to their vote. A Latino Decisions (LD) election eve poll allowed multiple answers to issues that were important and, still, 65% did not say immigration was important to them.
***SNIP
2. Latinos are liberal
Latinos have said openly they won't change their vote because of immigration policy. Only 31% of Latinos in the LD survey said they would be more likely to vote GOP, if the Republican party took a leadership role in immigration reform. A full 58% said they didn't know or it would have no effect, while 11% said it would actually make them less likely to vote Republican.
***SNIP
3. Even "Latino-friendly" GOP politicians never did that well
The best Republican performances among Latinos have still been a big bag of "meh". Ronald Reagan only got 37% of the Latino vote in 1984, despite winning 59% of the overall vote. Much has been made of George W Bush's exit performance with Latinos, but it's important to remember that pre-election polls showed Bush in the low 30s. In fact, a Latino-specific election day poll, with a high number of Latino voters, pegged Bush's Latino support at only 35%.
***SNIP
4. Demographics don't swing elections
Even if Republicans did bring up their percentage of the Latino vote, it wouldn't make a great difference nationwide. Say Mitt Romney won George W Bush's percentage of the Latino vote, he still would have lost the nationwide vote by 1.4pt. The reason is that the Latino vote still only makes up 9-10% of the vote in the national exit polls, and slightly less in most other surveys.
0 replies, 554 views