Mon Jan 28, 2013, 09:56 PM
HiPointDem (20,729 posts)
Kiriakou and Stuxnet: the danger of the still-escalating Obama whistleblower war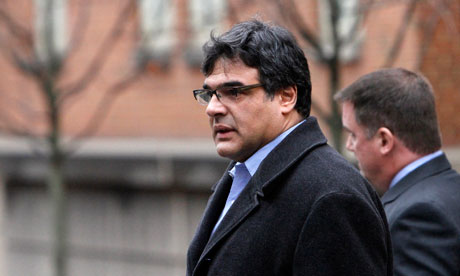 Former CIA officer John Kiriakou becomes the only government official convicted in connection with the US torture program: not for having done it, but for having talked about it.
The permanent US national security state has used extreme secrecy to shield its actions from democratic accountability ever since its creation after World War II. But those secrecy powers were dramatically escalated in the name of 9/11 and the War on Terror, such that most of what the US government now does of any significance is completely hidden from public knowledge. Two recent events -
the sentencing last week of CIA torture whistleblower John Kirikaou to 30 months in prison and the invasive investigation to find the New York Times' source for its reporting on the US role in launching cyberwarfare at Iran - demonstrate how devoted the Obama administration is not only to maintaining, but increasing, these secrecy powers.
When WikiLeaks published hundreds of thousands of classified diplomatic cables in 2010, government defenders were quick to insist that most of those documents were banal and uninteresting. And that's true: most (though by no means all) of those cables contained nothing of significance. That, by itself, should have been a scandal. All of those documents were designated as "secret", making it a crime for government officials to reveal their contents - despite how insignificant most of it was.
That revealed how the US government reflexively - really automatically - hides anything and everything it does behind this wall of secrecy: they have made it a felony to reveal even the most inconsequential and pedestrian information about its actions.

This is why whistleblowing - or, if you prefer, unauthorized leaks of classified information - has become so vital to preserving any residual amounts of transparency.
Given how subservient the federal judiciary is to government secrecy claims, it is not hyperbole to describe unauthorized leaks as the only real avenue remaining for learning about what the US government does - particularly for discovering the bad acts it commits. That is why the Obama administration is waging an unprecedented war against it - a war that continually escalates - and it is why it is so threatening.
To understand the Obama White House's obsession with punishing leaks - as evidenced by its historically unprecedented war on whistleblowers - just consider how virtually every significant revelation of the bad acts of the US government over the last decade came from this process.
Unauthorized leaks are how we learned about the Bush administration's use of torture, the NSA's illegal eavesdropping on Americans without the warrants required by the criminal law, the abuses at Abu Ghraib, the secret network of CIA "black sites" beyond the reach of law or human rights monitoring, the targeting by Obama of a US citizen for assassination without due process, the re-definition of "militant" to mean "any military age male in a strike zone", the video of a US Apache helicopter gunning down journalists and rescuers in Baghdad, the vastly under-counted civilians deaths caused by the war in Iraq, and the Obama administration's campaign to pressure Germany and Spain to cease criminal investigations of the US torture regime.
In light of this, it should not be difficult to understand why the Obama administration is so fixated on intimidating whistleblowers and going far beyond any prior administration - including those of the secrecy-obsessed Richard Nixon and George W Bush - to plug all leaks.
It's because those methods are the only ones preventing the US government from doing whatever it wants in complete secrecy and without any accountability of any kind...
http://www.guardian.co.uk/commentisfree/2013/jan/27/obama-war-on-whistleblowers-purpose
4 replies, 929 views
Replies to this discussion thread
| | | | |
| --- | --- | --- | --- |
| 4 replies | Author | Time | Post |
| Kiriakou and Stuxnet: the danger of the still-escalating Obama whistleblower war (Original post) | HiPointDem | Jan 2013 | OP |
| | KoKo | Jan 2013 | #1 |
| | randome | Jan 2013 | #2 |
| | JDPriestly | Jan 2013 | #3 |
| | woo me with science | Jan 2013 | #4 |
---
Response to HiPointDem (Original post)
Mon Jan 28, 2013, 10:40 PM
KoKo (84,711 posts)
1. Important Read! K&R!
---
Response to HiPointDem (Original post)
Mon Jan 28, 2013, 10:48 PM
randome (34,845 posts)
2. Whistleblowing is not "unauthorized leaks of classified information".
---
Response to HiPointDem (Original post)
Tue Jan 29, 2013, 03:28 AM
JDPriestly (57,936 posts)
3. I think that our military/industrial/national security complex
has more influence than our president, regardless who is president.

That is our major problem now.

That complex is not interested in promoting national unity or our economy or anything else. They just want to rule the world including us.

So I don't blame Obama too much for this sort of horrible breach of human rights. He is just as unable to do anything about the military/industrial/national security complex as we are. Too bad for the fools who actually join that complex and get double-crossed by it.

Obama knows better than to get into a tangle with those guys. We just have to let them run themselves into the ground. Pretty soon the money will run out. And they can't do their thing without lots of money. They are ruining our economy and our country but could care less as long as they have their toys and their war games.
---
Response to HiPointDem (Original post)
Tue Jan 29, 2013, 03:31 AM
woo me with science (32,139 posts)
4. K&R