Thu Jan 26, 2012, 04:00 AM
ellisonz (27,182 posts)
Amnesty Interational: China Must Avoid Excessive Force in Response to Tibetan Protests
January 25, 2012
Contact: Sharon Singh, ssingh@aiusa.org, 202-675-8579
(Washington, D.C.) -- China must avoid using excessive force in response to protests and allow independent monitors into areas of protest, Amnesty International said today after Chinese security forces in Sichuan Province reportedly fired on Tibetan protestors for a second successive day.
Chinese authorities have dismissed reports based on eyewitness accounts of deadly clashes between police and Tibetan protesters as "hype."
"The Chinese authorities are responding only with repression and a security crackdown to an already volatile situation, instead of addressing long-standing human rights grievances on the part of Tibetans," said Sam Zarifi, Amnesty International's Asia-Pacific director.
"The situation has not improved in Tibetan areas since 2008 when tensions exploded into violence. Grievances regarding restrictions on religious and cultural freedoms have gotten worse, not better."

--------
Amnesty International repeated its request that the Chinese government allow independent monitors, for instance the U.N. Special Rapporteur on extrajudicial, summary or arbitrary executions, into the country.
http://www.amnestyusa.org/news/news-item/china-must-avoid-excessive-force-in-response-to-tibetan-protests-says-amnesty-international
The PRC will close Tibet to all foreigners from February 20th to March 30th for the 5th year in a row:
http://www.democraticunderground.com/1002190538
Timeline of Tibetan self-immolations and governmental statements on them 2011-2012
Tibetan Self-Immolations Government Statements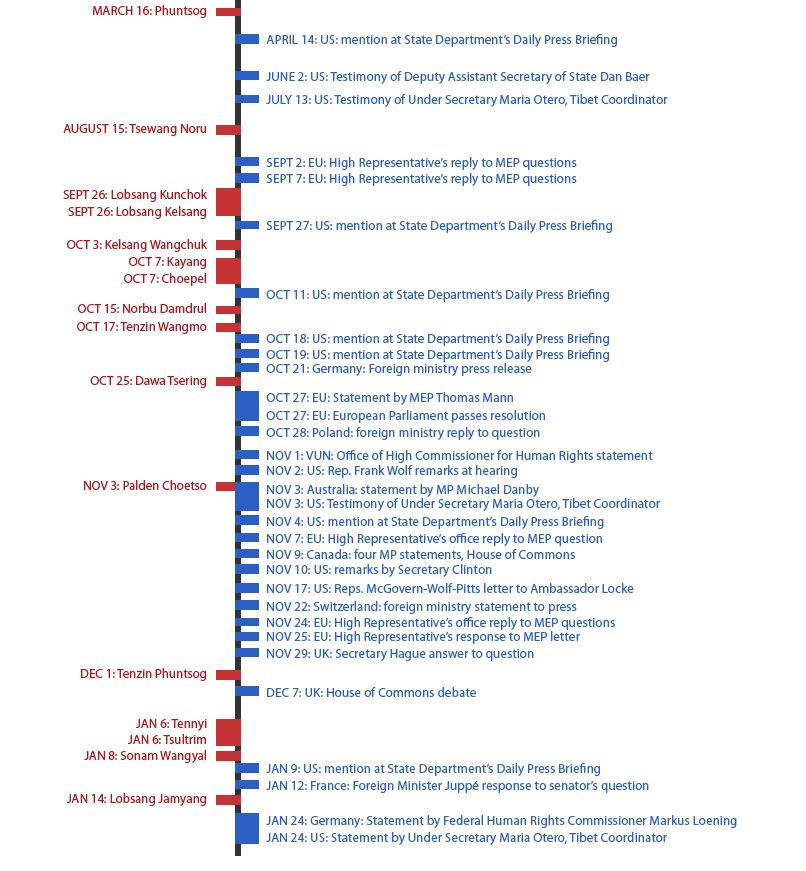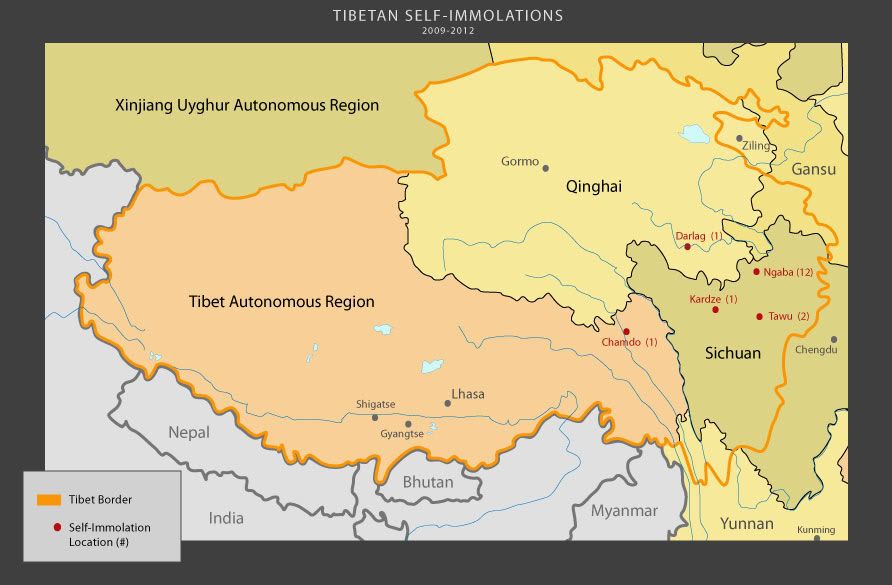 Courtesy of the International Campaign for Tibet:
http://weblog.savetibet.org/
3 replies, 2430 views
Replies to this discussion thread
| | | | |
| --- | --- | --- | --- |
| 3 replies | Author | Time | Post |
| Amnesty Interational: China Must Avoid Excessive Force in Response to Tibetan Protests (Original post) | ellisonz | Jan 2012 | OP |
| | ellisonz | Jan 2012 | #1 |
| | ellisonz | Jan 2012 | #2 |
| | ellisonz | Jan 2012 | #3 |
---
Response to ellisonz (Original post)
Thu Jan 26, 2012, 04:06 AM
ellisonz (27,182 posts)
1. 'Exercise restraint, Allow observers in Tibet,' US tells China
Phayul[Wednesday, January 25, 2012 22:52]
By Tendar Tsering
DHARAMSHALA, January 25: Angered by the indiscriminate police firings on unarmed Tibetans in eastern Tibet over the last two days, the US government on Tuesday renewed its call for an end to the critical situation inside Tibet.
US Special Coordinator for Tibet, Under Secretary Maria Otero said US was "gravely concerned by reports of violence and continuing heightened tensions" in Tibet.
---------
"The US Government repeatedly has urged the Chinese government to address the counterproductive policies in Tibetan areas that have created tensions and that threaten the distinct religious, cultural and linguistic identity of the Tibetan people," the US Special Coordinator for Tibet said.
President Obama's point woman for Tibet went on to list a few of the "counterproductive policies" as the Chinese government's "dramatic expansion" of controls on religious life and practice; ongoing "patriotic education" campaigns requiring the denunciation of the Dalai Lama; the permanent placement of Chinese officials in monasteries; increasingly intensive surveillance, arbitrary detentions and disappearances of Tibetans.
http://www.phayul.com/news/article.aspx?id=30747&article=%E2%80%98Exercise+restraint%2c+Allow+observers+in+Tibet%2c%E2%80%99+US+tells+China&t=1&c=1
"María Otero was sworn in as United States Under Secretary of State for Democracy and Global Affairs on August 10, 2009"
http://en.wikipedia.org/wiki/Maria_Otero
---
Response to ellisonz (Original post)
Thu Jan 26, 2012, 08:42 PM
ellisonz (27,182 posts)
2. Kick.
---
Response to ellisonz (Original post)
Fri Jan 27, 2012, 07:14 AM
ellisonz (27,182 posts)
3. Kick.