Wed Jan 9, 2013, 07:55 AM
xchrom (108,903 posts)
Japan and China step up drone race as tension builds over disputed islands
http://www.guardian.co.uk/world/2013/jan/08/china-japan-drone-race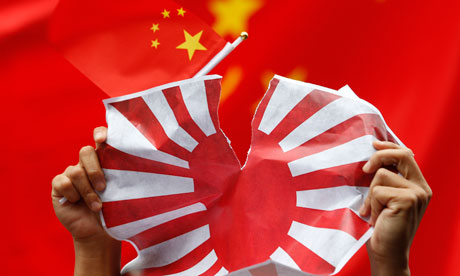 The row between China and Japan over the disputed islands – called the Diaoyu by China and the Senkaku by Japan – has escalated recently. Photograph: AP
Drones have taken centre stage in an escalating arms race between China and Japan as they struggle to assert their dominance over disputed islands in the East China Sea.
China is rapidly expanding its nascent drone programme, while Japan has begun preparations to purchase an advanced model from the US. Both sides claim the drones will be used for surveillance, but experts warn the possibility of future drone skirmishes in the region's airspace is "very high".
Tensions over the islands – called the Diaoyu by China and the Senkaku by Japan – have ratcheted up in past weeks. Chinese surveillance planes flew near the islands four times in the second half of December, according to Chinese state media, but were chased away each time by Japanese F-15 fighter jets. Neither side has shown any signs of backing down.
Japan's new conservative administration of Shinzo Abe has placed a priority on countering the perceived Chinese threat to the Senkakus since it won a landslide victory in last month's general election. Soon after becoming prime minister, Abe ordered a review of Japan's 2011-16 mid-term defence programme, apparently to speed up the acquisition of between one and three US drones.
5 replies, 898 views
Replies to this discussion thread
| | | | |
| --- | --- | --- | --- |
| 5 replies | Author | Time | Post |
| Japan and China step up drone race as tension builds over disputed islands (Original post) | xchrom | Jan 2013 | OP |
| | Ganja Ninja | Jan 2013 | #1 |
| | dixiegrrrrl | Jan 2013 | #2 |
| | JaneyVee | Jan 2013 | #4 |
| | JaneyVee | Jan 2013 | #3 |
| | dixiegrrrrl | Jan 2013 | #5 |
---
Response to xchrom (Original post)
Wed Jan 9, 2013, 08:12 AM
Ganja Ninja (15,953 posts)
1. Japan will be rearming itself in the next 10 years.
The includes new aircraft carriers.
---
Response to xchrom (Original post)
Wed Jan 9, 2013, 11:48 AM
dixiegrrrrl (55,757 posts)
2. I gotta buy some drone stock. We seem to be arming the world with them.
" American over-reliance on drones, especially as surveillance vehicles and as attack craft, has started a new and terrifying arms race.
More and more countries are now scrambling to build fleets of drones; Israel, one of the pioneers in UAV development, is the main exporter; it has sold drones to Russia, Azerbaijan and about a dozen other countries. (According to Chris Cole's Drone War UK, a leading source on information on the proliferation of drones, even the Philippines has at least two UAVs in service, both of them Blue Horizon 2 aerial surveillance drones.)

The United States enjoys clear and massive superiority in all classes of drones; its armed UAVs, such as the famous Predator, are usually launched in conflict zones but are then directly controlled, according to Cole, by "controllers at video screens in specially designed trailers in the Nevada desert" [the site of a major air base].
Part of this superiority is explained by constant use. In Pakistan alone, America's undeclared war has inflicted over 350 drone strikes since 2002, including about 50 in 2012. A study by the middle-of-the-road Brookings Institution found that for every terrorist targeted in Pakistan and killed, 10 civilians also died.
http://opinion.inquirer.net/44547/drone-wars
---
---
Response to xchrom (Original post)
Wed Jan 9, 2013, 11:49 AM
JaneyVee (19,877 posts)
3. Its like watching WW2 begin all over again but this time with killer robots in the sky.
---
Response to JaneyVee (Reply #3)
Wed Jan 9, 2013, 12:58 PM
dixiegrrrrl (55,757 posts)
5. the next step is development of lasers to shoot down drones:
Rheinmetall demos laser that can shoot down drones
A laser weapons system that can shoot down two drones at a distance of over a mile has been demonstrated by Rheinmetall Defence.
The German defence firm used the high-energy laser equipment to shoot fast-moving drones at a distance.
The system, which uses two laser weapons, was also used to cut through a steel girder a kilometre away.
The company plans to make the laser weapons system mobile and to integrate automatic cannon.
http://www.bbc.co.uk/news/technology-20944726
Also:
A number of governments and defence firms are in the process of developing weapons that use or incorporate lasers.
For example, Raytheon unveiled a 50kW anti-aircraft laser at the Farnborough Airshow in 2010,
http://www.bbc.co.uk/news/technology-10682693

and in June 2012 the US Army released details of a weapon that can fire a laser-guided lightning-bolt at a target.
http://www.bbc.co.uk/news/technology-18630622
A self-guiding bullet that can steer itself towards its target is being developed for use by the US military.
http://www.bbc.co.uk/news/technology-16810107