Tue Jan 8, 2013, 11:08 AM
dsc (45,982 posts)
A breathtakingly disgusting article that is a must read
http://www.huffingtonpost.com/2013/01/08/call-time-congressional-fundraising_n_2427291.html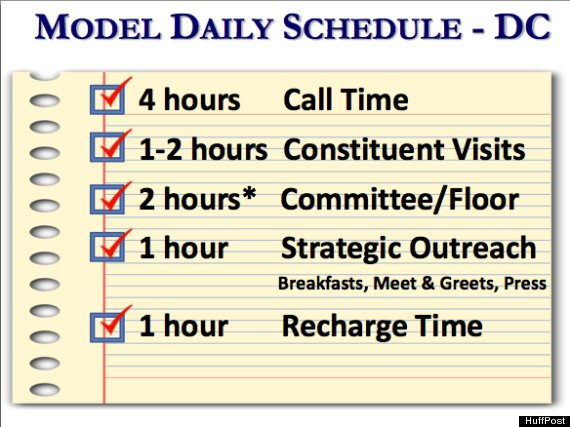 ?7
For an incoming member of Congress still basking in the glow of electoral victory, it's a message that hits those in both parties hard -- the most direct indication that time in the people's chamber will be a bit different from the version taught in civics classes.
For new Democrats, that message was delivered on Nov. 16, barely a week after the election, at an incoming-member orientation held by the House campaign arm.
The amount of time that members of Congress in both parties spend fundraising is widely known to take up an obscene portion of a typical day -- whether it's "call time" spent on the phone with potential donors, or in person at fundraisers in Washington or back home. Seeing it spelled out in black and white, however, can be a jarring experience for a new member, as related by some who attended the November orientation.
A PowerPoint presentation to incoming freshmen by the Democratic Congressional Campaign Committee, obtained by The Huffington Post, lays out the dreary existence awaiting these new back-benchers. The daily schedule prescribed by the Democratic leadership contemplates a nine or 10-hour day while in Washington. Of that, four hours are to be spent in "call time" and another hour is blocked off for "strategic outreach," which includes fundraisers and press work. An hour is walled off to "recharge," and three to four hours are designated for the actual work of being a member of Congress -- hearings, votes, and meetings with constituents. If the constituents are donors, all the better. The presentation assured members that their fundraising would be closely monitored; the Federal Elections Commission requires members to file quarterly reports.
end of quote much more at article.
2 replies, 930 views
Replies to this discussion thread
| | | | |
| --- | --- | --- | --- |
| 2 replies | Author | Time | Post |
| A breathtakingly disgusting article that is a must read (Original post) | dsc | Jan 2013 | OP |
| | Brickbat | Jan 2013 | #1 |
| | dsc | Jan 2013 | #2 |
---
Response to dsc (Original post)
Tue Jan 8, 2013, 11:11 AM
Brickbat (19,339 posts)
1. My representative, who is coming back after serving back in the 70s, had some things to say about
this.
http://www.startribune.com/politics/blogs/185928001.html
So far, this is how Rep. Rick Nolan's first week in Congress has gone: Get sworn-in on Thursday, take three votes on Friday, and then adjourn for a week.
In fact, the House is scheduled to be in session only six more days this month. Plus 11 days in February, for a grand total of 17 work days between now and the next "fiscal cliff" deadline on automatic ("sequester&quot
spending cuts.
"We're not working four or five days a week, like everybody else does in America," said the Minnesota Democrat. "The fact is, Congress is not governing."
Nolan, who served three terms in the 1970s, is often asked how Congress has changed over the intervening decades. On Monday, he told Minnesota reporters that the biggest difference is the reduced work schedule – and the amount of time lawmakers spend on the phone begging for campaign cash.
By Nolan's estimate, the average "call time," is about 30 hours a week. "The time that people are spending now raising money and campaigning is time Congress used to spend governing," he said.
Nolan wants to fix this by introducing legislation limiting the time lawmakers can spend campaigning and increasing the transparency requirements around fundraising.
---
Response to dsc (Original post)
Tue Jan 8, 2013, 04:46 PM
dsc (45,982 posts)
2. kick