Mon Jan 7, 2013, 11:25 AM
onehandle (51,122 posts)
Phil Hartman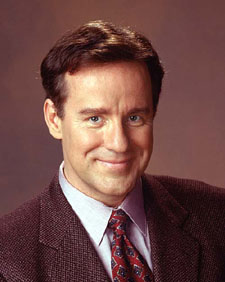 Hartman was widely mourned in Hollywood. NBC executive Don Ohlmeyer stated that Hartman "was blessed with a tremendous gift for creating characters that made people laugh. Everyone who had the pleasure of working with Phil knows that he was a man of tremendous warmth, a true professional and a loyal friend." Steve Guttenberg expressed shock at Hartman's death, and Steve Martin said he was "a deeply funny and very happy person." Matt Groening called him "a master", and director Joe Dante said, "He was one of those guys who was a dream to work with. I don't know anybody who didn't like him." Dan Snierson of Entertainment Weekly concluded that Hartman was "the last person you'd expect to read about in lurid headlines in your morning paper" and "a decidedly regular guy, beloved by everyone he worked with." In 2007 Entertainment Weekly ranked Hartman the eighty-seventh greatest television icon of all time, and Maxim named Hartman the top Saturday Night Live performer of all time.
Rehearsals for The Simpsons were canceled on the day of Hartman's death, as was that night's performance by The Groundlings. The season five premiere episode of NewsRadio, "Bill Moves On", finds Hartman's character, Bill McNeal, has died of a heart attack, while the other characters reminisce about his life. Jon Lovitz joined the show in his place from the following episode. A special episode of Saturday Night Live commemorating Hartman's work on the show aired on June 13, 1998. Rather than substituting another voice actor, the writers of The Simpsons retired Hartman's characters, and the season ten episode "Bart the Mother" (his final appearance on the show) was dedicated to him.
At the time of his death, Hartman was preparing to voice Zapp Brannigan, a character written specifically for him on Groening's second animated series Futurama. After Hartman's death, Futurama's lead character Philip J. Fry was named in his honor, and Billy West took over the role of Brannigan. West later said that he purposely tweaked Zapp's voice to better match Hartman's intended portrayal. Hartman was also planning to appear with Lovitz in the indie film The Day of Swine and Roses scheduled to begin production in August 1998.
Laugh.com and Hartman's brother John Hartmann published the album Flat TV in 2002. The album is a selection of comedy sketches recorded by Hartman in the 1970s that had been kept in storage until their release. Hartmann commented: "I'm putting this out there because I'm dedicating my life to fulfilling his dreams. This [album] is my brother doing what he loved." A special prize at the Canadian Comedy Awards was named for Hartman. Beginning with the 13th Canadian Comedy Awards in 2012, the Phil Hartman Award was awarded to "an individual who helps to better the Canadian comedy community." In 2007, a campaign was started on Facebook by Alex Stevens and endorsed by Hartman's brother Paul to have Hartman inducted to Canada's Walk of Fame. Amongst the numerous events to publicize the campaign, Ben Miner of the Sirius XM Radio channel Laugh Attack dedicated the month of April 2012 to Hartman, playing "many of his greatest hits as well as testimonials from family, friends and fans." The campaign ended in success and Hartman was inducted to the Walk of Fame on September 22, 2012, with Paul accepting the award on his behalf.
http://en.wikipedia.org/wiki/Phil_Hartman
9 replies, 2970 views
Replies to this discussion thread
| | | | |
| --- | --- | --- | --- |
| 9 replies | Author | Time | Post |
| Phil Hartman (Original post) | onehandle | Jan 2013 | OP |
| | hlthe2b | Jan 2013 | #1 |
| | Capt. Obvious | Jan 2013 | #2 |
| | Make7 | Jan 2013 | #3 |
| | HughBeaumont | Jan 2013 | #4 |
| | Loudly | Jan 2013 | #5 |
| | Arkana | Jan 2013 | #6 |
| | farminator3000 | Jan 2013 | #7 |
| | Romulox | Jan 2013 | #8 |
| | Lex | Jan 2013 | #9 |
---
Response to onehandle (Original post)
Mon Jan 7, 2013, 11:28 AM
hlthe2b (56,406 posts)
1. I was such a fan of his.... His loss was so tragic such a waste...
---
Response to onehandle (Original post)
Mon Jan 7, 2013, 11:32 AM
Capt. Obvious (9,002 posts)
2. "Hi, I'm Troy McClure"
"You may remember me from such self help videos such as, "Smoke Yourself Thin," and "Get Confident Stupid!"
---
Response to onehandle (Original post)
Mon Jan 7, 2013, 11:38 AM
Make7 (7,385 posts)
3. Rocket Fuel Malt Liquor
---
Response to onehandle (Original post)
Mon Jan 7, 2013, 11:47 AM
HughBeaumont (23,760 posts)
4. I'm in the process of watching "Small Soldiers" on Netflix, and this thread is here. Scary.
I was upset when I heard of his death . . . such a tragic waste.
---
---
Response to onehandle (Original post)
Mon Jan 7, 2013, 12:15 PM
Arkana (24,347 posts)
6. Hi, he's Troy McClure.
You might remember him from such films as "How Beige Was My Jacket" and "Bikini Party Summer".
---
Response to onehandle (Original post)
Mon Jan 7, 2013, 12:30 PM
farminator3000 (2,117 posts)
7. nice call!
---
Response to onehandle (Original post)
Mon Jan 7, 2013, 12:32 PM
Romulox (25,960 posts)
8. Phil Hartman's SNL audition tape is on Youtube. Just incredible.


You are still missed, Phil!
---
Response to onehandle (Original post)
Mon Jan 7, 2013, 12:33 PM
Lex (34,105 posts)
9. I still miss him. His Bill Clinton impersonation was always so funny
on SNL. And all his Simpson's characters. Genius.
As Bill Clinton.