Fri Jan 4, 2013, 12:45 PM
bigtree (68,253 posts)
List of Cretins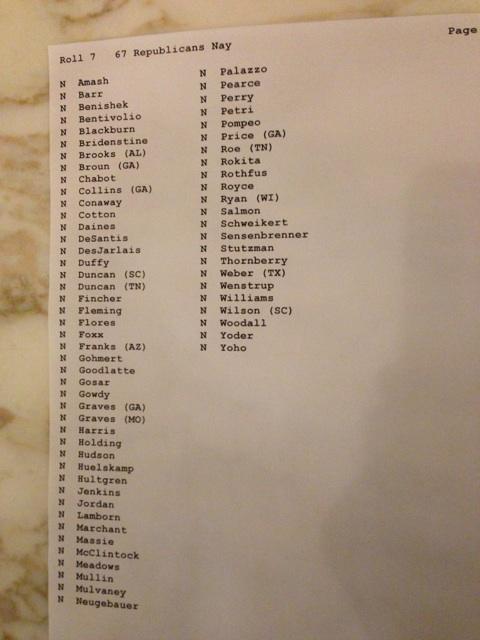 James Downie
‏@jamescdownie
Disgusting. RT @TPM: RT @sahilkapur: The 67 Republicans who voted nay on Sandy relief
pic.twitter.com/yeM4g4eL
12 replies, 1590 views
Replies to this discussion thread
| | | | |
| --- | --- | --- | --- |
| 12 replies | Author | Time | Post |
| List of Cretins (Original post) | bigtree | Jan 2013 | OP |
| | onehandle | Jan 2013 | #1 |
| | HereSince1628 | Jan 2013 | #11 |
| | livetohike | Jan 2013 | #2 |
| | Mc Mike | Jan 2013 | #10 |
| | niyad | Jan 2013 | #3 |
| | progressoid | Jan 2013 | #4 |
| | samsingh | Jan 2013 | #5 |
| | freshwest | Jan 2013 | #6 |
| | bigtree | Jan 2013 | #8 |
| | RebelOne | Jan 2013 | #7 |
| | bigtree | Jan 2013 | #9 |
| | lonestarnot | Jan 2013 | #12 |
---
Response to bigtree (Original post)
Fri Jan 4, 2013, 12:49 PM
onehandle (51,122 posts)
1. The Confederacy Lives! Get over it. You lost. nt
---
Response to onehandle (Reply #1)
Sat Jan 5, 2013, 11:05 AM
HereSince1628 (36,063 posts)
11. Wisconsin's r's were deeply involved...
I wouldn't call WI pro-confederacy.

We are deeply and structurally twisted by the false patriots' appeals for a white male backlash pushing yeoman mythologies. That, sadly, yes.







---
Response to bigtree (Original post)
Fri Jan 4, 2013, 12:50 PM
livetohike (19,080 posts)
2. Nice going Rothfus (R-PA) who took the seat once held by Murtha
First day on the job - disgusting.
---
Response to livetohike (Reply #2)
Sat Jan 5, 2013, 10:43 AM
Mc Mike (3,812 posts)
10. Knew he'd be there. Maybe the Dems should run
someone who's starkly different from the right-wing repugs, next election.


---
Response to bigtree (Original post)
Fri Jan 4, 2013, 12:51 PM
niyad (57,827 posts)
3. what a big NO surprise--the idiot from my district is on the list.
---
Response to bigtree (Original post)
Fri Jan 4, 2013, 01:55 PM
progressoid (41,243 posts)
4. Holy crap.
I can't believe King (ia) isn't on there.
---
Response to bigtree (Original post)
Fri Jan 4, 2013, 01:59 PM
samsingh (14,658 posts)
5. take note of the cretins for the next election
---
Response to bigtree (Original post)
Fri Jan 4, 2013, 02:06 PM
freshwest (53,661 posts)
6. I feel bad for all you guys whose neighbors voted teabags in. It was close out here, too.
Last edited Fri Jan 4, 2013, 02:52 PM - Edit history (1)
If the GOP-sponsored unknown, who outspent my Democrat several times over, had won. The GOP had Koch front funds that Democrats didn't. They'd sworn to not take any corporate money to prevent conflict of interest. But if the GOP had more votes, I'd be singing the blues with you.

To me it was much too close, and a lot of it is from the 'throw the bums out' meme, which is a the non-thinking voter's method. When you have a good representative whose votes you followed and they are progressive, you keep them. And you have to understand the legislative process and the give and take. It is always a teabagger who is being offered as the new, improved thing. These 'citizen legislators who know our pain' are funded by Koch money. Talk about stupid.

I counseled some new voters who were getting their first chance to vote as nautralized citizens. They understand because they go through classes how the system works, but not the poltics or the history or relationships. They are not told that. I'm not paid by the Democratic Party or anyone else to do any of these things, they are random, personal encounters with people whom others refer to me to talk about it.

Most had ideas they wanted to vote Democrat as they liked Obama. But our ballot pamphets show all the 'parties' all the way through, a new voter doesn't know the history of these people. Or the buzzwords. So they'd ask, 'Look, he says is for civil rights (seeing the teabag term 'liberty') and 'job creation' (not knowing the GOP votes against the very jobs many of them want) so isn't he a good man?'

Many people do not know the difference in the philosophies of governance, and they have to decide if it is what they want. I tell them I have a bias upfront. In talks they explained how much they love America because where they came from there was no middle class, only those born to privilege and the poor who can never rise above extreme poverty. They think the USA is the greatest country in the world because it gives the people a chance to be educated and start their own businesses.

So they are somewhat likely to fall for the GOP meme that they are 'for business.' The folks I was talking to, were not at all uneducated or stupid nor did they have any lack of English proficiency. They tried to start businesses to get their families ahead where they were born, but the money all stayed with the super wealthy, who they said lived as kings, but there is no way to sell one's goods or services as the rich didn't need them and the poor couldn't afford them. No middle class and none coming, as the government where they lived did not help people start businesses. They were astonished to find the SBA.

It was a wonderful learning experience for me. I explained my preferences, some of which was a mystery to them, and we all talked a long time over the ballot pamphlets. They did not know about how all the local offices affected elections as they hadn't grown up with a choice. Like most voters, they didn't want to dwell on the negative things going on in the USA, racism or fraud, they wanted those who were positive about life. So ithey can be gulled by those who make the appearance of wholesome actions, but you can see by the votes of the GOP against the Sandy bill, that the smiling face has something less humane behind it. In this respect, they are no different than your average voter.

Back to the emigrants, since I found their views and hearts so refreshing, not worn out by the decades of arguments and propaganda. They said they want to have government services to help the needy, but are not interested in welfare. They are very happy overall with living in the USA and raising their families within the public school system we have, paying taxes, etc. But they will adapt to whatever conditions they meet.

They wanted to vote to help Obama meet his goals, as they had decided from listening to him that he was for the middle class. That is their goal, to be in that position in society. Americans often seem to think that being middle class is the natural evolution of societies, but by their stories, it is not a worldwide condition. No, they see the USA as unique in this regard and adore it for that reason, and are some of the most positive people that one would ever meet, quite genuine.

This last election, everyone's mail was full of lies from the Republican Governors' Association in D.C. and unnamed teabag mailings from out of state for all the teabag candidates. The slicker advertisements knew just what to say, claimed the Democrats were stealing from the firemen and policemen's pension and healthcare, etc. The ads were psychologically moving.

People who fall for the new and shiny didn't vote for the Democrats. I only post this in response to the OP because some who are currently living under teabag terrorists may be able to use some of what I'm relaying as my method. There was a reason neighbors fell for this and we must tell them about these votes. That may lead to some conversations that Democrats find uncomfortable to disucss. What the people who voted against Sandy relief did was immoral and hurt people badly. Part of PA was also hurt, why should that man vote against his own, as well?

We have had over the last few years, some great young talent in the Democratic Party, community minded young people who grew up here and did all the right things, big hearts and love for all. But there was no money to make slick presentations as the corporate spigot does not flow our way. These folks do this out of their own pockets, walking door to door for many miles, as I know many do, but unable to get through. Democrats do not use the churches much to get out the vote as we are mostly secular. The GOP seems to control those in churches here.

Just my two cents. Hope that some of this will help you convince your neighbors to vote these guys out of office!

---
Response to freshwest (Reply #6)
Fri Jan 4, 2013, 02:42 PM
bigtree (68,253 posts)
8. +1
deserves its own thread, freshwest
---
Response to bigtree (Original post)
Fri Jan 4, 2013, 02:07 PM
RebelOne (30,947 posts)
7. Tom Price from my district in Georgia was one of the cretins.
I never liked the guy, now I hate him.
---
Response to bigtree (Original post)
Sat Jan 5, 2013, 09:20 AM
bigtree (68,253 posts)
9. .
---
Response to bigtree (Original post)
Sat Jan 5, 2013, 11:51 AM
lonestarnot (77,097 posts)
12. All pieces of stinking shit!