Thu Jan 3, 2013, 12:19 AM
farminator3000 (2,117 posts)
"Police officers suggest leaving a firearm in your car if you want to turn it in."
"An officer will then go to your vehicle, secure the weapon, and help you fill out paperwork before it can be destroyed.
Last month, the Opa-locka Police Department collected more than 100 firearms in a gun buy back program."
Fear of school shooting leads man to turn in rifle
Michael Backer explains why he turned in Ruger Mini-14 assault rifle to Miami-Dade Police
SOUTHWEST MIAMI-DADE, Fla. -
One South Florida man talks about what led him to turn in his assault rifle to Miami-Dade Police.
"I bought it because it looked cool and I was young and dumb and now I'm older and wiser," said Michael Backer.
Backer told Local 10's Roger Lohse it was an easy decision to turn in the Ruger Mini-14 assault rifle that was collecting dust in his garage after the Connecticut school shooting.
"I didn't want it because God forbid somebody should steal it from my garage and it would be used in another Sandy Hook," said Backer. "One less rifle on the streets of Miami."
Backer said he had about 25 offers from people wanting to buy the rifle for as much as $300. Instead, he delivered it to Miami-Dade Police Department headquarters in Doral and asked them to destroy the firearm.
"Their exact reaction was, 'Really?'" said Backer. "It's insignificant in the grand scope of things, but I feel that maybe some life will be spared somewhere down the road by not having this rifle."
11 replies, 1785 views
Replies to this discussion thread
| | | | |
| --- | --- | --- | --- |
| 11 replies | Author | Time | Post |
| "Police officers suggest leaving a firearm in your car if you want to turn it in." (Original post) | farminator3000 | Jan 2013 | OP |
| | LeftInTX | Jan 2013 | #1 |
| | farminator3000 | Jan 2013 | #2 |
| | geomon666 | Jan 2013 | #3 |
| | freshwest | Jan 2013 | #4 |
| | rightsideout | Jan 2013 | #5 |
| | Nye Bevan | Jan 2013 | #6 |
| | Straw Man | Jan 2013 | #7 |
| | farminator3000 | Jan 2013 | #8 |
| | -..__... | Jan 2013 | #10 |
| | farminator3000 | Jan 2013 | #9 |
| | farminator3000 | Jan 2013 | #11 |
---
Response to farminator3000 (Original post)
Thu Jan 3, 2013, 12:31 AM
LeftInTX (7,722 posts)
1. Good for him
And good advice about not walking with it directly into the police station.
---
Response to farminator3000 (Original post)
Thu Jan 3, 2013, 12:34 AM
farminator3000 (2,117 posts)
2. and leave the ganja at home, too...
---
Response to farminator3000 (Original post)
Thu Jan 3, 2013, 12:35 AM
geomon666 (7,324 posts)
3. My faith in South Florida citizens
Went up a little bit right there.
---
Response to geomon666 (Reply #3)
Thu Jan 3, 2013, 12:37 AM
freshwest (53,661 posts)
4. +1
---
Response to farminator3000 (Original post)
Thu Jan 3, 2013, 12:56 AM
rightsideout (978 posts)
5. Like
---
Response to farminator3000 (Original post)
Thu Jan 3, 2013, 01:03 AM
Nye Bevan (25,406 posts)
6. More please (nt)
---
Response to farminator3000 (Original post)
Thu Jan 3, 2013, 01:19 AM
Straw Man (4,684 posts)
7. A Mini-14 isn't an "assault rifle."
That's a military designation. It isn't even an "assault weapon," which is a legal designation. It's just a semi-automatic rifle. Ruger calls it the "Ranch Rifle." For a long time, Ruger would only sell you a five-round or ten-round magazine for the Mini (unless you were a law enforcement officer) because as Bill Ruger once famously (or infamously, depending on whom you ask) said, "No honest man needs more than ten rounds."

And all those people who offered "as much as $300" for it were taking advantage of him because in any kind of decent shape it's worth more like $500. Twenty-five offers? What, just from random strangers? Does he have twenty-five friends who all wanted the rifle? Or did he advertise it and then reconsider?

Sloppy, sloppy journalism.

Still and all, if he was keeping it in an unsecured garage, it's probably just as well that he did what he did.
---
Response to farminator3000 (Original post)
Thu Jan 3, 2013, 11:26 AM
farminator3000 (2,117 posts)
8. and this guy from FL isn't the only one turning in his death stick...
Last edited Thu Jan 3, 2013, 12:14 PM - Edit history (1)
Something positive has come out of the otherwise senseless murder-suicide involving Kansas City Chiefs linebacker Jovan Belcher: some NFL players are giving up their guns.
During NBCís Football Night in America on Sunday, Peter King said at least seven football players turned in their weapons to their teamsí security personnel following the Dec. 1 incident. According to the report, one athlete told team officials he didnít trust himself with the firearms around.
http://tv.msnbc.com/2012/12/10/shocked-by-a-murder-suicide-some-nfl-players-give-up-their-guns/
***
Arturo Hurtado, a Richmond, Calif., native, told the San Francisco Chronicle that the grief over the Newtown shooting at Sandy Hook Elementary School caused him to get rid of his gun. "I've got kids, man," Hurtado told the paper, before trading in what he called "that darn thing" for cash from the police department. Hurtado has four young children, and worries about the gun getting into their hands. "I don't know," he said. "I just know it had to go."
http://www.huffingtonpost.com/2012/12/16/newtown-shooting-gun-buyback_n_2312211.html
***
Two rocket launchers
turned in to the Los Angeles Police Department as part of the city's gun buyback event appear to be antitank weapons from the military, experts said.
Police said the people turning them in at the buyback told officers they had family members who were at one time in the military and "they no longer wanted the launchers in their homes."
http://www.latimes.com/news/local/la-me-1230-rocket-launcher-20121230,0,3609077.story?track=rss
***
Dec. 28
Gun buyback events in two cities
NEW HAVEN, Conn. (WTNH) -- In the wake of the Newtown tragedy, towns and cities across the state are hosting gun buybacks to get guns off the streets.
We are witnessing two different aspects to the purchasing and surrendering of guns following the Newtown tragedy. Gun stores across the country, including here in Connecticut, have reported brisk sales of firearms as some customers fear certain models will become illegal when gun control is debated in Congress.
Then there is the other side to this - those turning their guns back in.
Bridgeport, Connecticut's biggest city, has been active with a gun buyback program. The first day of the city's largest gun buyback netted 104 weapons. It continues today and again Saturday at the Bridgeport Police Department's Community Services Division at 1395 Sylvan Avenue.
Police are offering $200 for a working handgun and $75 for a rifle. Police paid more than $13,000 last week.
In New Haven, a gun buyback last week gathered 65 weapons,
including a Bushmaster .223 semi-automatic rifle, similar to the one used in the Newtown shootings. Officials say there were five assault weapons that were dropped off.
http://www.wtnh.com/dpp/news/new_haven_cty/gun-buyback-events-in-two-cities#.UOWryHfVpF4
***
New Albany officials originally planned to buy guns from noon until 8 p.m., but
it was clear the money wouldnít last nearly that long ó about $30,000 of the $50,000 allotted for the project had already been spent within the first hour,
and a long line remained outside.
http://www.courier-journal.com/article/20121228/NEWS02/312280073/1025/rsslink
***
GOLDIE TAYLOR: You know, I grew up with guns, Amy. It was a part of our life. We grew up in East St. Louis. And so, having a gun was really a part of the family security, along with having burglar bars and those kinds of things. When my father was murdered in 1973, my mother immediately bought a gun and kept it in the house for, you know, all of our lives. My brother was murdered in a similar fashion about 20 years later. And it really took the family by storm. At that time, I bought my own gun. I did not want my sons to live the fate or end in the fate that my father and brother had, and so I did what I thought I needed to do to protect them.
I had been a former marine, and so I had weapons training. My stepfather had been a detective sergeant at the East St. Louis Police Department, and so, you know, it was natural to me to have a weapon in the house. But over the years, you know,
Iíve just come to understand that having a privately owned, even though legal, weapon in your home, you are more likelyómore likely to hurt yourself or someone that you care about than you are to hurt someone who is trying to hurt you from the outside. And so, those are, you know, the real statistics.
http://truth-out.org/news/item/13470-domestic-abuse-survivor-goldie-taylor-on-giving-up-her-gun-and-the-unseen-plague-of-national-violence
***
We can't rely on the government to make a decision for us," Spradlin adds. "Give yourself and your family a Christmas present this year, go out and buy a gun safe, do it for our community, too.
http://arkansasmatters.com/fulltext?nxd_id=619672
***
ELLENSBURG, Wash.-- As the debate on gun control and assault rifles continues to heat up across the country, a local Vietnam veteran is taking matters into his own hands.
Frank Harwood served in the Navy during Vietnam and says he's owned two assault rifles for about 15 years, but after hearing about the devastating shooting in Connecticut, decided he wanted to make a change.
Harwood contacted the Kittitas County Sheriff's Office for help destroying the weapons. Deputies took them to a local fire department to use the Jaws of Life to tear the rifles apart.
Harwood says he used to be an avid hunter and even a member of the NRA, but now, has no use for the military style guns and didn't want them in his home after this latest mass shooting.
http://www.kndo.com/story/20388175/local-veteran-decides-to-destroy-his-guns
***
FAIRFIELD -- In the wake of last week's mass shooting in Newtown, Conn., two local business owners have found a way to reduce the number of guns in the community.
Hammond Tractor Co. co-owner Gary Hammond, right, and employee Chad Tibbetts hold pieces of destroyed firearms in Fairfield on Friday. In the wake of the Newtown, Conn. shooting, Hammond Tractor is offering to accept and destroy firearms. "We're all hunters and we all own guns, but as an act of service to the community if any one has guns they want destroyed we'll gladly do that for them, " said Hammond.
Pieces of destroyed firearms lie on a table at Hammond Tractor Co. in Fairfield on Friday. In the wake of the Newtown, Conn. shooting, Hammond Tractor is offering to accept and destroy firearms.
Using torches and industrial saws, the managers at Hammond Tractor Co. will tear apart handguns -- free of charge, with no appointment necessary -- for anyone who wants their gun destroyed.
http://www.kjonline.com/news/fairfield-firm-offers-to-destroy-guns_2012-12-21.html
ADDENDUM to Hammond Tractor-
In general, "I've had considerable feedback," he said. "Enough that I realize I made a mistake in getting involved in this topic."
...
"He was simply offering a service that was not available elsewhere, and it was completely voluntary," Wheeler said. "If you have guns and you want to keep them, keep them. This was just an alternative. I guess I'm just baffled by that type of reaction."
Hammond's offer elicited strong reactions from readers -- mostly negative.
Some commenters to the story posted on the Sentinel's website compared the act of destroying guns to book burning in Nazi Germany.
Roy said Hammond's stance was neutral.
"I certainly understand how there are strong emotions on both sides," Roy said. "However, Gary made clear in his offer that he respected gun owners, he owns guns himself and had no intention of destroying his own guns. I think it's unfortunate that it has elicited such a strong response because I think his intentions were honorable."
http://www.pressherald.com/news/Offer-to-destry-.html
---
Response to farminator3000 (Reply #8)
Thu Jan 3, 2013, 12:02 PM
-..__... (7,776 posts)
10. They're having hammer buy backs now?!?
Snork!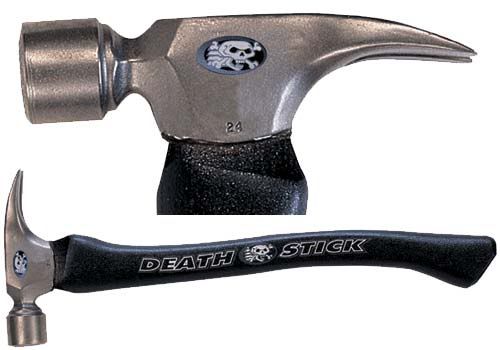 Interesting.
I wonder how much they'll give me for my old Craftsman 16oz ball peen hammer with the cracked handle?
It's been the cause of much pain and suffering over the years, with bruised and scraped knuckles and all.
Only problem left, is what to do with the cases of nails I've been stockpiling over the years?
---
Response to farminator3000 (Original post)
Thu Jan 3, 2013, 11:31 AM
farminator3000 (2,117 posts)
9. i'd just like to add that anyone who tries to argue "against" people turning in guns is wasting our
time, and will be summarily ignored, by me, at least!
also, more recs than replies, i like that!
edit: this has nothing to do with this thread, but not worth a new thread-
LV police: Naked man shot with stun gun after snorting meth
Shanewolf came into the room and told police she didn't realize the naked man was her boyfriend.
She said that as she was sleeping, Laduca ran into the room and began yelling at her in an accent. She ran into a bedroom, locked the door and called police.
http://www.poconorecord.com/apps/pbcs.dll/article?AID=/20130103/NEWS90/130109945/-1/rss01
police also recommend not leaving your meth out when your boyfreind is NUTS...
---
Response to farminator3000 (Reply #9)
Mon Jan 7, 2013, 11:16 AM
farminator3000 (2,117 posts)
11. Arizona buyback starts tuesday! groceries, not guns...
Boston (MA) Globe - Massachusetts
Yarmouth gun buyback nets 72 weapons
Mon Jan 7, 2013 09:15 AM EST
Camden (NJ) Courier-Post - More Headlines
Jersey City buyback nets 120 guns
Mon Jan 7, 2013 04:20 AM EST
Ithaca (NY) Journal - More Headlines
Buyback program yields a barrel of guns
Sun Jan 6, 2013 8:21 PM EST
Forbes - More Headlines
Another Deadly Shooting -- In Aurora. Itís Time For Gun Buyback
Sat Jan 5, 2013 1:42 PM EST
"The police would have to take the guns and run them through the national database. If they are stolen, they are returned to the owner," he said. "If they are not stolen, (the Tucson Police Department) is mandated by state law to sell them to the public."
http://www.abc15.com/dpp/news/region_central_southern_az/tucson/City-of-Tucson-National-Rifle-Association-at-odds-over-gun-buyback-program
Miami (FL) Herald - Miami-Dade
Miami police announce drug arrests, gun buybacks
Fri Jan 4, 2013 2:10 PM EST
Wilmington (DE) WDEL
Sen. Marshall: Ban assault weapons, hold gun buybacks
Fri Jan 4, 2013 1:09 PM EST
Louisville (KY) WAVE
Police go through guns from gun buyback program
Fri Jan 4, 2013 10:14 AM EST
Tampa (FL) Tribune
Hillsborough commissioner proposes annual gun buyback
Fri Jan 4, 2013 08:10 AM EST