Wed Jan 2, 2013, 11:37 AM
Are_grits_groceries (16,896 posts)
Two Pilots (a WWII story)
Two Pilots
Look carefully at the B-17 and note how shot up it is - one engine dead, tail, horizontal stabilizer and nose shot up.. It was ready to fall out of the sky. (This is a painting done by an artist from the description of both pilots many years later.) Then realize that there is a German ME-109 fighter flying next to it. Now read the story below. I think you'll be surprised...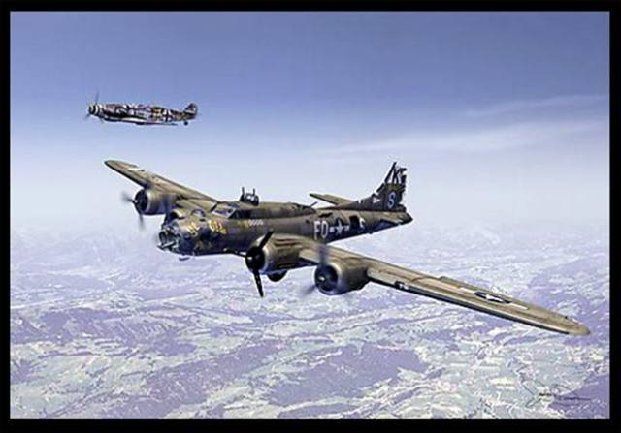 Charlie Brown was a B-17 Flying Fortress pilot with the 379th Bomber Group at Kimbolton, England ... His B-17 was called 'Ye Old Pub' and was in a terrible state, having been hit by flak and fighters. The compass was damaged and they were flying deeper over enemy territory instead of heading home to Kimbolton.
After flying the B-17 over an enemy airfield, a German pilot named Franz Stigler was ordered to take off and shoot down the B-17. When he got near the B-17, he could not believe his eyes. In his words, he 'had never seen a plane in such a bad state.' The tail and rear section was severely damaged, and the tail gunner wounded. The top gunner was all over the top of the fuselage. The nose was smashed and there were holes everywhere.
Despite having ammunition, Franz flew to the side of the B-17 and looked at Charlie Brown, the pilot. Brown was scared and struggling to control his damaged and blood-stained plane.
BF-109 pilot Franz Stigler, B-17 pilot Charlie Brown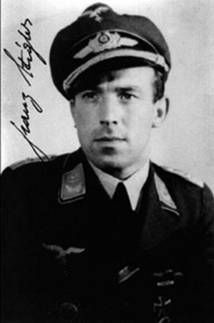 Aware that they had no idea where they were going, Franz waved at Charlie to turn 180 degrees. Franz escorted and guided the stricken plane to, and slightly over, the North Sea towards England . He then saluted Charlie Brown and turned away, back to Europe . When Franz landed he told the CO that the plane had been shot down over the sea, and never told the truth to anybody. Charlie Brown and the remains of his crew told all at their briefing, but were ordered never to talk about it.
More than 40 years later, Charlie Brown wanted to find the Luftwaffe pilot who saved the crew. After years of research, Franz was found. He had never talked about the incident, not even at post-war reunions.
They met in the USA at a 379th Bomber Group reunion, together with 25 people who are alive now - all because Franz never fired his guns that day.
(L-R) German Ace Franz Stigler, artist Ernie Boyett, and B-17 pilot Charlie Brown.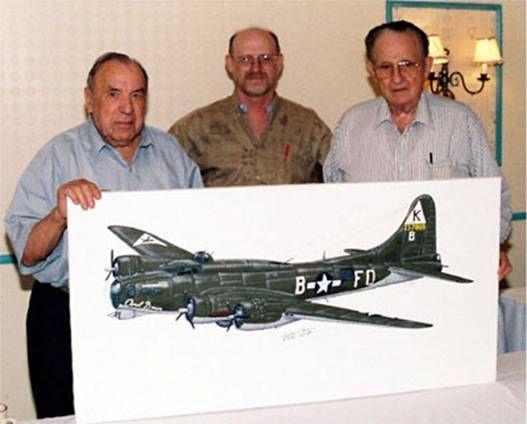 When asked why he didn't shoot them down, Stigler later said, I didn't have the heart to finish those brave men. I flew beside them for a long time. They were trying desperately to get home and I was going to let them do that. I could not have shot at them. It would have been the same as shooting at a man in a parachute.
Both men died in 2008.
This is a true story!
http://www.snopes.com/military/charliebrown.asp
Got this in an email.
8 replies, 3315 views
Replies to this discussion thread
| | | | |
| --- | --- | --- | --- |
| 8 replies | Author | Time | Post |
| Two Pilots (a WWII story) (Original post) | Are_grits_groceries | Jan 2013 | OP |
| | Neurotica | Jan 2013 | #1 |
| | OldDem2012 | Jan 2013 | #2 |
| | DianaForRussFeingold | Jan 2013 | #3 |
| | OldDem2012 | Jan 2013 | #4 |
| | Number9Dream | Jan 2013 | #5 |
| | neverforget | Jan 2013 | #6 |
| | Wilms | Jan 2013 | #7 |
| | Scuba | Jan 2013 | #8 |
---
Response to Are_grits_groceries (Original post)
Wed Jan 2, 2013, 11:41 AM
Neurotica (587 posts)
1. NPR did a story about this last month
Someone just wrote a book about this (can't remember the author's name). Great NPR segment. I meant to look into this fascinating story--thanks for posting this and reminding me.
---
Response to Are_grits_groceries (Original post)
Wed Jan 2, 2013, 11:46 AM
OldDem2012 (3,526 posts)
2. Excellent and very moving story! Thanks for posting! nt.
---
Response to Are_grits_groceries (Original post)
Wed Jan 2, 2013, 12:05 PM
DianaForRussFeingold (2,552 posts)
3. Wow! A wonderful, heartwarming story!
Thank you for sharing-I love it...Such a truly touching story!
---
Response to Are_grits_groceries (Original post)
Wed Jan 2, 2013, 12:49 PM
OldDem2012 (3,526 posts)
4. My Dad had a similar story but the pilot was a US fighter pilot who led Dad's B-24 bomber....
....to safety on the (then Yugoslavian) Isle-of-Vis, an island controlled by the Communist partisans under Tito. Dad was part of the 15th Army Air Force, 465th Bomb Group, 783rd Bomb Squadron based near Foggia, Italy, at the Pantenella Army Air Base.

Dad's plane had lost two engines and was pretty well shot up from enemy ground fire from a winter 1945 bombing mission over Austria, and the pilot was considering ditching in the ice-cold Adriatic and hoping to survive long enough to be picked up. As they were considering that option, their plane was approached by a US P-38 fighter. The pilot told them to follow him to the Isle-of-Vis where they could hopefully land safely.

The island basically had a "one-way" runway that allowed planes to land but there was no way to take off again. Any plane landing there was considered to be much too damaged to be repaired and was unceremoniously dumped off the end of the runway and the crews were transported by sea back to their bases in Italy.

Unlike Charlie Brown, Dad never learned the name of the pilot who saved them. If not for the actions of that pilot, I probably wouldn't be here today.

But, nine years before Dad's passing in 2009, I was able to track down all but one of his old B-24 crewmates and gave Dad their contact information. I'll never forget the excitement in Dad's voice when I gave him that information over the phone. He, and they, really enjoyed talking with each other, most of whom had never seen or talked with each other since returning to the States in 1945.
---
Response to Are_grits_groceries (Original post)
Wed Jan 2, 2013, 01:20 PM
Number9Dream (1,228 posts)
5. My father was in the 379th
Thanks for this great story. My father was a co-pilot in the 379th. Decorated - Distinguished Flying Cross. I wish I could have shown him this story. He would have enjoyed it. He passed away in 2009. Link to more on this story:
http://www.379thbga.org/war_stories.htm
---
Response to Are_grits_groceries (Original post)
Wed Jan 2, 2013, 01:59 PM
neverforget (9,362 posts)
6. My uncle was the only survivor of a B17 and never knew that some Germans saved him from the SS.
He was shot down over Germany on May 12, 1944. He was a tail gunner on a B17G and somehow got out of the plane before it exploded killing the rest of the crew. He landed in a farmers tree near the small town of Gnadenthal, Germany. He cut himself down and broke his leg in the fall. The farmer came out and helped him into his house. The townspeople then came out to the farmers house and wanted to kill my uncle but the farmer let the dogs loose and drove the townspeople out of his yard. The Luftwaffe showed up before the SS and took my uncle into custody as a POW.

The next day, the German pilot who was also shot down but shot down my uncle's plane, landed another plane in the field and saluted the B17's wreckage. A townsperson asked the pilot why he was doing that and he responded "Tomorrow it could be me".

My uncle never knew any of this. He died on May 12, 1966. One of the crew's brothers did all of this research in the 1980's and went to Germany and interviewed people in the town.


---
---
Response to Are_grits_groceries (Original post)
Thu Jan 3, 2013, 06:41 AM
Scuba (53,475 posts)
8. Don't blame the service men and women for the war. They are not the ones who failed at diplomacy...
... as this story illustrates, those who must do the fighting are often those who best understand love.