Fri Dec 21, 2012, 06:58 PM
Stinky The Clown (56,670 posts)
The prominent mass shooters are pretty much prepared for their acts, Mr. LaPierre.
Mr LaPierre thjinks it would be a good idea if, by the time kids get back to school after the Christmas break, every school in the land had a trained, armed cop on duty, ready to ward off another bad guy such as the one who caused the horror in Newtown.
Simple math shows that would cost us almost $5B a year. Assuming we are willing to pay that much, how do we equip these school guardians?
Every modern mass shooter has been quite prepared to take fire. Mr. Lanza, is said to have been wearing a vest. The Aurora Batman nut was wearing serious body armor and a bulletproof helmet.
Do we have the school guardians similarly armed and ready each and every day? Will these be the Officer Friendlies of the second decade of this millenium?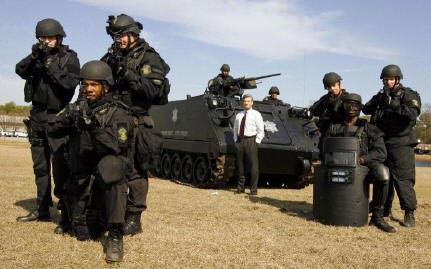 Lest you think this is hyperbole, consider this. This YouTube video is a clip from a History Channel show on the infamous 1997 Bank of America shootout in North Hollywood, CA. Scores of trained cops responded in seconds. Heavily artillery was brought to bear. True enough, but bad guys were killed during the event, but not without extracting a price. Dead people scattered over a wide area. The bad guys took many direct hits and just kept walking about, firing at will. These two were not rocket scientists, but they managed to prevail sufficiently long to bring carnage to a peaceful street.
As we escalate on the protective side, so will bad guys escalate on the attack side. If LaPierre were to get what he asked for, our kids could be in the middle of the fusillades of bullets seen in this video. Also, please keep in mind the hot part this incident produced 42 minutes of official raw video. almost 2,000 rounds of bullets were expended. there were 22 casualties. The only two dead were the bad guys. I am posting this simply to show the intensity that could well be loosed on our CHILDREN as school as we make each one a target for some kook with a point to make and a desire to commit suicide by cop.
This video is gripping and very intense, but not particularly graphic.
1 replies, 518 views
Replies to this discussion thread
| | | | |
| --- | --- | --- | --- |
| 1 replies | Author | Time | Post |
| The prominent mass shooters are pretty much prepared for their acts, Mr. LaPierre. (Original post) | Stinky The Clown | Dec 2012 | OP |
| | Iggy | Dec 2012 | #1 |
---
Response to Stinky The Clown (Original post)
Fri Dec 21, 2012, 07:09 PM
Iggy (1,418 posts)
1. Which Again Brings up the Point:
if the perps are spending 2-3 monthe preparing for their pathetic performance-- WHY can they not be monitored, tracked and stopped by law enforcement?