Tue Dec 18, 2012, 09:22 AM
xchrom (108,903 posts)
The Newtown shooting makes us feel helpless. We don't need to be
http://www.guardian.co.uk/commentisfree/2012/dec/17/newtown-shooting-helpless-charlie-brooker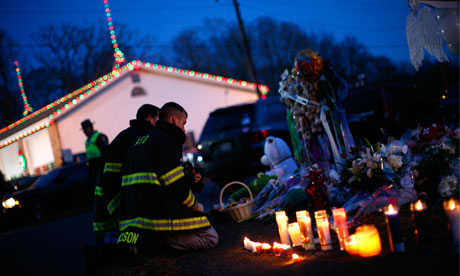 Firefighters visit a memorial at Sandy Hook elementary school in Newtown, Connecticut to the victims of the recent shooting. Photograph: Eric Thayer/Reuters
I was a country boy. When I was growing up, there was a shotgun in the house. Dad shot clay pigeons for sport. I fired it once myself, with his assistance. Had to wear ear protectors. When you pull the trigger, a shotgun punches you hard in the shoulder. It almost knocked me over.
Decades later I fired a handgun at a shooting range in Las Vegas. At first I didn't even want to hold it. It represented a level of fearsome responsibility I didn't want to bear for even a few minutes. Once in your hand, a gun seems heavier and somehow more real than you anticipated. You face the target (in this case, a fullsize photocopy of Osama bin Laden). Pull the trigger and your hand kicks upwards, the blast 20 times louder than the imaginary one you had been mentally preparing yourself for. Adrenaline sears through you. You tingle. It's exciting. Once you've fired a gun, it's easier to understand people who don't want to give theirs up.
And the US is not Britain. There are places where you can drive in one direction for several hours without seeing a soul. On honeymoon, I recall looking out of the car window, somewhere in the middle of nowhere, and seeing a tiny house all on its own. If I lived there alone, I figured, I'd want a gun.
Anyway. None of those feelings, real as they are, are anywhere near as potent as the sensation I had this weekend.
1 replies, 531 views
Replies to this discussion thread
| | | | |
| --- | --- | --- | --- |
| 1 replies | Author | Time | Post |
| The Newtown shooting makes us feel helpless. We don't need to be (Original post) | xchrom | Dec 2012 | OP |
| | geckosfeet | Dec 2012 | #1 |
---
Response to xchrom (Original post)
Tue Dec 18, 2012, 09:38 AM
geckosfeet (9,644 posts)
1. Don't be helpless. Do something. "Try to stop it happening again."
Over the past few days a fair few people have retweeted an excerpt from a show I made in 2009 in which a psychologist urged news organisations not to sensationalise their coverage of massacres, on the basis that this had the potential to inspire further tragedies. That may well be true, and there's no harm pursuing it. But the best way to improve media coverage of massacres is to prevent massacres. And try as I might, I can't think of a better way to prevent massacres than reducing the number of guns in circulation.
The Newtown shooting makes us feel helpless. We don't need to be
Outright banning is a reach, but in the interest of public welfare and safety reducing the number of assault rifles and high capacity (more than 12) round magazines makes sense to me.
Twenty children shot at close range with an assault rifle. You could argue that the choice of weapon is irrelevant; that a truly unhinged individual would still find the means to kill. Maybe that's true; I don't know. All I know is that 20 children were shot at close range with an assault rifle, and that only a lunatic nation wouldn't try everything it could think of to make that less likely to happen again.
America, don't be helpless. Look at the faces. Feel how much it hurts. Try to stop it happening again.
The Newtown shooting makes us feel helpless. We don't need to be
Lots of low cost easy to implement and reasonable ideas have been aired the last couple of days - like mandatory training and mandatory secure storage. I would spend money on improved mental health care and background checks. Also beef up laws around negligent storage of firearms.