Sun Dec 16, 2012, 10:11 AM
xchrom (108,903 posts)
Arizona funnels business to CCA through its school-to-prison pipeline
http://www.guardian.co.uk/commentisfree/2012/dec/13/arizona-business-cca-school-to-prison-pipeline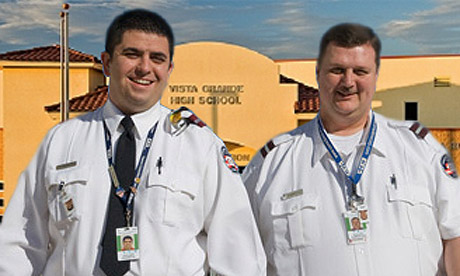 CCA guards outside Vista Grande High School in Arizona
On 31 October 2012, a group of local law enforcement agencies and approximately 20 trained sniffer dogs descended on the Vista Grande High School in Arizona to perform a drug sweep. The officers and dogs showed up in the early morning and the school was put on lockdown, meaning all of the doors were locked and none of the children was allowed to leave.
According to the school's principal, Tim Hamilton, the dogs did not go near the children, who were made to wait in the hallways for the hour or so that the officers and canines swept through their classrooms. Ultimately, the dogs sniffed out three personal stashes of marijuana, and the three kids who owned these stashes were taken away by the police. Two of the kids have been put on long-term suspension, one has been expelled and all three are facing criminal charges.
Drug sweeps of schools are not uncommon occurrences in the recent past in America, much to the chagrin of civil rights advocates, who see such sweeps as an efficient means of diverting certain kids to prison – in some cases, even before they make it to adolescence, via the much-criticized "school-to-prison pipeline". What was unusual about this particular raid, however, is that, among the team of law enforcement personnel and canines put together by the local Casa Grande police department, there were prison guards employed by the Corrections Corporation of America (CCA), the country's largest for-profit prison company, which owns and operates several prisons in the area. CCA was also kind enough to provide their sniffer dogs for the raid.
What's even more unusual about this is that pretty much nobody in a position of authority in and around Casa Grande seems to think there's anything wrong with that.
0 replies, 538 views