Wed Dec 12, 2012, 04:52 PM
Whovian (2,866 posts)
Obamacare architect leaves White House for pharmaceutical industry job
I'm really feeling ill.
Few people embody the corporatist revolving door greasing Washington as purely as Elizabeth Fowler
When the legislation that became known as "Obamacare" was first drafted, the key legislator was the Democratic Chairman of the Senate Finance Committee, Max Baucus, whose committee took the lead in drafting the legislation. As Baucus himself repeatedly boasted, the architect of that legislation was Elizabeth Folwer, his chief health policy counsel; indeed, as Marcy Wheeler discovered, it was Fowler who actually drafted it. As Politico put it at the time: "If you drew an organizational chart of major players in the Senate health care negotiations, Fowler would be the chief operating officer."
What was most amazing about all of that was that, before joining Baucus' office as the point person for the health care bill, Fowler was the Vice President for Public Policy and External Affairs (i.e. informal lobbying) at WellPoint, the nation's largest health insurance provider (before going to WellPoint, as well as after, Fowler had worked as Baucus' top health care aide). And when that health care bill was drafted, the person whom Fowler replaced as chief health counsel in Baucus' office, Michelle Easton, was lobbying for WellPoint as a principal at Tarplin, Downs, and Young.
Whatever one's views on Obamacare were and are: the bill's mandate that everyone purchase the products of the private health insurance industry, unaccompanied by any public alternative, was a huge gift to that industry; as Wheeler wrote at the time: "to the extent that Liz Fowler is the author of this document, we might as well consider WellPoint its author as well." Watch the five-minute Bill Moyers report from 2009, embedded below, on the key role played in all of this by Liz Fowler and the "revolving door" between the health insurance/lobbying industry and government officials at the time this bill was written and passed.
More amazingly still, when the Obama White House needed someone to oversee implementation of Obamacare after the bill passed, it chose . . . Liz Fowler. That the White House would put a former health insurance industry executive in charge of implementation of its new massive health care law was roundly condemned by good government groups as at least a violation of the "spirit" of governing ethics rules and even "gross", but those objections were, of course, brushed aside by the White House. She then became Special Assistant to the President for Healthcare and Economic Policy at the National Economic Council.
more at
http://www.guardian.co.uk/commentisfree/2012/dec/05/obamacare-fowler-lobbyist-industry1
6 replies, 848 views
Replies to this discussion thread
| | | | |
| --- | --- | --- | --- |
| 6 replies | Author | Time | Post |
| Obamacare architect leaves White House for pharmaceutical industry job (Original post) | Whovian | Dec 2012 | OP |
| | msongs | Dec 2012 | #1 |
| | Fumesucker | Dec 2012 | #2 |
| | CoffeeCat | Dec 2012 | #3 |
| | Whovian | Dec 2012 | #5 |
| | uponit7771 | Dec 2012 | #4 |
| | bvar22 | Dec 2012 | #6 |
---
Response to Whovian (Original post)
Wed Dec 12, 2012, 04:55 PM
msongs (45,708 posts)
1. mission accomplished - welfare for "health care" corporations delivered nt
---
Response to Whovian (Original post)
Wed Dec 12, 2012, 04:57 PM
Fumesucker (45,851 posts)
2. No one could have predicted this
SO STOP SAYING THAT!1!
---
Response to Whovian (Original post)
Wed Dec 12, 2012, 05:12 PM
CoffeeCat (24,411 posts)
3. I sense that the corporations decide who is installed in these White House positions...
Corporations control our government. I don't think Obama "decides" who is his "Obamacare architect" is. They decide who will be "installed" to ensure that their needs and interests are met--like vultures circling around our democracy.

Same with banking and economic positions. I'm sure Goldman decides who sits as Fed Reserve Chairman and who becomes Treasury Secretary. We could go up and down the line--from the FDA where former big pharma execs run the show--to Department of Agriculture appointments that ensure Monsanto and Big Ag profits are protected.

Corporations decide. Our government is their playground.

When I saw BP using our own Coast Guard--to police land areas that were destroyed by their oil--in an attempt to keep reporters and the public from taking pictures--I knew it was all over. Maybe others came out of denial sooner than I did, but that situation catapulted me into reality real fast. When a corporation can commandeer our Coast Guard, and use them to cover their crimes--we've gone past insane.
---
---
Response to Whovian (Original post)
Wed Dec 12, 2012, 05:13 PM
uponit7771 (45,220 posts)
4. Baucus is a DemCon, no surprise there....I would've been surprised of the opposite
---
Response to Whovian (Original post)
Wed Dec 12, 2012, 08:20 PM
bvar22 (39,909 posts)
6. "a HUGE gift to that industry" (Health Insurance Cartel)
The Health Insurance Industry:
*Manufactures NOTHING
*Provides NO Useful Service
*Has ZERO inventory
*Produces NO Wealth (Value Added)
It IS a completely parasitic entity that provides NOTHING useful for its host, and, yet,
it has been enshrined as the ONLY Gateway to health care for Americans,
gleefully skimming their 15%+ right off the TOP....
for NOTHING!
WHY?
Because THAT is the
"Uniquely American Solution!"
[font color=firebrick]
[center]"There are forces within the Democratic Party who want us to sound like kinder, gentler Republicans.
I want a party that will STAND UP for Working Americans."
---Paul Wellstone [/font]
[/center]
[center]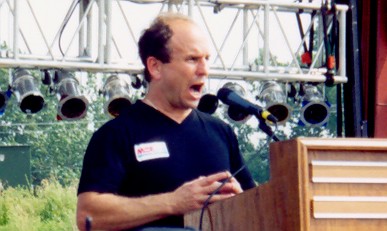 [/font]
[font size=1]
photo by bvar22
Shortly before Sen Wellstone was killed[/center]
[/font]
You will know them by their
WORKS
,
not by their
rhetoric, promises, or excuses
.
[font size=5 color=green]
Solidarity99!
[/font]
[font size=2 color=green]
--------------------------------------------------------------------------------------------------------------------------------[/center]