Tue Dec 11, 2012, 10:33 PM
WillyT (72,631 posts)
A Reminder, And A Toast... To Walter Reuther - An Fairly Unknown American Hero...
At the "I Have A Dream Speech"...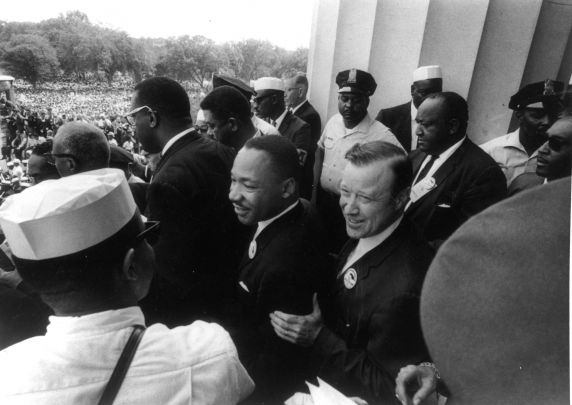 Walter Philip Reuther (September 1, 1907 – May 9, 1970) was an American labor union leader, who made the United Automobile Workers a major force not only in the auto industry but also in the Democratic Party in the mid 20th century. He was a socialist in the early 1930s and became a leading liberal and supporter of the New Deal coalition.
Early life

Reuther was born in Wheeling, West Virginia on September 1, 1907, the son of a socialist brewery worker who had immigrated from Germany. Throughout his career he was close to his brothers and co-workers Victor Reuther and Roy Reuther. Reuther joined the Ford Motor Company in 1927 as an expert tool and die maker.[1] Henry Ford helped build a large truck and tractor plant (GAZ) in the late 1920s in Nizhny Novgorod, Soviet Union, sending along engineers and mechanics, including Reuther. He was laid off in 1932 as the Great Depression worsened. His Ford employment record states that he quit voluntarily, but Reuther himself always maintained that he was fired for his increasingly visible socialist activities.[2] He and his brothers went to Europe and then worked 1933–35 in an auto plant at Gorky in the Soviet Union. While a committed socialist, he never became a Communist. At the end of the trip he wrote, "the atmosphere of freedom and security, shop meetings with their proletarian industrial democracy; all these things make an inspiring contrast to what we know as Ford wage slaves in Detroit. What we have experienced here has reeducated us along new and more practical lines."[3] Unhappy with the lack of political freedom in Russia, Reuther returned to the United States where he found employment at General Motors and became an active member of the United Automobile Workers (UAW).

Reuther was a Socialist Party member. He may have paid dues to the Communist Party for some months in 1935–36, and he has been accused of attending a Communist Party planning meeting as late as February 1939.[4] Reuther cooperated with the Communists in the later 1930s—this was the period of the Popular Front, and they agreed with him on internal issues of the UAW, but his associations were with anti-Stalinist Socialists.[5] Reuther remained active in the Socialist Party and in 1937 failed in his attempt to be elected to the Detroit Common Council. However, impressed by the efforts by President Franklin D. Roosevelt to tackle inequality, he eventually joined the Democratic Party.
[edit]Union career

In 1936 he became president of tiny local 174 (with 100 members), which on paper had responsibility for 100,000 auto workers on the west side of Detroit, Michigan. Reuther led several strikes and in 1937 and 1940 was hospitalized after being badly beaten by strike-breakers. He also survived two assassination attempts, and his right hand was permanently crippled in an attack on April 20, 1948.[6]

He had a highly publicized confrontation with Ford security forces on May 26, 1937, also known as the Battle of the Overpass. By this time, thanks to the sit-down strikes, UAW membership had exploded and Local 174 was a power inside the UAW. As a senior union organizer, Reuther helped win major strikes for union recognition against General Motors in 1940 and Ford in 1941.

As a prominent figure in the anti-Communist left, he was a founder of the Americans for Democratic Action in 1947. He became president of the CIO in 1952, and negotiated a merger with George Meany and the American Federation of Labor immediately after, which took effect in 1955. In 1949 he led the CIO delegation to the London conference that set up the International Confederation of Free Trade Unions in opposition to the Communist-dominated World Federation of Trade Unions. He had left the Socialist party in 1939, and throughout the 1950s and 1960s was a leading spokesman for liberal interests in the CIO and in the Democratic party.
In his prime, Reuther was influential and powerful enough to frighten conservatives. In 1958, later presidential candidate Barry Goldwater declared Reuther a "more dangerous menace than the Sputnik or anything Soviet Russia might do to America."[8]
More:
http://en.wikipedia.org/wiki/Walter_Reuther
Thank You Sir !!!

I hope we don't let you down!
4 replies, 1892 views
Replies to this discussion thread
| | | | |
| --- | --- | --- | --- |
| 4 replies | Author | Time | Post |
| A Reminder, And A Toast... To Walter Reuther - An Fairly Unknown American Hero... (Original post) | WillyT | Dec 2012 | OP |
| | hedgehog | Dec 2012 | #1 |
| | amborin | Dec 2012 | #2 |
| | Overseas | Dec 2012 | #3 |
| | lonestarnot | Dec 2012 | #4 |
---
Response to WillyT (Original post)
Tue Dec 11, 2012, 10:35 PM
hedgehog (36,286 posts)
1. Freedom isn't free!
---
Response to WillyT (Original post)
Tue Dec 11, 2012, 10:39 PM
amborin (16,631 posts)
2. yeah, he's a UAW hero, and he did do many great things
he also did some incredibly ghastly bad things which seriously harmed union power.

and his bargaining was center-right. he is the one who gave up management rights to the corporation; totally unnecessary move
---
Response to WillyT (Original post)
Tue Dec 11, 2012, 10:44 PM
Overseas (12,113 posts)
3. K&R.
---
Response to WillyT (Original post)
Wed Dec 12, 2012, 02:13 AM
lonestarnot (77,097 posts)
4. "There is no greater calling than to serve your fellow men. There is no greater contribution than to
help the weak. There is no greater satisfaction than to have done it well."

Walter Reuther