Thu Dec 6, 2012, 01:23 PM
superpatriotman (1,808 posts)
Cory Booker: Food Stamp Challenge Resulting in Hunger Pains, Caffeine Withdrawal
http://www.huffingtonpost.com/2012/12/06/cory-booker-food-stamp-challenge_n_2250692.html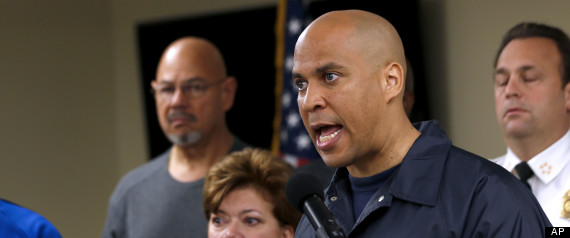 ?5
Cory Booker is getting awfully hungry. And he's craving a Diet Mountain Dew.

The Newark, N.J. mayor is now on day three of his self-imposed food stamp challenge. Inspired by a Twitter spat about the responsibility of government to provide food for its people, Booker decided to live for a week on the monetary equivalent of food stamps. He had $30 for the whole week -- a mere $4.32 a day -- to pay for all of his meals and beverages.

True to form, Booker is tweeting up a storm about his experience and keeping a blog.

After a few days of eating mostly vegetable-based foods, Booker is famished. "The constrained food options I have for this one short week highlight for me (with the hunger pains I felt today between small meals) what many hardworking families have to deal with week after week," he wrote on his blog.

"Not being able to stop and drop a few dollars for a Venti coffee or Diet Mountain Dew is really raising my consciousness about the food choices I often take for granted," Booker observed.
more at link
3 replies, 1036 views
Replies to this discussion thread
| | | | |
| --- | --- | --- | --- |
| 3 replies | Author | Time | Post |
| Cory Booker: Food Stamp Challenge Resulting in Hunger Pains, Caffeine Withdrawal (Original post) | superpatriotman | Dec 2012 | OP |
| | FedUpWithIt All | Dec 2012 | #1 |
| | msongs | Dec 2012 | #2 |
| | intheflow | Dec 2012 | #3 |
---
Response to superpatriotman (Original post)
Thu Dec 6, 2012, 01:28 PM
FedUpWithIt All (4,442 posts)
1. I agree with the comments on the story.
Should be required of all legislative politicians
---
Response to superpatriotman (Original post)
Thu Dec 6, 2012, 02:18 PM
msongs (44,506 posts)
2. elitist policitician PR stunt. sacrificing 7 WHOLE days. let's see this dimstick give up his
salary, retirement, and health care instead of going back to his cushy gig after one WHOLE week. not impressed by this opportunist
---
Response to msongs (Reply #2)
Thu Dec 6, 2012, 02:28 PM
intheflow (25,290 posts)
3. Wow, bitter much?
Not everyone is Ghandi, nor should they be. The fact that he is trying this out for a week is 100% more effort put into understanding poverty and hunger in America than is being put forth by any other politician. I have lived on food stamps, I am barely making over minimum wage now (just enough to keep me off assistance programs, really), and I am grateful someone is actually talking about this on a national level.