Wed Dec 5, 2012, 07:25 PM
Segami (14,923 posts)
Obamacare ARCHITECT Leaves White House For Pharmaceutical Industry Job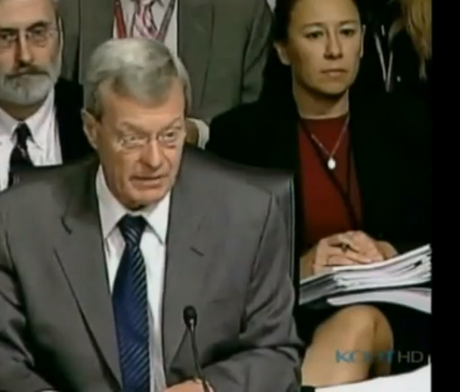 Few people embody the corporatist revolving door greasing Washington as purely as Elizabeth Fowler

Former WellPoint VP Elizabeth Fowler sits behind her boss, Sen. Max Baucus, as he announces in 2009 that the health care bill will have no public option.
When the legislation that became known as "Obamacare" was first drafted, the key legislator was the Democratic Chairman of the Senate Finance Committee, Max Baucus, whose committee took the lead in drafting the legislation. As
Baucus himself repeatedly boasted, the architect of that legislation was Elizabeth Folwer, his chief health policy counsel;
indeed, as Marcy Wheeler discovered,
it was Fowler who actually drafted it.
As Politico put it at the time: "If you drew an organizational chart of major players in the Senate health care negotiations,
Fowler would be the chief operating officer."
What was most amazing about all of that was that, before joining Baucus' office as the point person for the health care bill,
Fowler was the Vice President for Public Policy and External Affairs (i.e. informal lobbying) at WellPoint, the nation's largest health insurance provider (before going to WellPoint, as well as after, Fowler had worked as Baucus' top health care aide). And when that health care bill was drafted, the person whom Fowler replaced as chief health counsel in Baucus' office, Michelle Easton, was lobbying for WellPoint as a principal at Tarplin, Downs, and Young.
Whatever one's views on Obamacare were and are: the bill's mandate that everyone purchase the products of the private health insurance industry, unaccompanied by any public alternative,
was a huge gift to that industry; as Wheeler wrote at the time:
"to the extent that Liz Fowler is the author of this document, we might as well
consider WellPoint its author as well."
Watch the five-minute Bill Moyers report from 2009, embedded below, on the key role played in all of this by Liz Fowler and the
"revolving door" between the health insurance/lobbying industry and government officials
at the time this bill was written and passed.
More amazingly still, when the Obama White House needed someone to oversee implementation of Obamacare after the bill passed, it chose . . .
Liz Fowler.
That the White House would put a former health insurance industry executive in charge of implementation of its new massive health care law was
roundly condemned by good government groups as at least a violation of the "spirit" of governing ethics rules and even "gross", but those objections were, of course, brushed aside by the White House.
She then became Special Assistant to the President for Healthcare and Economic Policy at the National Economic Council. Now, as Politico's "Influence" column briefly noted on Tuesday,
Fowler is once again passing through the deeply corrupting revolving door as she leaves the Obama administration to return to the loving and lucrative arms of the private health care industry:
"Elizabeth Fowler is leaving the White House for a senior-level position leading 'global health policy' at Johnson & Johnson's government affairs and policy group."
Liz Fowler the Destroyer of the Public Option:
cont'
http://www.guardian.co.uk/commentisfree/2012/dec/05/obamacare-fowler-lobbyist-industry1
.
10 replies, 2271 views
Replies to this discussion thread
| | | | |
| --- | --- | --- | --- |
| 10 replies | Author | Time | Post |
| Obamacare ARCHITECT Leaves White House For Pharmaceutical Industry Job (Original post) | Segami | Dec 2012 | OP |
| | Fumesucker | Dec 2012 | #1 |
| | jsr | Dec 2012 | #2 |
| | former-republican | Dec 2012 | #5 |
| | Egalitarian Thug | Dec 2012 | #8 |
| | arthritisR_US | Dec 2012 | #3 |
| | former-republican | Dec 2012 | #4 |
| | progressoid | Dec 2012 | #9 |
| | Segami | Dec 2012 | #6 |
| | frylock | Dec 2012 | #7 |
| | Selatius | Dec 2012 | #10 |
---
Response to Segami (Original post)
Wed Dec 5, 2012, 07:33 PM
Fumesucker (45,851 posts)
1. Most blatant case of "Please don't throw me in dat briar patch br'er Fox" in history
And it worked even here on DU.

Perhaps even especially here on DU.



---
Response to Segami (Original post)
Wed Dec 5, 2012, 07:41 PM
jsr (7,712 posts)
2. Thus ensuring that we'll never have Medicare drug price negotiations
---
Response to jsr (Reply #2)
Wed Dec 5, 2012, 08:12 PM
former-republican (2,163 posts)
5. President Obama could have done it but lobbyist for pharmaceutical companies ...you know the rest...
---
Response to former-republican (Reply #5)
Wed Dec 5, 2012, 09:00 PM
Egalitarian Thug (12,448 posts)
8. The very first person he consulted with, before party leaders, before Congressional leaders, and he
specifically excluded any liberals or health care professionals, was the head lobbyist of the HMO industry, Karen Ignagni.

---
Response to Segami (Original post)
Wed Dec 5, 2012, 07:52 PM
arthritisR_US (5,878 posts)
3. Good riddance, one down and how many more
---
---
Response to former-republican (Reply #4)
Wed Dec 5, 2012, 09:08 PM
progressoid (41,693 posts)
9. All of the above. n/t
---
Response to Segami (Original post)
Wed Dec 5, 2012, 08:22 PM
Segami (14,923 posts)
6. WellPoint CEO; Public Option Not An Option
WellPoint CEO; Public Option Not An Option
WellPoint CEO Angela Braly told the Economic Club of Indiana today that it was time to reform health care and not just health insurance.
Braly said she providing more people with coverage without getting costs under control will only make the system worse. She said pointed to the Massachusetts plan where coverage was expanded however cost increased.
She said that 30% of health care spending is wasted and that insurance companies support making sure everyone has insurance and that individuals with
pre-existing conditions can be pooled with other high risk customers.
Braly also said she opposes a public option, in part, because insurance companies would be competing with the same entity which regulated them.
Braly spoke to reporters shortly after he speech. You can hear those remarks below.
http://www.indianabarrister.com/archives/2009/09/braly_on_health_care_reform.html
---
Response to Segami (Original post)
Wed Dec 5, 2012, 08:42 PM
frylock (34,825 posts)
7. i am shocked. shocked and appalled.
---
Response to Segami (Original post)
Wed Dec 5, 2012, 09:12 PM
Selatius (20,441 posts)
10. This issue won't go away. The left will continue to push for real reform.
Unless there is a public option in play, I don't think anybody that is firmly on the left will be happy with the ACA except to say that there needs to be another round of reform and progressive changes enacted.