Tue Dec 4, 2012, 09:38 PM
The Straight Story (48,120 posts)
Sovereign Citizen Extremists Targeting Law Enforcement Creates Potential for Violent Traffic Stops
Sovereign Citizen Extremists Targeting Law Enforcement Creates Potential for Violent Traffic Stops
The FBI assesses with medium confidence, based on reliable source reporting and reports from other law enforcement agencies, some sovereign citizen extremistsb are making more specific plans to interfere with state and local law enforcement officers during traffic stops and, in some cases, intentionally initiating contact with law enforcement. The FBI assesses with medium confidence that a shift from reacting to law enforcement scrutiny1,2 to targeting police officers indicates an increased interest in harassing and intimidating police and may lead to potentially hostile confrontations.
…
Targeting Law Enforcement
Some sovereign citizen extremists have recently initiated contact with police officers, which the FBI assesses are attempts to harass officers. This assessment is based on sovereign citizen extremists' past attempts to intimidate law enforcement and ideologically based distrust of government officials. If correct, this suggests a heightened interest among extremists in attempting to harass and intimidate law enforcement.
• In April 2012, Arkansas law enforcement officers pulled over a self-proclaimed sovereign citizen. According to a news report, the man's wife drove to the scene, told officers they had no right to arrest her husband, and said officers were committing "treason." A struggle began and an officer used a Taser to subdue the man.
• In March 2012, self-described sovereign citizens in California demanded that law enforcement officers fill out a "Public Servant's Questionnaire" during a traffic stop, with space for officers' personal information. According to an officer of another law enforcement agency, sovereign citizens used the questionnaire to buy time and call others to the scene, who recorded the incident and made unreasonable demands.
http://publicintelligence.net/fbi-sovereign-citizens-targeting-leos/
7 replies, 1706 views
Replies to this discussion thread
| | | | |
| --- | --- | --- | --- |
| 7 replies | Author | Time | Post |
| Sovereign Citizen Extremists Targeting Law Enforcement Creates Potential for Violent Traffic Stops (Original post) | The Straight Story | Dec 2012 | OP |
| | dae | Dec 2012 | #1 |
| | ProgressiveProfessor | Dec 2012 | #2 |
| | DaniDubois | Dec 2012 | #3 |
| | Ilsa | Dec 2012 | #4 |
| | GoneOffShore | Dec 2012 | #5 |
| | DaniDubois | Dec 2012 | #7 |
| | nadinbrzezinski | Dec 2012 | #6 |
---
Response to The Straight Story (Original post)
Tue Dec 4, 2012, 09:51 PM
dae (2,930 posts)
1. Sovereign Citizens are some wacked out crazies,
---
Response to The Straight Story (Original post)
Tue Dec 4, 2012, 10:37 PM
ProgressiveProfessor (22,144 posts)
2. They are also precipitating LEO over reaction. Interesting story on PINAC
---
Response to The Straight Story (Original post)
Tue Dec 4, 2012, 11:52 PM
DaniDubois (154 posts)
3. We just watched a swat team sharp shooter murder a 16 year old suicidal boy. A nurse,
Last edited Wed Dec 5, 2012, 01:18 AM - Edit history (1)
thrown on the ground face first and beaten for a simple traffic stop, a deaf artist shot in the back, a 14 year old tazed for refusing to wash a cop car, and they say "
Potential
for Violent Traffic Stops."
Are you kidding me? Asking that they respect your constitutional rights is now considered intimidating or harassing them? I'm tired of watching my tax dollars being paid out on lawsuits from them beating and killing innocent people and family pets.
I have to prove my life is in imminent danger to shoot and murder someone, or even to taze them. The police shoot and taze at will. The law should be the same for every man. No man should be above it, especially not law enforcement.
People need to stand together on this one. You're daughter, son, husband, wife or neighbor could be their next victim.
Not Alex Jones. Try The MSN - Associated Press - The Daily Mail - The Seattle Times. Links are here
16 year old boy - The Daily Mail
They brought in an army to take out a 16-year-old boy': Anguish of parents whose suicidal son was shot by SWAT sniper at his home
Andrew Messina became extremely emotional at his home in Towne Lake, Georgia after receiving a bad grade from school
He began to brandish a .357 Magnum that was kept inside his parents house
After his mother called 911 for a police officer to talk her son down a large number of deputies, an armoured tank and a sniper arrived at their affluent home

A sensitive and peace-loving 16-year-old boy from an affluent Georgia suburb was fatally gunned down by a police sniper in his own house after he threatened to kill himself following a bad day at school.
Read more:
http://www.dailymail.co.uk/news/article-2224126/They-brought-army-16-year-old-boy-Anguish-parents-suicidal-son-shot-SWAT-sniper-home.html#ixzz2E9MFvsJF
10 year old boy tazed for refusing to wash cop car on career day at school - MSN
"Let me show you what happens to people who do not listen to the police," Officer Christopher Webb allegedly said, just before firing his Taser into the chest of a 10-year-old boy. The New Mexico cop was at an elementary school career day and had asked the kids to clean his patrol car. When the boy said no, Webb taught him a 50,000 volt lesson.
http://now.msn.com/police-officer-allegedly-tases-boy-during-school-career-day
Nurse Beaten up by LAPD commander -
LAPD commander removed in probe of rough arrest

LOS ANGELES (AP) — A Los Angeles Police Department commanding officer has been removed amid an internal investigation into a videotaped beating in which officers tackled a handcuffed registered nurse to the ground, police Chief Charlie Beck said Wednesday.
Beck said previously that he had "serious concerns" about the use of force against Michelle Jordan, 34, who was arrested in the Tujunga area on Aug. 21 after being stopped for talking on a cellphone while driving, police said.
http://news.yahoo.com/lapd-commander-removed-probe-rough-arrest-054751139.html
Deaf Seattle artist -
Initial reports were that the man advanced on the officer with the knife; however, the department on Tuesday said it could no longer be sure that occurred.

Sean Whitcomb, the police department's spokesman, said Wednesday that the department was looking for additional witnesses to the shooting or anyone who might have been with Williams earlier in the day.

Birk has been placed on routine administrative leave pending the outcome of the investigation.

The shooting, in addition to being reviewed by homicide detectives and King County prosecutors, will be subject to an internal police department shooting review to ensure Birk had complied with the department's policy for using deadly force. The county will also likely order a coroner's inquest to review Williams' death.

Macri said employees and residents at 1811 Eastlake were devastated by the shooting.

"We have a strong partnership with the Seattle Police Department, and we are encouraged they have promised a full and transparent investigation; at this point we aren't drawing conclusions. We want to know more, just like everyone else," she said.

Alex Castas, general manager of Ye Olde Curiosity Shop on the Seattle waterfront, said his shop has been buying carvings from Williams' family for five generations, stretching back to the 1880s, when the shop used to buy from tribal members paddling up in canoes.

He said he had known Williams for 15 years, and never known him to be violent, though he often knew Williams to be incoherent because of drinking.

"I can definitely see a scenario where John had been drinking and it is taking him a while to focus exactly on what is going on; I could see him tripping more than I could see him lunging."

It was the same for Chaney Haney and Julie Reisman, co-owners of Glo, a restaurant on Capitol Hill where Williams sold his work, and liked to sit on the bench outside on the sidewalk, carving.

"I wonder if the officer knew he was hard of hearing;
http://seattletimes.com/html/localnews/2012784234_copshooting02m.html
---
Response to DaniDubois (Reply #3)
Wed Dec 5, 2012, 12:19 AM
Ilsa (45,844 posts)
4. Watched what? Where? What are you talking about?
---
Response to Ilsa (Reply #4)
Wed Dec 5, 2012, 12:23 AM
GoneOffShore (13,097 posts)
5. You'll get a link to an Alex Jones site
---
Response to GoneOffShore (Reply #5)
Wed Dec 5, 2012, 01:13 AM
DaniDubois (154 posts)
7. And Here is a link addressing the many innocent animals the police kill
Last week, Austin, Texas, Police Chief Art Acevedo publicly apologized to Michael Paxton over the death of his dog Cisco. Paxton was playing fetch with the Australian cattle dog in his backyard when a police officer pulled into the driveway in response to a 911 call. The officer had the wrong house. When Paxton left the yard to get something from his truck, he said the officer confronted him. Cisco ran around from the back, toward the officer. The officer simultaneously ordered Paxton to put his hands in the air and to restrain his dog. The officer then shot the dog.

Cisco's death made national news. Paxton's Facebook page detailing the killing and calling for a reprimand of the officer, has generated more than 100,000 "likes." But Paxton isn't the first dog owner whose pet has been shot to death by police. A search of news articles from the past year shows more than 100 separate incidents.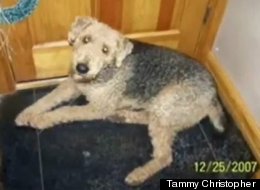 http://www.huffingtonpost.com/2012/04/27/cop-shoots-dog-puppycide_n_1446841.html
---