Tue Dec 4, 2012, 10:31 AM
Zorra (27,670 posts)
Anonymous leaks Syrian government emails, shutting down Syrian government websites.
Leaked Syrian government emails indicate weapons supplied to Hamas
Emails allegedly hacked from Syrian government accounts, leaked onto the Internet, indicate Iran and Syria are supplying weapons made in Ukraine and Belarus to Hamas in Palestine.
The online activist group known as Anonymous takes responsibility for the leak, which comprises over 2,000 emails and other files totaling around 1 gigabyte. The leak is part of Anonymous' ongoing campaign known as '#OpSyria' or 'Operation Syria' on the social networking website Twitter.
On Monday at 2030 Coordinated Universal Time (UTC), 'Par:AnoIA,' one of many Twitter accounts connected to Anonymous, stated that the group would "release a stash of Syrian Government emails in the next 24h, featuring Kofi Annan correspondence, cash & weapon deliveries." Three hours later the same user announced a leak of "1 Gigabyte [of] internal emails from [the] Syrian Ministry of Foreign Affairs" onto the internet.
The first email leaked was called a "teaser", from the Syrian embassy in Tehran on November 20, to the British embassy in Belarus. In the communique, the embassy confirms the Iranians are supplying helicopters and Ukrainian made weapons to Hamas, which operates mostly from the Gaza Strip in Palestine. "1.2D projectiles of Ukraine origin found in Egypt and Syria" are some of the weapons being sent to Palestine along with "EC725 Helicopters".
Anonymous Hackers Swat At Syrian Government Websites In Reprisal For Internet Blackout
"When your government shuts down the Internet, shut down your government," goes the slogan popularized by the hacker group Anonymous. As Syria blacked out its digital connections Thursday, the group seems to have settled for the tactic that it knows best: shutting down and vandalizing the few government websites that remain online.
Beginning Thursday afternoon, the loose hacker collective went on a spree of attacks against various Syrian government targets hosted outside of the disconnected country, including embassy websites in China, Australia, Saudi Arabia and other government sites including that of the Baath political party and the Syrian railway system. Most of those sites were flooded with junk traffic designed to take them offline, but some Anonymous factions hacked and defaced target sites, instead, including the Syrian embassy in Belgium and the Syrian Industrial Bank.
Though many of Anonymous' targets went offline temporarily overnight, most were back online Friday morning. Others remain offline, though it's not clear whether their downtime is a result of the hackers' attacks or Syria's abrupt disconnection from the Internet.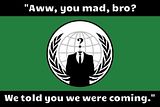 6 replies, 1231 views
Replies to this discussion thread
| | | | |
| --- | --- | --- | --- |
| 6 replies | Author | Time | Post |
| Anonymous leaks Syrian government emails, shutting down Syrian government websites. (Original post) | Zorra | Dec 2012 | OP |
| | lbrtbell | Dec 2012 | #1 |
| | eissa | Dec 2012 | #2 |
| | Zorra | Dec 2012 | #3 |
| | Zorra | Dec 2012 | #4 |
| | eissa | Dec 2012 | #5 |
| | Zorra | Dec 2012 | #6 |
---
Response to Zorra (Original post)
Tue Dec 4, 2012, 11:59 AM
lbrtbell (2,389 posts)
1. Shit, meet fan - n/t
---
Response to lbrtbell (Reply #1)
Tue Dec 4, 2012, 12:29 PM
eissa (3,636 posts)
2. And that's exactly what will happen when the Assad regime falls
and the Islamists take over. Btw, I took such glee in watching CNN's Arwa Damon, probably the most biased reporter in the region, get a smackdown by one of the rebels. While interviewing him, he chastised her for not being veiled. So much for the "pro-democracy" opposition.
---
Response to eissa (Reply #2)
Tue Dec 4, 2012, 01:04 PM
Zorra (27,670 posts)
3. Are you in favor of Syria's government shutting down the internet in Syria? nt
---
Response to eissa (Reply #2)
Tue Dec 4, 2012, 01:10 PM
Zorra (27,670 posts)
4. Human Rights in Syria
Human rights in Syria have been described as "poor".[1] From 1963 until April 2011, the emergency rule had remained in effect which gave security forces sweeping powers of arrest and detention.[2]
The country is governed by a one-party state without free elections.[2] The authorities harass and imprison human rights activists and other critics of the government.[3] Freedom of expression, association and assembly are strictly controlled.[2][3] Women and ethnic minorities face discrimination.[2][3] According to Human Rights Watch, President Bashar al-Assad failed to improve Syria's human rights record in the first 10 years of his rule,[4] and by the eleventh (2011), Syria's human rights situation had become one of the worst in the world.[5] According to Amnesty International, the government may be guilty of crimes against humanity based on "witness accounts of deaths in custody, torture and arbitrary detention," during the crackdown against the 2011 uprising.[6]
http://en.wikipedia.org/wiki/Human_rights_in_Syria
---
Response to Zorra (Reply #4)
Tue Dec 4, 2012, 02:32 PM
eissa (3,636 posts)
5. I'm fully aware of Syria's government
given that my in-laws live there. And they are now looking at a future similar to what my minority family in Iraq faced, i.e., no future. Both families vowed for years that they would never leave their ancestral homelands. Both are now desperate to flee the daily harassment and threats of sectarian violence. No one is defending the corrupt, brutal regime in Syria. But I'm under no illusions that exchanging a secular, brutal dictatorship for an equally brutal theocracy is any kind of progress.
---
Response to eissa (Reply #5)
Tue Dec 4, 2012, 03:12 PM
Zorra (27,670 posts)
6. Yes, good point, there is that risk. Why do you think the Syrian Government cut the citizens of
Syria off from the internet?
Do you believe it is possible that they, or the Military Industrial Complex in some form or another, may have done this to mount a government propaganda campaign, putting out only one side of the story, while at the same time hiding atrocities committed by government forces?
Sincerely very sorry about your family members. If only we could find a way to keep RW authoritarian religious crazies from gaining control of governments; but I can't find it in my heart to blame Syrian people of any persuasion from wanting to get rid of Assad.
President Kennedy said this:
"Those who make peaceful revolution impossible make violent revolution inevitable".
Syria appears to be the perfect example of how true JFK's statement is.