Mon Dec 3, 2012, 08:39 AM
xchrom (108,903 posts)
5 things you should know about the FCC's big media giveaway
http://www.nationofchange.org/five-things-you-should-know-about-fcc-s-big-media-giveaway-1354457720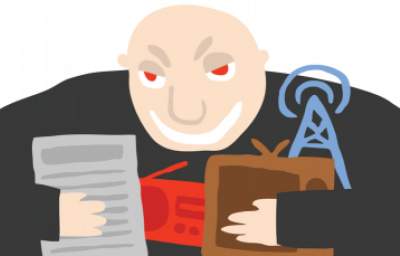 ***SNIP
1) It will give Rupert Murdoch more power.
If the FCC guts its ownership rules, nothing will stop Murdoch and other media giants from getting even more control over your news.
***SNIP
2) It will make our media less diverse.
Women own less than 7 percent of all broadcast outlets, while people of color control only 3.6 percent of all TV stations and just 8 percent of all radio stations. Most of the TV stations women and people of color own fall outside the top four in each media market. As it happens, the FCC proposal targets stations outside the top four — which means that ownership levels for women and people of color would plunge even further under Genachowski's plan.
***SNIP
3) It will create local media monopolies.
One company will be allowed to own a daily newspaper, two TV stations and up to eight radio stations in your town. That one company could be your Internet provider, too.
10 replies, 1136 views
Replies to this discussion thread
| | | | |
| --- | --- | --- | --- |
| 10 replies | Author | Time | Post |
| 5 things you should know about the FCC's big media giveaway (Original post) | xchrom | Dec 2012 | OP |
| | KharmaTrain | Dec 2012 | #1 |
| | KoKo | Dec 2012 | #5 |
| | KharmaTrain | Dec 2012 | #6 |
| | Tigress DEM | Dec 2012 | #2 |
| | spanone | Dec 2012 | #3 |
| | KoKo | Dec 2012 | #4 |
| | Egalitarian Thug | Dec 2012 | #10 |
| | Uncle Joe | Dec 2012 | #7 |
| | Joe Shlabotnik | Dec 2012 | #8 |
| | progressoid | Dec 2012 | #9 |
---
Response to xchrom (Original post)
Mon Dec 3, 2012, 08:47 AM
KharmaTrain (31,706 posts)
1. This Is About 12 Years Too Late...
The FCC gave the store away...turning the public airwaves into a private corporate plantation with "Dereg '96". Next came the "digital revolution" of a decade ago that led to blogs and websites surpassing newspapers as a major form for not only local news but also advertising as well. Newspapers are on life support...broadcasting isn't far behind as the internet continues to redefine the media landscape and in ways the corporates haven't been able to either master or control. The ugly truth is newspapers have been "consolidated" for a long time...as advertising revenues and circulation has decreased staffs have been cut and local coverage is replaced with easy-to-obtain wire material.

In many areas of the country that used to support a local paper no longer have them as those under 40 have found alternative means to find their information. This is a move of desperation by the media corporates who face large debts and shrinking revenues...a vain attempt to once again defy technological gravity.
---
Response to KharmaTrain (Reply #1)
Mon Dec 3, 2012, 10:53 AM
KoKo (84,711 posts)
5. We have no assurances that "digital" will be able to support itself, though.
It will be as dependent on ad revenue as our dying newspapers. With Ad Block it's hard for internet media to get enough support through that revenue. So the big players will come in and pay for the online sites and spew whatever propaganda they want to.

Already we see the death of progressive blogs or the folding within the few sites that can absorb them. Many of the writers still have to work for free.

Murdoch and a few others will eventually own all the Internet "News" by the fact that their news is online. If they can't make money then what happens to reporting?


---
Response to KoKo (Reply #5)
Mon Dec 3, 2012, 11:30 AM
KharmaTrain (31,706 posts)
6. They Don't Want To Own It...Only Manipulate It...
We saw with the last election the real "business model" of Bullshit mountain and the "conservative entertainment complex". It created its own world then catered to those who felt comfy in that world. They then led those who bought into the bullshit down a rosy path that came crashing down on election day. The game is one big con and those who buy into it deserve what they get. We saw on election day that people power can beat billions in corporate money and that a vast majority of Americans have rejected not just the right wing "agenda" but their messenger as well.

Yes...things such as ad blocker do hurt some sites and I know plenty who are trying to trailblaze out here that are lucky to cover their costs...that's the hazzards of a new medium. We're witnessing true individual entrepeneurship on the internet. I've seen sites, including this one, that have managed to survive and those that do fail are replaced by new sites and viewpoints.

I'm sure in his deep dreams Rupert dreams of being King of ALL media, but its too big and too nebulous for that to happen. Try to shut down an "outlaw" site and it'll set up shop offshore. Try to shut off people's access to a site and they'll find ways around the filters. I find our sources of information have never been better...no longer reliant on three corporate networks who determined what we needed to know in 24 minute bites each night or a handful of influential newpapers. Today anyone with internet access can publish worldwide...that is enormously empowering...

Cheers...
---
Response to xchrom (Original post)
Mon Dec 3, 2012, 08:47 AM
Tigress DEM (7,887 posts)
2. Say "NO to FCC" these terms suck. Freedom of the People and a RESPONSIBLE Free Press or none at all.
---
Response to xchrom (Original post)
Mon Dec 3, 2012, 09:18 AM
spanone (100,957 posts)
3. can our media really get 'less diverse' ? it's utterly broken now.
---
Response to xchrom (Original post)
Mon Dec 3, 2012, 10:45 AM
KoKo (84,711 posts)
4. This get's little attention here on DU...thanks for posting it..
I wonder if it's because folks feel there's nothing that can be done about it except to sign another useless petition...or because it's Obama's FCC appointed Chair that is acting just like Bush's under his appointee Michael Powell.

That the "public hearings" were shut down is what Bush tried to do but Michael Copps the long standing Dem on the FCC managed to get some hearings. I even attended one here in my state which was packed and out the door. I forget which issue it was on that Powell was pushing (there have been so many issues that have blown my mind at this point that memories fails unless I Google) but I remember that Michael Copps was a hero for pushing back and stalling for a time one of Powell's most aggregious power grabs. I don't think Copps is there any more and it seems the FCC is just the same tool for corporates under Obama now going into his second term. We can't blame Bush for this FCC Head when Obama could have appointed someone very different in his first term.

To give Murdoch these powers after what went on in GB is shocking and given the power he's had here with Fox News and Clear Channel plus his already ownership in newspaper which are spouting the propaganda he loves to promote.

It's truly disgusting...but, for whatever reason I think folks feel powerless to do anything but ignore it.
---
Response to KoKo (Reply #4)
Mon Dec 3, 2012, 02:14 PM
Egalitarian Thug (12,448 posts)
10. It seems nothing important gets much attention here any longer.
I'd make a list, but nobody that needs to know would read it.
n2doc posts the toons though, and that's a nice break.
---
Response to xchrom (Original post)
Mon Dec 3, 2012, 11:33 AM
Uncle Joe (41,519 posts)
7. Kicked and recommended.
Thanks for the thread, xchrom.
---
Response to xchrom (Original post)
Mon Dec 3, 2012, 01:28 PM
Joe Shlabotnik (5,604 posts)
8. Kickin' and rec'ing n/t
---
Response to xchrom (Original post)
Mon Dec 3, 2012, 01:52 PM
progressoid (42,009 posts)
9. Rec.