Sat Dec 1, 2012, 01:11 PM
malaise (160,775 posts)
Crunching the numbers shows how Obama and Romney were polls apart
http://www.guardian.co.uk/commentisfree/2012/nov/30/barack-obama-mitt-romney-polls-polling
<snip>
The Obama campaign combined three levels of data to peg the state of the race against Mitt Romney. The campaign conducted aggregated battleground polls for message testing, individual state tracking polls by multiple pollsters to understand where the campaign was standing in each state, and individual state parallel surveys to refine micro-targeting.
Notice how Obama's team utilized multiple pollsters at three different levels, to ensure any one survey error wouldn't affect them too much. This shows a keen mind for utilizing modern research that says no one poll is always best or worst.
The Obama analytics team made one other key correct judgement. It has become sport for campaigns to trash public polling. But as they said some public polling was wrong, (which it was), the Obama team recognized that it was still useful in figuring out where the horse race stood.
All of this well thought-out planning worked, predictably, and Obama's campaign team now look like geniuses.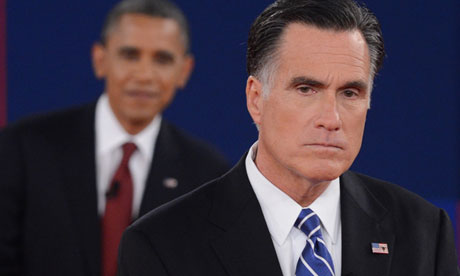 The Pic is freaking perfect - from the second debate
4 replies, 869 views
Replies to this discussion thread
| | | | |
| --- | --- | --- | --- |
| 4 replies | Author | Time | Post |
| Crunching the numbers shows how Obama and Romney were polls apart (Original post) | malaise | Dec 2012 | OP |
| | DFW | Dec 2012 | #1 |
| | JDPriestly | Dec 2012 | #2 |
| | The Velveteen Ocelot | Dec 2012 | #3 |
| | malaise | Dec 2012 | #4 |
---
Response to malaise (Original post)
Sat Dec 1, 2012, 01:16 PM
DFW (25,022 posts)
1. Obama had David Simas and Pete Rouse
Romney had a bunch of guys who told him what he wanted to hear, regardless of reality.

He never had a chance, but he never knew until election night, because his own guys wanted to get paid their inflated fees until the last second--and so they did.
---
Response to DFW (Reply #1)
Sat Dec 1, 2012, 01:30 PM
JDPriestly (57,936 posts)
2. Obama operated in democratic America
where your race, gender and religion don't make you a nobody.

Romney operated in corporate America where only those with money are somebody.
---
Response to malaise (Original post)
Sat Dec 1, 2012, 01:44 PM
The Velveteen Ocelot (53,796 posts)
3. Love the photo: "Please proceed, governor."
---
Response to The Velveteen Ocelot (Reply #3)
Sat Dec 1, 2012, 01:50 PM
malaise (160,775 posts)
4. Not sure which I love more -
the pic or the quote - both are delish!