Sun Nov 25, 2012, 09:09 AM
xchrom (108,903 posts)
A new discovery for science and art: the cultural divide is all in the mind
http://www.guardian.co.uk/culture/2012/nov/24/science-art-two-cultures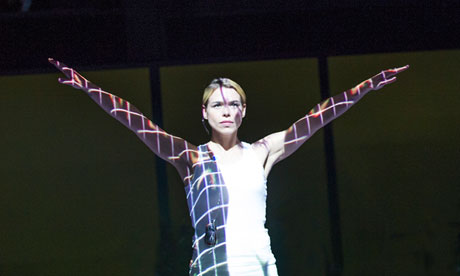 Billie Piper in Lucy Prebble's Play The Effect, about a couple who fall in love while taking an experimental antidepressant. Photograph: Tristram Kenton
This autumn a group of neuroscientists, medical students, doctors and psychiatrists got together at the University of Warwick to work out what we now know about the way the brain works. But they were not hunched over a pile of Cat scans, academic theses and medical notes. Instead they were looking at the theatrical work of Samuel Beckett. The great Irish playwright, some argued, understood and demonstrated patterns of human thought and emotion at a level of sophistication scientists have yet to reach.
With the success this month of The Effect, Lucy Prebble's play about the effect of chemicals on the brain, and the announcement of a new season of performance and debate about art and neuroscience at the Barbican in 2013, it looks as if the long struggle to break down barriers between science and creativity has entered a new phase. Not only is it conceded that scientific discoveries are fertile artistic territory, but scientists are being increasingly open about the value of the arts when fresh perspectives are required.
"Our common sense is often our worst enemy," said Marcus du Sautoy, the Oxford maths professor who will be appearing in the Barbican season. "After all, the discovery of anti-matter was only made because of the imagination of those scientists who said maybe there is something there when they kept coming up with all these strange negative solutions to their calculations."
Audiences at The Effect, the National Theatre production starring Billie Piper and Jonjo O'Neill as participants in a trial for a new drug, are being treated to a nightly debate about the nature of love and how we can be sure of what we are feeling. Prebble, the playwright who made her name with Enron, takes as her starting point the medical testing of an antidepressant and launches into a wider discussion about the nature of perception and the value of sadness and depression as life experiences. As the human guinea pigs take bigger doses they start to fall in love, but they also have to question whether their emotions are merely a byproduct of dopamine.
8 replies, 1186 views
Replies to this discussion thread
| | | | |
| --- | --- | --- | --- |
| 8 replies | Author | Time | Post |
| A new discovery for science and art: the cultural divide is all in the mind (Original post) | xchrom | Nov 2012 | OP |
| | PETRUS | Nov 2012 | #1 |
| | orpupilofnature57 | Nov 2012 | #4 |
| | Igel | Nov 2012 | #7 |
| | orpupilofnature57 | Nov 2012 | #8 |
| | Fumesucker | Nov 2012 | #5 |
| | orpupilofnature57 | Nov 2012 | #2 |
| | marmar | Nov 2012 | #3 |
| | FarCenter | Nov 2012 | #6 |
---
Response to xchrom (Original post)
Sun Nov 25, 2012, 09:16 AM
PETRUS (2,897 posts)
1. "Our common sense is often our worst enemy"
---
---
Response to orpupilofnature57 (Reply #4)
Sun Nov 25, 2012, 11:58 AM
Igel (25,845 posts)
7. Half of what I teach in science class is to squash the students' "gut feeling."
Then they still get it wrong because they can't let go of all the error they managed to come up with to explain the world, given their shoddy senses and poor thinking, at age 3.

They can quote the textbook and the logic. But the minute that it has some real-world application at variance with what their inner toddler believes, the textbook, logic, even their own adult observations, are all thrown out the window.


---
---
Response to PETRUS (Reply #1)
Sun Nov 25, 2012, 09:31 AM
Fumesucker (45,851 posts)
5. Clarke's second law
http://en.wikipedia.org/wiki/Clarke's_three_laws
2) The only way of discovering the limits of the possible is to venture a little way past them into the impossible.

Which of course means you learn more from what you do wrong than what you do right much of the time.
---
---
Response to xchrom (Original post)
Sun Nov 25, 2012, 09:21 AM
marmar (70,152 posts)
3. A cool K/R
---
Response to xchrom (Original post)
Sun Nov 25, 2012, 11:41 AM
FarCenter (18,170 posts)
6. So determining that the Dirac equation has negative solutions is not common sense?