Thu Nov 22, 2012, 11:24 AM
bigtree (69,353 posts)
Mr. Fox Returns for Thanksgiving
Last edited Thu Nov 22, 2012, 04:04 PM - Edit history (1)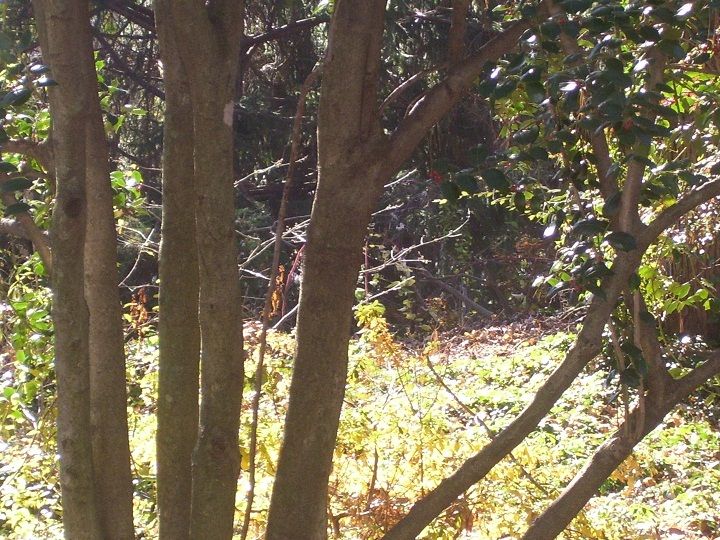 THERE'S a fox sleeping in my garden this Thanksgiving.
There's an irresistible brown fox who has decided that my cottage/woodland garden yard is its new home. Early last summer, I found it curled up asleep on top of the stone wall where the powder-blue star-shaped flowers of the campanula were in full bloom and spilling over the edge in the morning sun to mingle with the dark-green blades of lirope at the bottom.
It was such an iconic and natural sight that I had waited several minutes -- studying this 'wild' resident of our wooded community with fondness and admiration -- until I woke the sleeping beauty with a 'hey!' and a finger pointing in the direction I wanted it to leave. The small, summer resident woodpeckers had already been chattering away like mad. They had decided that I'd gotten a new pet and they were cursing at me in their birdie language, just as much as they were chattering away at my slumbering, omnivorous visitor.
My fox woke up that morning without the ability to see, 'cause the sunny spot it had chosen to plop down in put a glare of bright light between us. It squinted at me at first through one open eye; the other shut as if it intended to snooze just a little bit longer. Then it leaps up and makes as quick an exit as it could out of the back of the yard; loping along as fast as its groggy instincts could manage.
I'd seen the fox for a few successive years at the back of the yard, sunning itself along the ridge separating the properties. I'd long suspected it had made a temporary home back where I'd dumped a few Christmas trees over the years and may have made a small shelter there.
I've had the outside trash can lids carefully lifted -- and although I had suspected it had been a raccoon, I had only seen the fox (and smelled his markings, as well). One moonlit night, I called my wife to the front window to see our fox weaving in and out of the daylilies, hunting for mice and stuff; barely making itself seen above the dense growth; poking its head up every now and then. The next morning I found it had peed on almost every bush in the yard to mark its space.
I talked about my visitor fox in a post, here on DU, and some folks convinced me that it was a privilege to provide the refuge for my small guest. The yard has always been a refuge, of sorts, for nature, so I had a bit of remorse for showing it the property line -- but, I was content to enjoy the company over the summer of my resident chipmunks, rabbits, squirrels, and an assortment of returning birds, instead, when it didn't appear anymore on my garden wall.
Well, Mr. Fox has returned to the garden.
My repeating guest is curled up in the spot it chose a few days ago, under the large maple, atop the pile of leaves I drag there to compost and keep erosion down. It looks nice and warm where he's laying -- and the composting leaves must be nice and warm as he nestles down so far that only the top of his rich reddish-brown coat can be spotted shimmering in the sun that's piercing through the leafless canopy.
Most of my resident wildlife could easily be considered Mr. Fox's meal, so it's a bit reassuring to see Brother Squirrel poking through the leaves and underbrush just a few yards away from my slumbering guest. The summer has apparently been generous to the fox, because it's grown quite a bit. Poking it's head up above it's much too comfortable throne to suspiciously sniff the disturbed air, I can see it's iconic blackened ears and a much wider brow than I remembered from months ago. Underneath it's wider neck, there's an impressive bib of snowy white fur.
One sad observation about it's practically flawless coat, is its incessant and unending scratching and biting at the fleas which are clearly tormenting this fine creature without end. I called the boys to see it from the kitchen window (I can see the red flash of its coat among the leaves from my seat by the computer). They both agreed that it looked to be the size of a medium dog, and marveled at the closeness of this wildlife, so comfortable and reclined in our cloistered suburban yard.
I'm seizing the moment and declaring my full support for our woodland garden to be used, freely and without any threat or malice aforethought, as a refuge for Mr. Fox. My next-door neighbor-- who told me a little while after I moved in that I should just put a bed out in the back as much as I was out there from dawn to dusk. -- is bound to ask me if I got another pet to replace my departed border-collie. I'm sure she can see as well as I can, the sleeping beauty curled up so contently, asleep in glare of the warming autumn sun. How very fortunate we are on this day of Thanksgiving, to have such a comfortable, familiar guest.
*update*
another guest shows up at our door for Thanksgiving . . .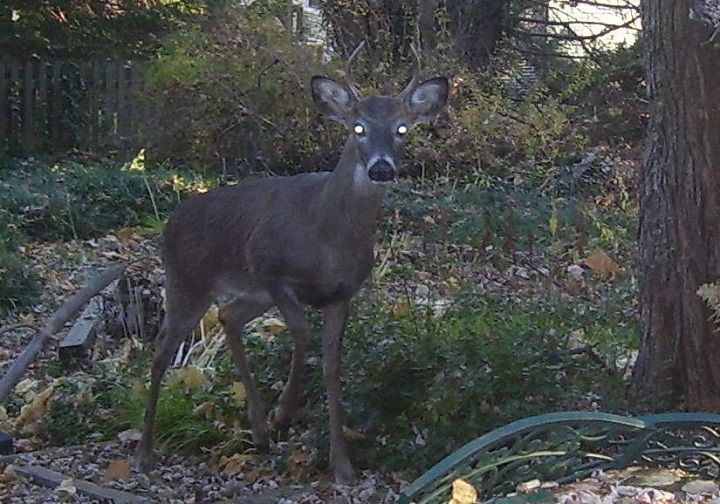 10 replies, 1490 views
Replies to this discussion thread
| | | | |
| --- | --- | --- | --- |
| 10 replies | Author | Time | Post |
| Mr. Fox Returns for Thanksgiving (Original post) | bigtree | Nov 2012 | OP |
| | Vinnie From Indy | Nov 2012 | #1 |
| | bigtree | Nov 2012 | #4 |
| | NNN0LHI | Nov 2012 | #2 |
| | bigtree | Nov 2012 | #3 |
| | forestpath | Nov 2012 | #5 |
| | bigtree | Nov 2012 | #6 |
| | bigtree | Nov 2012 | #7 |
| | bigtree | Nov 2012 | #8 |
| | bigtree | Nov 2012 | #9 |
| | freshwest | Dec 2012 | #10 |
---
Response to bigtree (Original post)
Thu Nov 22, 2012, 11:29 AM
Vinnie From Indy (10,114 posts)
1. Cool story!
---
Response to Vinnie From Indy (Reply #1)
Thu Nov 22, 2012, 12:08 PM
bigtree (69,353 posts)
4. cheers, Vinnie!
thanks for reading
---
Response to bigtree (Original post)
Thu Nov 22, 2012, 11:34 AM
NNN0LHI (67,190 posts)
2. I would be concerned this rascal may have rabies
I see foxes all the time around here. Over 20 years of watching them. Never seen one sleeping before. On the contrary. They are always either running or walking real fast. Like they are busy going somewhere. That waking up blind business doesn't sound right either.

Be careful. Especially if you have kids or grand kids around it.

Don
---
Response to NNN0LHI (Reply #2)
Thu Nov 22, 2012, 11:52 AM
bigtree (69,353 posts)
3. no sign of that
It's an amazingly healthy looking animal. I usually see beat-up ones around here, because of the dogs in the neighborhood, I imagine. I've seen a few behaving oddly, too, likely rabid. This one is calm and reposed. We're its daytime refuge/flopyard. It's a quiet neighborhood and I've taken a doze or two in the sun just a few feet from the spot it's chosen. Rabies and other hazards are certainly to be considered, but wintering in our dormant woodland garden is a pretty safe bet for this one. Nothing really moving out there, 'cept it and it's beautiful self.
---
---
Response to forestpath (Reply #5)
Thu Nov 22, 2012, 01:20 PM
bigtree (69,353 posts)
6. very understandable, forestpath
---
Response to bigtree (Original post)
Thu Nov 22, 2012, 04:07 PM
bigtree (69,353 posts)
7. update: another guest shows up at our door for Thanksgiving . . .
---
Response to bigtree (Original post)
Thu Nov 22, 2012, 08:24 PM
bigtree (69,353 posts)
8. .
---
Response to bigtree (Original post)
Fri Nov 23, 2012, 12:35 AM
bigtree (69,353 posts)
9. ,
---
Response to bigtree (Reply #9)
Wed Dec 19, 2012, 01:01 PM
freshwest (53,661 posts)
10. Sorry I missed this one earlier. I love it, that is paradise to me.