Mon Nov 19, 2012, 03:34 PM
spanone (101,009 posts)
murdoch unscathed: Emerging From Scandal, News Corporation Looks at Potential Acquisitions
Rupert Murdoch, second from left, with his sons, Lachlan, left, and James, second from right, and Chase Carey, News Corporation's president and chief operating officer, in July in Sun Valley, Idaho.
News Corporation is starting to look like its old self again.
The media conglomerate, which had been on its heels for more than a year because of the phone hacking scandal in Britain, is looking to make acquisitions again. First on the list could be a 49 percent stake in the Yes Network in New York, a purchase that could become the foundation for a new nationwide sports network to compete with ESPN.
News Corporation's stock has reached highs as the company prepares to transfer its underperforming publishing assets, including newspapers like The Wall Street Journal and The New York Post, into a separate publicly traded entity.
One of the crucial factors in the decision was that the split would allow Rupert Murdoch, the company's chairman and chief executive, to buy into the businesses he loves without upsetting investors who are more interested in cable and broadcast. Potential targets include The Los Angeles Times, The Chicago Tribune and more education companies.
http://www.nytimes.com/2012/11/20/business/media/news-corporation-looks-at-potential-acquisitions.html
8 replies, 978 views
Replies to this discussion thread
| | | | |
| --- | --- | --- | --- |
| 8 replies | Author | Time | Post |
| murdoch unscathed: Emerging From Scandal, News Corporation Looks at Potential Acquisitions (Original post) | spanone | Nov 2012 | OP |
| | aquart | Nov 2012 | #1 |
| | spanone | Nov 2012 | #2 |
| | dipsydoodle | Nov 2012 | #4 |
| | spanone | Nov 2012 | #5 |
| | dipsydoodle | Nov 2012 | #6 |
| | spanone | Nov 2012 | #7 |
| | dipsydoodle | Nov 2012 | #8 |
| | Rex | Nov 2012 | #3 |
---
Response to spanone (Original post)
Mon Nov 19, 2012, 03:43 PM
aquart (69,014 posts)
1. ARRRRRGGGHHH!
Helpless rage insufficiently expressed.
---
Response to aquart (Reply #1)
Mon Nov 19, 2012, 03:44 PM
spanone (101,009 posts)
2. wonder what happened to the u.s. investigation of murdoch??? let me guess...NOTHING.
U.S. Investigation of News Corp. Is Said to Expand From Hacking to Bribery
By Greg Farrell, David Glovin and Tom Schoenberg - Sep 21, 2011 3:03 AM CT
News Corp. (NWSA), already facing three police inquiries in the U.K. as well as a Parliamentary probe of phone hacking by its employees, now faces an investigation into three matters on the other side of the Atlantic Ocean.
U.S. prosecutors are examining whether employees of Rupert Murdoch's News Corp. tried to access the voicemails of 9-11 victims, broke antitrust or related laws and, according to a person familiar with the probe, bribed U.K. police for information.
The third line of inquiry was disclosed yesterday with news of a U.S. letter to the company requesting information on any bribes paid by its News of the World unit, said the person, who declined to be identified because the matter isn't public. The letter is part of a Justice Department effort to determine whether News Corp. violated the Foreign Corrupt Practices Act, or FCPA, the person said.
"In any investigation you try to be as thorough as possible," said Anthony Barkow, executive director of the Center on the Administration of Criminal Law at New York University School of Law and a former federal prosecutor. "They would try to uncover a pattern."
http://www.bloomberg.com/news/print/2011-09-21/u-s-investigation-of-news-corp-said-to-expand-from-hacking-to-bribery.html
---
Response to spanone (Reply #2)
Mon Nov 19, 2012, 04:14 PM
dipsydoodle (42,239 posts)
4. That was Sept 2011
Subsequent to that the FBI said there were no lines of enquiry being pursued.
Even the link you used states"are examining" Presumably they found nothing.
btw the ref to 9/11 was a claim made solely our Daily Mirror, not reported elsewhere and not repeated by the Mirror.
---
Response to dipsydoodle (Reply #4)
Mon Nov 19, 2012, 04:17 PM
spanone (101,009 posts)
5. from april 2012
Murdoch Confirms U.S. Department of Justice Investigation Into News Corporation
Apr 25, 2012 3:57 PM EDT
Rupert Murdoch's witness statement to the Leveson Inquiry today confirmed one important, if long-suspected, fact: that his News Corporation has been actively cooperating with a U.S. Department of Justice investigation into the company.
The statement outlined how an internal company inquiry--set up by Murdoch this summer in the wake of the phone hacking scandal to investigate News International, News Corp.'s U.K. media arm--has turned over thousands of potentially incriminating company emails and other documents to authorities. The Management and Standards Committee, headed by senior News Corp. lawyer and former New York City school reformer Joel Klein, has spent months pouring through archives from News International and passing relevant information to Scotland Yard. Murdoch's statement confirmed that News Corp. has shared this with the U.S. Department of Justice as well.
"Since July 2011," the statement read, "the MSC, working with a legal team, has actively cooperated with the Metropolitan Police as well as with the United States Department of Justice, turning over evidence of alleged or suspected illegality, and responding to all requests for information. This has led to the arrests of a number of [News International] employees."
The info dump has helped fuel an investigation into allegedly corrupt payments made by journalists to police and other public officials. This investigation, called Operation Elveden, led to the recent arrests of a number of senior journalists from Murdoch's flagship daily tabloid, the Sun. The arrests prompted Murdoch to fly to London to address an embittered newsroom in February, and soon afterwards he announced the launch of the Sun on Sunday, which many observers saw as a bid to win back staff and regain the upper hand in the company crisis.
http://www.thedailybeast.com/articles/2012/04/25/murdoch-confirms-u-s-department-of-justice-investigation-into-news-corporation.html
---
Response to spanone (Reply #5)
Mon Nov 19, 2012, 04:24 PM
dipsydoodle (42,239 posts)
6. That comes back to your question then.
What happened. ? Most of the Beast stuff refers to the UK. Why doesanyone quote that rag which isn't an acredited source of original news. ?
---
Response to dipsydoodle (Reply #6)
Mon Nov 19, 2012, 04:28 PM
spanone (101,009 posts)
7. FBI Investigating News Corp. Over Possible Violations Of Federal Law: Report
First Posted: 02/ 7/2012 1:59 pm Updated: 02/ 7/2012 10:04 pm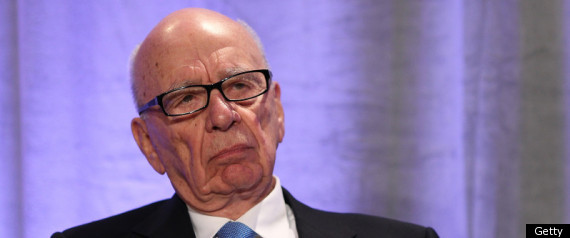 The FBI is investigating whether or not News Corp. violated a law barring American companies from making corrupt payments to foreign officials, Reuters reports.
When the phone hacking scandal first reached crisis proportions in the summer of 2011, there was speculation that James Murdoch could be charged with violations of the Foreign Corrupt Practices Act, a law which, in the words of the Justice Department, was designed to make it illegal for "certain classes of persons and entities to make payments to foreign government officials to assist in obtaining or retaining business." Now, the investigation is apparently under way. As News Corp. is headquartered in the United States, it is liable under the act. At the core of the investigation is whether or not News Corp. employees made illegal payments to police and other officials.
Some News Corp. executives, such as former News International CEO Rebekah Brooks, have said that the company has paid police for information. (Brooks later said that her words had been misconstrued.) British police have also been conducting an ongoing probe, called Operation Elveden, into whether there have been any illegal payments by News Corp. journalists to police officers. There have been multiple arrests in the probe.
The penalties for violating the FCPA are stiff; Reuters reports that, if convicted, News. Corp could be hit with a $2 million fine and banned from government contracts. Any individuals who are found guilty could face a $100,000 fine and a five-year prison sentence.
http://www.huffingtonpost.com/2012/02/07/news-corp-fbi-investigation-foreign-corrupt-payments_n_1260508.html
---
Response to spanone (Reply #7)
Mon Nov 19, 2012, 04:49 PM
dipsydoodle (42,239 posts)
8. I think you might find
that is re-report of a Guardian article from February.
---
Response to spanone (Original post)
Mon Nov 19, 2012, 03:49 PM
Rex (65,616 posts)
3. Another fine example of the plutocracy looking out
for itself. It is US vs. THEM.
And they LOST recently to OUR POTUS...so expect things to take a huge downturn as the Repuke scumlords try and drive our systems into the ground (for profit of course).
The Ferengi would be jealous of humans in this time period if they were real.
http://www.sjtrek.com/trek/rules/