Tue Nov 13, 2012, 12:45 PM
meegbear (25,438 posts)
The Rude Pundit - They've Lost Their Fucking Minds Again (Limbaugh Edition)
Think of radio host Rush Limbaugh at this point as an old, wounded walrus, lying half on the rocks of an Alaskan island, half in the water, bellowing sadly into the Arctic night, waiting to be finished off by either a polar bear or a killer whale, its blubber being enough to keep other beasts warm for the entire approaching winter.
While other Republicans and conservatives are doing some real soul-searching in the wake of the 2012 election, Limbaugh is reaching under his gut to touch his tiny prick to get it up one more time and jack off on the airwaves of America. Listen, children, oh, yes, listen to the harrowing yowls of anguish and denial, listen, please, once more, to the fading cries of the dying walrus:
"When Democrats lose elections, do they ever say, 'You know what? We may have to give up this gay marriage position of ours and sort of abandon that. We may need to stand up for traditional marriage.' Do the Democrats ever say that when they lose elections? No. After the Democrats lose elections, do they ever say, 'You know, I think we've got to abandon this effort to shut down Second Amendment. We're gonna have to understand it. We're really out of touch. We're alienating our voters who love guns. We're gonna have to become big advocates of the Second Amendment'? Do Democrats ever say that when they lose elections? Do the Democrats, after they lose elections, all run to the media and start agonizing over where they're going wrong?"
Limbaugh went on like that
yesterday
, asking if Democrats ever think they need to cut taxes when they lose, or if Democrats ever think about toning down their "rhetoric," or, horror of horrors, "Do Democrats, when they are losing elections, ever blame their media?"
The only way to unpack all that 300 pounds of bullshit shoved into a hundred pound bag is to say: "Umm, Rush? You were around in the 1980s. Sure, sure, there's been a whole lot of drugs and one or two too many marriages since then, but you are familiar with the Reagan Revolution, no?"
Ah, precious children, the Democratic Party did once believe in what we called "gun control," which included a ban on handguns. It did once believe in abortion with few restrictions. It did believe in higher taxes for all. It believed in all those liberal monsters that Limbaugh wants you to think it still believes in.
But, oh, you must listen: in the wake of the Reagan ass-kicking, Democrats did reassess everything. And it went right. It watered down gun control to merely be that people shouldn't be able to own a few high-powered, military-grade automatic weapons. It accepted that abortion rights would be highly regulated, sometimes even going along with ludicrous and onerous laws. And taxes? Democrats voted to cut taxes again and again. And then, in 1994, after the Gingrich ascendancy, Democrats went even further to the right. Look it up. Look up Bill Clinton's triangulation on issues like "welfare reform." It all pissed off we true-blue liberals, this endless moderation, this ludicrous amount of compromise of principle until the principles themselves changed. However, to say that, on any level, that Democrats never questioned their beliefs in the wake of an election loss is just another lie of the endless series of lies told about us. It's as big a lie to themselves as declaring that Romney would win.
This is going to be one strain of Republican
reaction
: don't abandon the program - it is good and right - just sell it better. That's like saying that you didn't get syphilis because you like to bang whores without a condom, but because you chose the wrong whorehouse. Oh, hey, let's try fucking across the street and see how that works out. Not only does it not occur to you to use protection, but you can't see that perhaps you shouldn't be banging whores at all.
Here is the message you need again and again: it is what you
believe
. And it is how you relate to the world. Democrats went right in the 1980s and 1990s. Republicans went further right to differentiate themselves, so far that they went out the door.
And now a few conservatives are saying, "Perhaps we've gone too far." And a fat, decrepit bastard whose ability to pay alimony depends on whipping up more and more hatred is demanding that the reflection end before it begins.
Enjoy the war, GOP. You've earned it.
http://rudepundit.blogspot.com/2012/11/theyve-lost-their-fucking-minds-again.html
11 replies, 2249 views
Replies to this discussion thread
| | | | |
| --- | --- | --- | --- |
| 11 replies | Author | Time | Post |
| The Rude Pundit - They've Lost Their Fucking Minds Again (Limbaugh Edition) (Original post) | meegbear | Nov 2012 | OP |
| | freshwest | Nov 2012 | #1 |
| | tosh | Nov 2012 | #2 |
| | jerseyjack | Nov 2012 | #3 |
| | WinkyDink | Nov 2012 | #6 |
| | ReRe | Nov 2012 | #4 |
| | WinkyDink | Nov 2012 | #7 |
| | malaise | Nov 2012 | #5 |
| | hifiguy | Nov 2012 | #8 |
| | Initech | Nov 2012 | #9 |
| | lpbk2713 | Nov 2012 | #10 |
| | Jersey Devil | Nov 2012 | #11 |
---
Response to meegbear (Original post)
Tue Nov 13, 2012, 03:43 PM
freshwest (53,661 posts)
1. Ooooh. That's gonna leave a mark.
---
Response to meegbear (Original post)
Tue Nov 13, 2012, 03:48 PM
tosh (3,874 posts)
2. The second graph...
The whole of this piece is spot-on.
---
Response to meegbear (Original post)
Tue Nov 13, 2012, 03:54 PM
jerseyjack (1,361 posts)
3. Rush Don't Give A Shit
Rush is a highly paid entertainer disguised as a political pundit. Even though the checks are smalller, as long as they keep coming in, he don't give a shit.
---
Response to jerseyjack (Reply #3)
Tue Nov 13, 2012, 05:02 PM
WinkyDink (48,912 posts)
6. Rush is an evil, lying demagogue. There's nothing "entertaining" about manipulating the
credulous to the point of having deluded wives try to run over husbands for not voting (for Romney); when God-fearing men stock guns, gold, and cryovacced meat while awaiting the "Obamaclypse"; when even politicians believe him to the point of yelling "You lie" to the President; when businesses lay off employees the day after the election because of "Obamacare"; etc.

I don't excuse Rush Limbaugh one bit.
---
Response to meegbear (Original post)
Tue Nov 13, 2012, 04:46 PM
ReRe (10,593 posts)
4. Here's what I see...
... a bunch of sociopathic bullies who HAVE NO human emotions. They have no conscience.
They can never ever approach what the Democratic party has: The courage of their CONVICTIONS. Say conviction to them and they think a
stretch in the slammer
. I am not a psychiatrist. I have done extensive independent research into abnormal psychology, though. Especially as per psychopaths and sociopaths. Really, I'm just not regurgitating what I've heard. I was appalled during the GW years when mental health professionals didn't step forward and define this phenomena., let alone scream to high heaven. Especially with the water-boarding business and torture going on in the military. Wingers will never learn how to have
feelings
. They HAVE NO FEELINGS...except for themselves. And as any mental health professional will tell you, they can't change themselves and no amount of psychoanalysis can cure them. They are what they are. And we just have to learn how to deal with them. The most important thing we can do is learn how to recognize sociopathy when we bump up against it. They just aren't CEOs or politicians. They are our neighbors, our coworkers, and God forbid maybe in our families.
The glory of our mosaic melting pot and belief in real democracy is how they are going to be overcome. This election proved that point. They thought they had us, with Citizens United. This really was the most important election of our lives. And we did it. Democracy beat all that money and hate. That's reason for real hope.
---
Response to ReRe (Reply #4)
Tue Nov 13, 2012, 05:05 PM
WinkyDink (48,912 posts)
7. I see the same things. Sociopaths.
---
Response to meegbear (Original post)
Tue Nov 13, 2012, 04:50 PM
malaise (159,205 posts)
5. Just make sure the war is on TV
---
Response to meegbear (Original post)
Tue Nov 13, 2012, 05:07 PM
hifiguy (33,688 posts)
8. The circular firing squads are assembling
and the cannibals, led by their hero Hopalong Pillhead, are busy consulting their cookbooks and scrubbing their people-pots. This should be
fun
!!
---
Response to meegbear (Original post)
Tue Nov 13, 2012, 05:12 PM
Initech (61,408 posts)
9. The day that piece of crap's heart explodes out of his chest from an Oxyviagra overdose...
The better off we'll be as a country. Limbaugh is their domino - take him out, the rest will fall and hate radio will no longer be relevant.
---
Response to meegbear (Original post)
Tue Nov 13, 2012, 05:14 PM
lpbk2713 (31,889 posts)
10. OxyRush is losing it.
He may have been a halfway proficient spinmeister years ago but this is downright pathetic.
No wonder so many of his advertisers are all bailing out on him.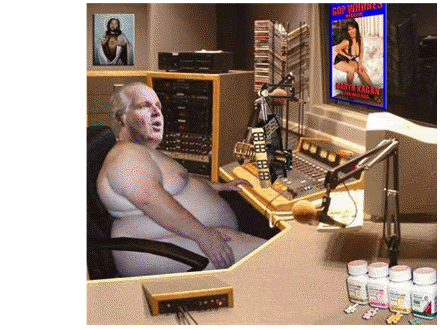 ---