Thu May 18, 2023, 05:22 PM
UTUSN (67,861 posts)
Gym JORDAN's "whistleblowers" were Jan. 6 insurrectionists. Wingnut propaganda words.
Where to start with the age-old propaganda/"rhetoric"/perversion of language. Nothing new, goes back at least to Egyptians/Greeks/Romans pumping up their victories, denigrating their enemies, distorting. Caesar wrote about his wars to pump himself up and denigrate the natives. What was "The Voice of America" if not a propaganda mechanism in service to democracy (sometimes).
LIMBAUGH was in the class of GOEBBELS, RIEFENSTAHL, and Father COUGHLIN as master propagandist, all the techniques ranging from twisting language to mean the opposite (as in ORWELL), infantile mocking and ridicule, character assassination. He would take the phrases of accolades about FDR and apply them to RAYGUN. The thing is, outlandish things don't ring true.
So wingnuts use the word "reform" to disguise their *regressive* policies – UNdoing instead of DOing. Their pollster Frank LUNTZ of the GINGRICH years used the gimmick of "focus groups" to sift out what words carried negative and positive connotations to apply to foes and friends, providing the wingnut flying monkeys with a "dictionary" of those to use, with the ever popular noun "demoCRAT party" instead of the adjective "DemocratIC Party." Yes, it grates on the ears because it's UNGRAMMATICAL.
So, back to the Jan. 6 treasonous insurrection, wingnuts were blaring an accusation that a LIBERAL FBI agent was instigating the violence to make the rioters look bad. That fellow came forward to demonstrate it was a lie about him and about how his life and family were devastated by the fallout of the lie.
Plus, remember how STRZOK and Lisa PAGE were actually defamed and retaliated against by Drumpf for, yes, having said truthfully what a danger and threat he *IS*? Wingnuts didn't call THEM "whistleblowers." But now 3 agents who ACTUALLY PARTICIPATED in Jan. 6 are being called "whistleblowers" by and for wingnuts. And Gym JORDAN is using them as TOOLS to "testify" in his "WEAPONIZATION" of government. More perverted language: If anybody tore down institutions and WEAPONIZED them for his own personal vendettas it was Drumpf.
Drumpf's assault on LANGUAGE is as pervasive as his other types of ASSAULT, not to mention how ignorant, crude, and infantile it is: Turns my stomach to hear him say "fake news" (instead of "disinformation" ) and the word "disgrace" that he uses for anything critical of him. Besides that his abuse of words renders them useless to be applied for their actual meanings.
How rich that wingnuts were on fire about "defunding the police" but now their every other word is about defunding administrative agencies and yes the FBI. At least one rhetorical device - irony - is not a concept they "get".
*********QUOTE********
https://www.yahoo.com/gma/eve-hearing-fbi-says-revoked-032222929.html
On eve of hearing, FBI says it revoked security clearances of 3 agents over Jan. 6 attack
…. One of the agents was among the pro-Trump mob at the U.S. Capitol, according to the FBI, and the two others are alleged to have hindered investigative efforts.
At least two of the agents -- Steve Friend and Marcus Allen -- are expected to testify Thursday before the Republican-led House select subcommittee on Weaponization of the Federal Government as part of its probe into the federal government's purported wrongdoings against conservatives. ….
According to the letter, agent Brett Gloss knowingly entered a restricted zone around the U.S. Capitol during the Jan. 6 attack, in violation of the law. ….
"Specifically, the Security Division found Mr. Allen espoused alternative theories to coworkers verbally and in emails and instant messages sent on the FBI systems, in apparent attempts to hinder investigative activity," the letter to investigators said, alleging that Allen failed to provide relevant information about criminal activity at the Capitol on Jan. 6. ....
*****UNQUOTE****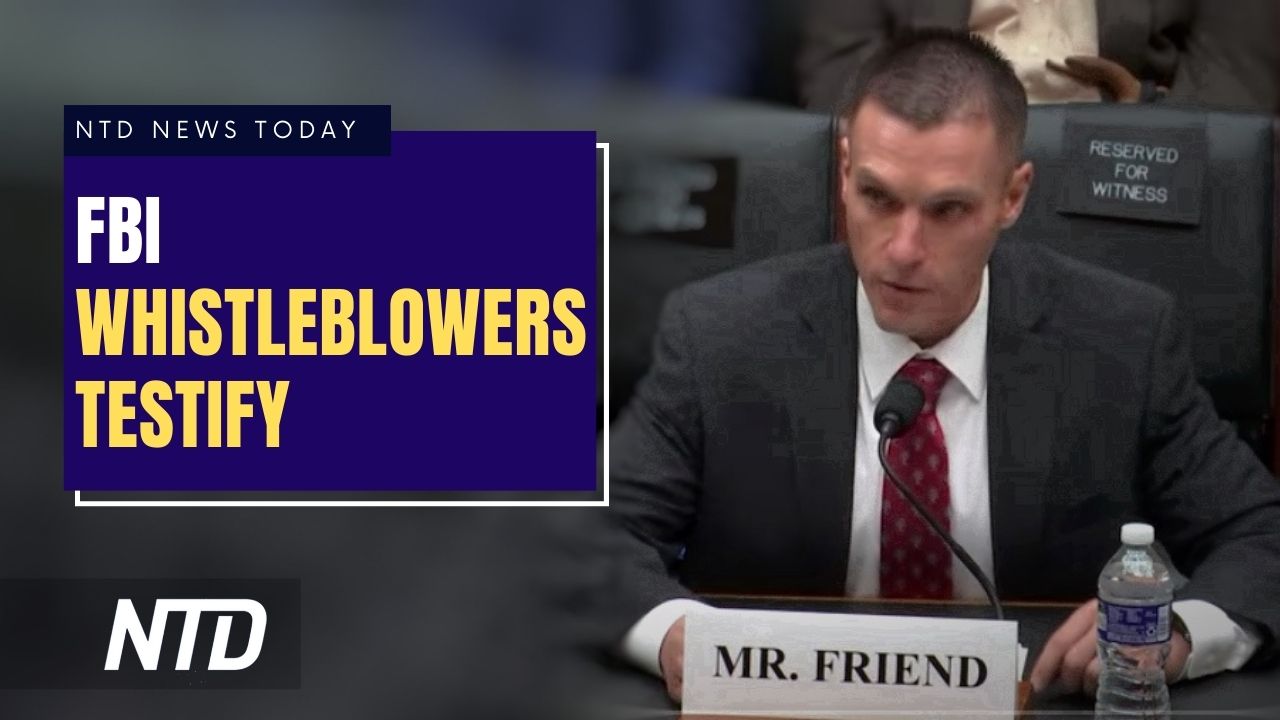 6 replies, 722 views
Replies to this discussion thread
| | | | |
| --- | --- | --- | --- |
| 6 replies | Author | Time | Post |
| Gym JORDAN's "whistleblowers" were Jan. 6 insurrectionists. Wingnut propaganda words. (Original post) | UTUSN | May 18 | OP |
| | zuul | May 18 | #1 |
| | Bernardo de La Paz | May 18 | #2 |
| | UTUSN | May 18 | #3 |
| | RANDYWILDMAN | May 18 | #4 |
| | UTUSN | May 19 | #5 |
| | Hortensis | May 19 | #6 |
---
Response to UTUSN (Original post)
Thu May 18, 2023, 05:26 PM
zuul (14,136 posts)
1. Here is the stupidest part of Gym Jordan's stupid stunt:
Mueller, She Wrote (@MuellerSheWrote):
According to @JaxAlemany, Jim Jordan ASKED the FBI for info on his "whistleblowers." When the info came back that their clearances had been revoked for bad behavior, he said NEVER MIND and tried to hide it. That's why the FBI released the info. JORDAN ASKED FOR IT.

3:26 PM · May 18, 2023
Link to tweet
---
Response to zuul (Reply #1)
Thu May 18, 2023, 05:52 PM
Bernardo de La Paz (45,588 posts)
2. Not only that, but he thinks he can hide testimony from Democratic members of the Committee. nt
---
Response to Bernardo de La Paz (Reply #2)
Thu May 18, 2023, 10:33 PM
UTUSN (67,861 posts)
3. Exemplifying the blatant "weaponization* they claim to ascribe to others.
Classic deflection, projecting their own malfeasance on others.







---
Response to UTUSN (Original post)
Thu May 18, 2023, 10:46 PM
RANDYWILDMAN (2,406 posts)
4. Chris Wray is worth 30 plus million but wants a civil service job ?
who is his master and what is their agenda


Why should congress even consider a man like this ?

Why are people so understanding of a man like this ?


It's a small club and we are not in it.....


---
Response to RANDYWILDMAN (Reply #4)
Fri May 19, 2023, 01:36 AM
UTUSN (67,861 posts)
5. Things that make us go, hmmm...
---
Response to UTUSN (Original post)
Fri May 19, 2023, 08:11 AM
Hortensis (56,759 posts)
6. Yup. All malcontents fired from their jobs for big cause, NOT "whistleblowers."
Imagining if I was suddenly a Republican and had to start finding ways to hide and lie about everything "we're" doing. Without first losing my ability to tell right from wrong or learning to compartmentalize compunction away.

I'd be hiding myself after the first hour, if I lasted that long.

"Whistleblowers." Uhuh.