Fri Nov 9, 2012, 03:58 PM
ellisonz (27,182 posts)
Let me make one thing clear...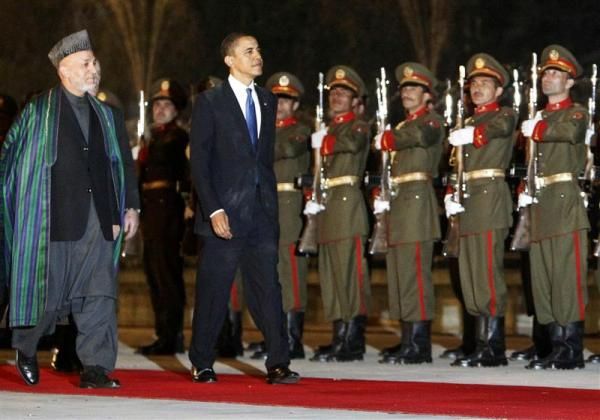 U.S. President Barack Obama with Afghan President Hamid Karzai at the Presidential Palace in Kabul on his unannounced trip to Kabul, March 29, 2010 (REUTERS/Jim Young).
Vice President Joseph Biden: Martha, letís keep our eye on the ball. The reason -- Iíve been in and out of Afghanistan and Iraq 20 times. Iíve been up in the Konar (ph) Valley. Iíve been throughout that whole country, mostly in a helicopter, and sometimes in a vehicle.
The fact is, we went there for one reason: to get those people who killed Americans, Al Qaida. Weíve decimated Al Qaida central. We have eliminated Osama bin Laden. That was our purpose.
And, in fact, in the meantime, what we said we would do, we would help train the Afghan military. Itís their responsibility to take over their own security. Thatís why with 49 of our allies in Afghanistan, weíve agreed on a gradual drawdown so weíre out of there by the year 20 -- in the year 2014.
My friend and the governor say itís based on conditions, which means it depends. It does not depend for us. It is the responsibility of the Afghans to take care of their own security. We have trained over 315,000, mostly without incident. There have been more than two dozen cases of green-on-blue where Americans have been killed. If we do not -- if the measures the military has taken do not take hold, we will not go on joint patrols. We will not train in the field. Weíll only train in the -- in the Army bases that exist there.
But we are leaving. We are leaving in 2014. Period.
And in the process, weíre going to be saving over the next 10 years another $800 billion. Weíve been in this war for over a decade. The primary objective is almost completed. Now, all weíre doing is putting the Kabul government in a position to be able to maintain their own security.
Itís their responsibility, not Americaís.
Debate Transcript
This election has a consequence. This wasn't just about the economy, this was about the shedding of American blood in a war that if Mitt Romney and Paul Ryan had their way will have had no end. Barack Obama is the Commander-in-Chief. Nothing the GOP House or Senate minority will be able to do will stop or stall our withdrawal from Afghanistan.
We are leaving in 2014, Vice President Joe Biden will make damn sure of that conclusion.
1 replies, 612 views
Replies to this discussion thread
| | | | |
| --- | --- | --- | --- |
| 1 replies | Author | Time | Post |
| Let me make one thing clear... (Original post) | ellisonz | Nov 2012 | OP |
| | ellisonz | Nov 2012 | #1 |
---
Response to ellisonz (Original post)
Sat Nov 10, 2012, 02:29 AM
ellisonz (27,182 posts)
1. Kick