Thu Mar 16, 2023, 05:11 PM
Top 10 Idiots (533 posts)
Top 10 Conservative Idiots #14-7: We Don't Need No Sex Education Edition


Fox News. You know them as the "We Report, You Decide" network. It's more like "You will think what we tell you to think and anyone who dares to speak out against us will get sent to Sea Org.". Oh wait, that's Scientology. But Fox News isn't really that far off from being its' own religion. I mean we've talked about it being an addiction in the past. I personally know people who watch it 24 hours a day on like multiple TVs in the house. So of course they're doing their best to play the "nothing to see here, please disperse" card when it comes to what happened on January 6th. In our last edition, we talked about how evil and stupid it was that Kevin McCarthy basically gave Tucker Carlson a blank check in the form of 40,000 hours of unaired footage from the Capitol riots. But of course, with the GOP's morphing into a bloodthirsty, deranged, conspiracy theory cult complete, one can't have any independent thoughts whatsoever.






No, no, no, no, no, no, no. Lou, you don't get to "please disperse" your way out of this one. We had Trump because Fox News put him on a pedestal because of all the shit talking that he did about Obama when Obama was president. This wasn't a friendly vacation. It's not like it's National Lampoon's MAGA DC Vacation. Ha ha ha ha ha ha ha! Remember when Chevy Chase and Randy Quaid only played characters like that? But this is like - remember that episode of the Simpsons where Homer becomes coach of the Pee wee football team after heckling Ned Flanders out of the job? The way Trump became president is almost literally like that. And come on, these were people who were looking to murder and execute half of Congress. And their own sitting vice president to keep Man Baby in charge. How fucked up is that? A lot.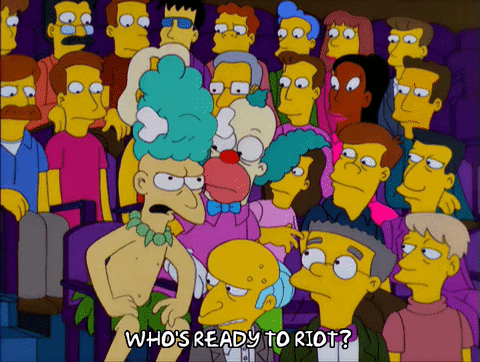 No, no riots needed here. And we also don't need the Tucker reaction cam. Because if he's the face of Fox News, he only has one facial expression. And that is pale, white, pasty, and his eyebrows and mouth don't move. Now you know how we always say around here that art begats art, right? Like we can't have the art house flicks that win Oscars without having the billion dollar blockbuster superhero flicks like the Avengers. But because of what Tucker Carlson did with the footage, it inspired a whole new wave of online terrorism.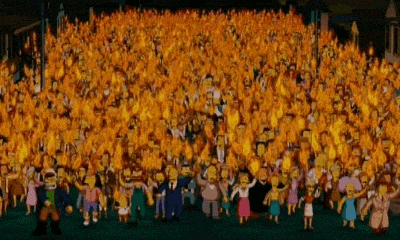 They came at us with pitchforks and torches!!! Torches!!! Come on, you can't downplay an event as catastrophic as what happened on January 6th ,it's impossible. And by the way we won't even have time to discuss the ridiculous song that Trump released on iTunes – which was basically a poorly recorded version of the National Anthem with him talking over it. Yes, that's a thing. And the MAGAs bought it, because they'll basically buy anything with flags and Bibles on it. But as you can imagine, the footage released was exactly what you'd expect. Fox News is a "fact free" and "spin" zone.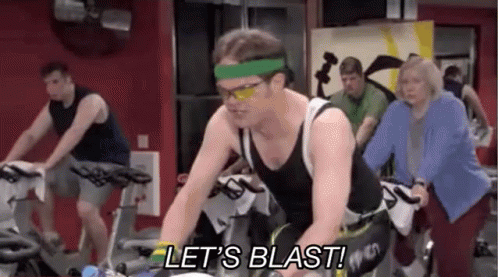 [div style="padding: 20px; background-color: #ffffff; border-radius: 10px; box-shadow: 0px 2px 4px 1px #aaa;"][div style="font-family: arial, helvetica; font-weight: bold; border-bottom: 1px dotted #999; padding-bottom: 8px;"]
[font size="8"]Tucker Carlson

[br] [/font] [br]

OK so now that they have the footage of January 6th, and the reaction from Fox News is exactly what you'd expect on the subject by now, it seems that our old buddy Tucker Carlson has really stepped in, to use a technical term, some deep doo doo. Oh come on, stop it. We don't need the Tucker reaction cam for this one! So what did Mr. Testicle Tanner himself do to put himself on the White House's radar? Well of course you know that he absolutely doctored the footage that was basically gifted to him by Kevin McCarthy. Because the GOP has turned into a deranged, bloodthirsty cult that's out for absolute power and one party rule. Well, to stand up to the scary cult that the GOP has become, it takes a lot of balls and, well, a lot of balls. And no, those balls aren't tanned in a testicle tanning booth. But the thing is that we're not going to be expressing our sympathy for the January 6th rioters any time soon. So we still side with the Capitol Police, we're not going to side with Ashlii Babbitt's mom.






But the thing is – what Kevin McCarthy did was absolutely shameful and Tucker Carlson really stepped in it. We're talking like obstruction of justice stepped in it. But of course, because there ain't no justice in this world, nothing will happen to Tucker or Hannity, or any of the scumbags who are actively trying to rewrite history and stage a coup. Now, even the White House is saying that Tucker Carlson might have gone too far. Which for him, is really not that much of a stretch. But really Tucker is this week's contestant on The Biggest Loser, and we're not talking about how much weight he's lost. He really is that much of a loser!






Because it is! When your party turns into a bloodthirsty cult, it's all about scoring points and winning the support of Dear Leader, whoever Dear Leader happens to be in 2024. It's no secret that the GOP is the party of suck ups, ass kissers, and bootlickers. They've got the fix for the probe into the January 6th committee. The first step was taking out Liz Cheney and replacing her with a hard lined MAGA bootlicker, which they did. Now comes the attempt to erase what happened! Yeah Fox News is out for blood and they don't care who they stomp on to get it.






Seriously it's been two fucking years since the damned election! You guys really need to let it go already, but I guess that Mike Lindell needs a few more lunatics to add to his growing echo chamber. And they call it an echo chamber because there's thousands of shows out there, all literally selling the exact identical talking points. It's madness and it needs to stop. The thing is, though is that it really is a House Of Cards, so to speak. Take out the top one and the rest will fall like dominoes. Fox being the king of the crop, they need to go first. And this is exactly why.







[div style="padding: 20px; background-color: #ffffff; border-radius: 10px; box-shadow: 0px 2px 4px 1px #aaa;"][div style="font-family: arial, helvetica; font-weight: bold; border-bottom: 1px dotted #999; padding-bottom: 8px;"]
[font size="8"]House Oversight Committee

[br] [/font] [br]

For those of you who don't know how Congress works, allow me to explain it a bit for you. See, Congress is divided up into different committees. Which come together to recommend and pass laws that should be for the good of the nation. Well, that's how it works in theory. See, recently, after the 2022 election, things got fucked up and took a turn. But this week something so evil happened that sounds like it could be something out of a Saturday Night Live sketch, but it wasn't and somehow seems even more even than it should on the surface. I mean come on, we fought an entire World War against Nazism and white nationalist ideals. But now it seems that Hitler is becoming popular again. So what happens when a vote is held that denounces white nationalism on the House Oversight Committee? Well, wait for it because when you see who's involved in the No vote, it will start to make sense.






Yeah BOOOOOOOOOOOOOOOOOOOOOOOOOOO!!!! That's right – not one, not two, not three, but *ALL* 26 conservative members of the House Oversight Committee voted *NO* on whether or not to denounce white nationalism and the "Great Replacement" theory. We've covered the Great Replacement Theory on this program before. But it seems like the far right theories, like the Great Replacement and 7 Mountains are becoming increasingly popular. And that's scary. It's this kind of shit that leads to things like mass murder and genocide. And they're not stopping there, it seems the new and improved Oversight Committee is going all in on the racism.






Yeah the House Oversight Committee seems like they're going all in on the racism. And that's fucking scary. So what are they doing there? Well they're exactly carrying out the every evil deed of the Murdoch empire for starters. Yes, this is the House that Rupert Murdoch bought and paid for and he's getting exactly what he paid for. So what are they planning to do, you might ask? Well not only are they going all in on the racism, they're also going all in on all of the batshit crazy internet conspiracy theories that pop up on your creepy uncle's Facebook page! As we've been saying around here, it's going to be a ridiculously long two years isn't it?






Yeah fuck off with that shit! The January 6th crusaders aren't political prisoners. They're criminals. And the prison conditions? You can thank 40 years of conservative deregulation policies that led to the rise of for profit prisons that brought them there. So really, Marjorie, take a look in the mirror as to how they got to that point. And guess what else is on the table? That's right – we can expect two more years of the MAGA conspiracy theorist lunatics probing Hunter Biden's laptop at every possible opportunity, which at this point is becoming the Benghazi of Pizzagates.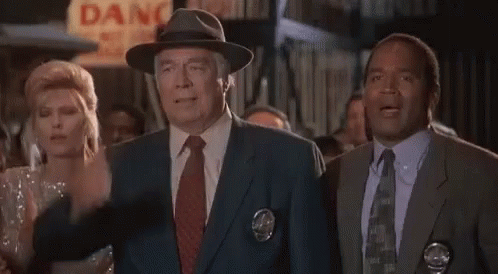 [div style="padding: 20px; background-color: #ffffff; border-radius: 10px; box-shadow: 0px 2px 4px 1px #aaa;"][div style="font-family: arial, helvetica; font-weight: bold; border-bottom: 1px dotted #999; padding-bottom: 8px;"]
[font size="8"]Lauren Boebert

[br] [/font] [br]

You know say what you want about Lauren Boebert. Of course you know her as the Congresswoman who ran a gun themed restaurant called Shooters that was shut down by the FDA after serving rancid meat to its' customers and married a guy who was a registered sex offender. But lately we can't tell if she's stupid, evil, extremist, or all of the above. We're going with a mix. But this week was truly the stuff of stupidity. Because Boebert announced that her 17 year old son got a girl knocked up. Who is under aged! And you know what's even scarier? Is that the Christian right *LOVES* this shit. I mean people voted for this crazy moron twice. Twice! Think about it – we saw what an idiot she is after the 2020 election and even the 2022 election. And people still voted for her! Just… it truly boggles the mind, doesn't it? Well, the people of CO-4 got exactly what they voted for this week when Boebert announced that she was going to be a grandma at 36. 36!!! This is the world that the Christian right wants – they want kids to have kids, and kids to be laborers and gig workers. That's truly insane, they've gone so far off the deep end. Well this is what you get when you vote for that.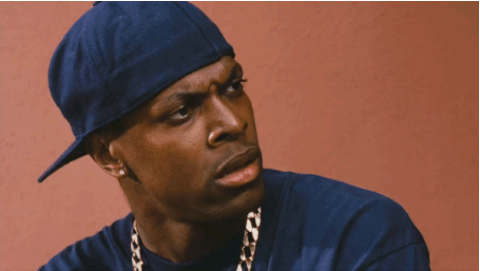 Yeah seriously, this is not a good thing, MAGAs! It's insane to me that they're cheering the systematic destruction of America's abortion rights so quickly after the death of Ruth Bader Ginsburg and praising this shit. They view babies as a symbol. Kids should not be having kids of their own. Look, for swing voters who might be in the audience, support the party that doesn't want your kids having kids and being slave laborers. I think the choice should be fairly obvious! But this is the last person on earth who I want lecturing us on sex education, because she's the poster child for why we need it!






Yeah what the fuck indeed! By the way I want to use this space to highlight just how unpopular the current MAGA agenda is. People who aren't batshit crazy lunatics who harass school boards for the sake of harassing school boards hate it! And yes, more parents are on the side of that we need to teach children things like affordable child care, free community college, and gun safety. Of course it's people like Boebert who come up with the wrong answer to everything. And I do mean everything. Even a broken clock is twice once a day!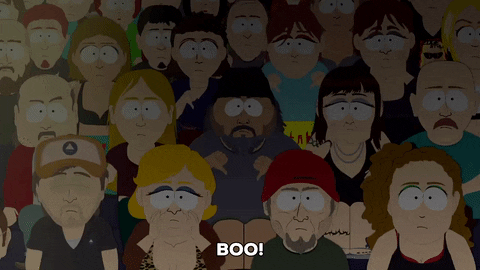 Yes, booooooooooo!!! I mean I still can't emphasize enough how fucking insane it is that people willingly voted for someone like this moron twice. And the even scarier thing - they'll vote for her again! They knew how insane she was but still voted for her anyways! Just… ahhhhhhhhh!!! OK I got that off of my chest. But the one thing is for certain is that we certainly don't need Ms.We Don't Need No Sex Education… ha ha ha ha ha ha ha ha ha ha!!!! We don't need no sex education... we don't need no thought control... HEY! TEACHER! We certainly don't need Boebert, or anyone who believes in lowering the minimum age of consent, to lecture us on proper sex education. If anything, people like Boebert are the reason why we need proper sex education in the first place!






[div style="padding: 20px; background-color: #ffffff; border-radius: 10px; box-shadow: 0px 2px 4px 1px #aaa;"][div style="font-family: arial, helvetica; font-weight: bold; border-bottom: 1px dotted #999; padding-bottom: 8px;"]
[font size="8"]CPAC Highlights

[br] [/font] [br]

Of course being off last week, we missed the clusterfuck of the year that is known as the annual Conservative Political Action Conference, or CPAC. But this year it was even more insane given the recent sexual assault allegations against CPAC's founder, Matt Schlapp. And this year too it basically just morphed into a glorified Trump rally. Which we will get to in a minute. But one thing it did expose is the rift growing in the republican party. It seems the hardline MAGAs are splitting with the more traditional conservatives. Let's face it, at this point, CPAC has basically just become a glorified Trump rally, but becoming more increasingly authoritarian with every single year. I'm convinced that if you still support Trump at this point, it would be like playing Super Mario Bros, except that you're rooting for Bowser to straight up murder Mario, Luigi, and Princess Peach. And if that happens, you should probably seek professional psychiatric help. Well, here's what happened at this year's clusterfuck – which was actually held in the US this year and not in an authoritarian country.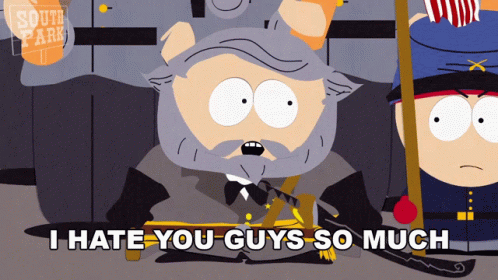 Yeah so let's get this straight. There's a divide in the GOP right now between hardline MAGA conservatives and the more traditional voters. Make no mistake that if Trump doesn't get the nomination in 2024 – which is becoming more increasingly likely – that he will split the vote and take his extremist cultist base with him. If I was a betting man, I'd bet on Desantis to win the 2024 GOP nomination and if he does that could have potentially serious consequences if he wins the presidency in 2024. One thing we can laugh at though is that CPAC this year was very poorly attended and the speeches were complete disasters.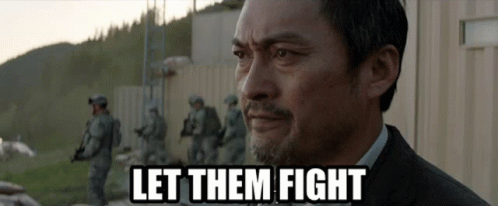 Yes, let them fight. While the GOP is fighting with each other, the Democrats should be using this to their advantage. The lunatics really have been let out of the asylum here, and 2024 is shaping up to be one hugely interesting matchup between crazy people, and even crazier people. I mean they worship a guy who has talked about bringing back public executions, while the other guy has been busy taking over colleges and private enterprises because they were mean to him and didn't support his fascist agenda. But you know the old saying and I think it applies here – with friends like these, who needs enemies?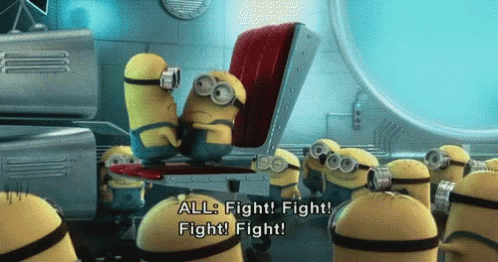 Yes, let them fight! And I'd personally rather jam a flaming q-tip directly into my eardrums than sit through a Kimberly Guilfoyle speech. And what the fuck was that entrance? That wasn't politics, I've seen better fanfare for WWE wrestlers! Of course they have to distract you with the shiny objects because otherwise it's just crazy people yelling into a megaphone for 30 minutes, and I could bang my head against the wall for 20 minutes and it would have the same outcome as Guilfoyle's speech. That I can assure you! But one thing is for sure, the conservative bubble is bursting and we'll be here for all of the infighting! And the other thing – we'll be venturing into "please clap" territory before you know it!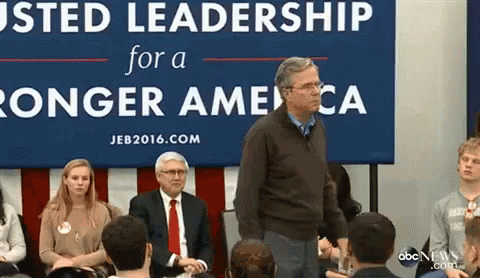 [div style="padding: 20px; background-color: #ffffff; border-radius: 10px; box-shadow: 0px 2px 4px 1px #aaa;"][div style="font-family: arial, helvetica; font-weight: bold; border-bottom: 1px dotted #999; padding-bottom: 8px;"]
[font size="8"]Holy Shit: Anti-Trans Satanic Panic

[br] [/font] [br]

Gather around my fair brothers and sisters! It's time to take a seat in the pew and pass the collection plate, for the Holy Church Of The Top 10 has convened and it's time to remind you that the holiest among us are the most full of:




My fair congregation! Please be seated! You know we live in some dark times right now, and I'll be the first to admit that not every segment we do here is fun. We do poke a lot of fun at fundamentalist Christians on this program because they seem like they're the ones who have the shortest of short fuses. But what I've been the most troubled by lately is that their war on drag shows and the LGBT community seems to be escalating with more restrictions being imposed, and it seems like it just gets progressively worse the more you dig into it. Of course you know that these are people who do not worship GAWD or JAYSUS, even though they pretend that they do. Instead these are people who worship the unholy, ungodly Dark One! I of course speak of a man so foul, so vile, and so disgusting that his name DARE NOT be spoken in my church! But of course, my fair congregation, we must first look at how we got to this point. I give you the Dark One's minion and enabler, Marjorie Three Names. Who of course never shuts up.




?w=580

Yes, he does. And today's devil can take on many forms. But perhaps you might know him by the Mark Of The Beast, which is a red hat that says "Make America Great Again". But make no mistake that the anti-trans hatred is coming fast and fierce. And it seems to be increasingly escalating every single day and it's not getting any better any time soon. There are some truly evil forces at work here in the United States, my fair congregation! This much I can assure you, though we saw the light in the 2020 election away from the unholy Dark One, the devil is still very much at work here. In fact we need to look at the group that's currently pushing these laws and seeing how far they can go. They are most certainly evil and must be stopped!






What the hell are you guys talking about? I can guarantee that you haven't protected one child from one "groomer", whatever that is. If there's anything that we should be protecting kids from, it's predatory youth pastors, and there are plenty of those out there! . Like this scumbag youth pastor in North Carolina. Or this scumbag youth pastor in Texas. Or this scumbag youth pastor from Alabama. Or this scumbag youth pastor from Colorado. Anyway you see where I'm going with this? Well anyway we can assure you that the legislation being passed is getting worse the more you go down the rabbit hole on the subject. And of all of the laws we saw, these are some of the worst of the worst, being proposed by pretend Christians who really only preach hate and worship the Dark One!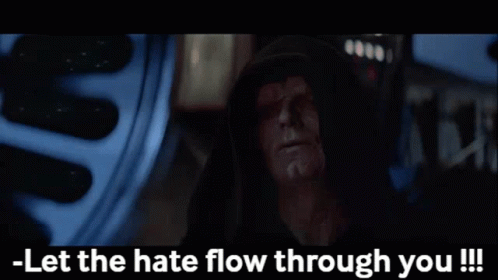 Yes, let the hate flow through you, for it has made them powerful! My fair congregation, do you see where I'm going with this? The hate in this country is strong, intense, and getting so far out of control that we don't know what can be done! The unholy Dark One and his followers and enablers have fully embraced the Dark Side! We know they would carry out Order 66 if the Even Darker One somehow managed to become president! And we hope to GAWD that doesn't happen! Because in his state, which is full of Dark One worshippers, this apparently didn't go far enough! I mean what more do they want from us? They will destroy this country if given another term!






But these are people who are incapable of feeling bad about themselves. These are people who are leading the US down a very dark path that embraces mass murder and totalitarianism, and they must be stopped at all costs! Mass has ended, may you go in peace! That's it this week for:





[div style="padding: 20px; background-color: #ffffff; border-radius: 10px; box-shadow: 0px 2px 4px 1px #aaa;"][div style="font-family: arial, helvetica; font-weight: bold; border-bottom: 1px dotted #999; padding-bottom: 8px;"]
[font size="8"]This Fucking Guy: Vivek Ramaswamy

[br] [/font] [br]



This week's This Fucking Guy is Vivek Ramaswamy. He's a Fox & Friends contributor and one of the instigators of this whole "anti-woke" controversy that we've been seeing that's just been dominating the news lately. For those of you who don't watch Fox, and if you're here, it is because you don't watch Fox unless you're a left wing blogger who's paid to monitor what's being said on Tucker Carlson. But if you're wondering where this whole "war on woke" thing came from, it's because of people like this fucking guy, Vivek Ramaswamy. And not only that, but he's got much bigger aspirations than being a commentator on the morning chucklehead show. That's right – he's got – wait for it – aspirations of being the next president of the United States! Don't boo yet! Boy, Trump really lowered the bar as to what passes for being the president these days, didn't he? Well in case you don't watch Fox, here's what your local MAGA neighbors might be discussing.






Seriously, how ,low does the bar get? I mean it's totally insane that someone who appears on Fox News a total of four fucking times thinks that he can run for president. Is that how America is going to be run from here on out? Someone who sucks up to the right wing Fox News Christiofascist megachurch cult can just think that they're automatically presidential material? Well have you seen the quality of their Congressional candidates lately? There's the world's shittiest dentist, a crazy woman who takes internet conspiracy theories literally (and won't shut up), and another crazy woman who failed her GED 3 times and used to own a gun themed restaurant that gave its' patrons food poisoning. So yeah there is always that. But it's proof that if you suck up you too can have high aspirations!





Holy shit! That's definitely some racist MAGA policies there, and talk about someone who is clearly voting against their best interests there! At least he does bring some diversity to the table besides, extremist Christian white guy, extremist Christian white guy, extremist Christian white woman, and um yeah that's about it. But this whole "anti-woke" bullshit that Fox has been peddling for the last year has definitely been an exercise in how far they can go, and it's definitely a test for future hard lined fascist policies. But make no mistake that conservatives are getting more exponentially shittier with their policies and this guy might be to blame for it.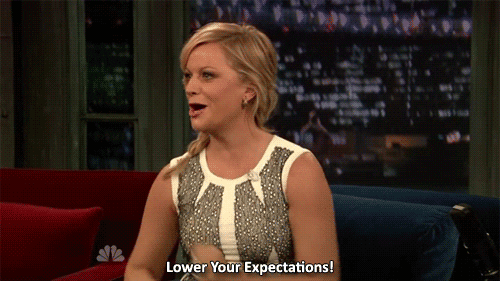 Yeah after the last guy, I think our expectations are already lowered enough! There's really no need to lower them any further! But there's no mistake that stochastic terrorism is a very profitable business to be in right now. As we've said on this program before, there's literally thousands of channels that you can choose from and you can get it custom tailored to your level of racism / sexism. And we can thank people who are on the forefront of the anti-ESG movement like Vivek Ramaswamy as to how we got to this point. So the next time your Fox watching friends and neighbors are complaining about things being too woke for them, you can trace it back to where they first heard about this nonsense. So yeah we can thank this fucking guy.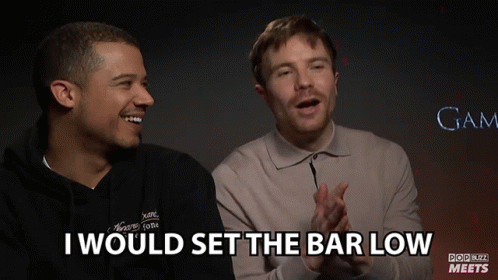 That's anti-woke crusader, and last place CPAC presidential candidate Vivek Ramaswamy – this week's:





[div style="padding: 20px; background-color: #ffffff; border-radius: 10px; box-shadow: 0px 2px 4px 1px #aaa;"][div style="font-family: arial, helvetica; font-weight: bold; border-bottom: 1px dotted #999; padding-bottom: 8px;"]
[font size="8"]Conspiracy Corner

[br] [/font] [br]




Welcome back to our segment that attempts to explain the unexplainable, Conspiracy Corner! Of course conspiracies exist when people simply don't want to read the article past the headlines and just flat out make shit up. We of course are coming to you live from our underground doomsday shelter from deep within the New Mexico badlands. Undisclosed location, of course! Let me just adjust my trusty tin foil hat for maximum government interference. They are trying to read yours and my thoughts after all! Ah there we go! So folks this week, I don't need to remind you that one of the craziest and stupidest people ever to unfortunately grace the halls of Congress is none other than Georgia's Marjorie Taylor Greene (Q – Batshit). Marjorie Greene is proof that you don't need much in order to become a republican elected representative. You just need to constantly talk, say what conservatives want to hear, and appear on right wing talk shows 24 hours a day. But we're not going to examine Marjorie's off the wall lunacy here today because you've probably heard her crap all the time. Instead, we're going to take a page from the Joker movie and examine why crazy happens. Here's more.






Yeah make no mistake that the GOP's got a problem on their hands. Marjorie is calling for a Civil War and a National Divorce, and her followers seem to embrace the crazy. But let's also face the facts for a minute here. The main fact is that her idea for a National Divorce is grossly unpopular. Hell it's so unpopular that even former Breitbart manager and guy who looks like he sleeps in a coffin full of Red Bull, Steve Bannon, wouldn't even go there. Now that's pretty fucking unpopular. So let's extrapolate that for a minute here. The thing with a national divorce is that it would be an absolute disaster on multiple levels.






But while the idea of a "national divorce" is seriously unpopular, there is a bill that was filed in the Texas Senate last week called the "Texas Secession Bill", or "TEXIT". This is too fucking hilarious. Because have you seen how unpopular the actual Brexit movement is and what an absolute clusterfuck it's been for the last 6 years? The Texas secession bill is the American equivalent of that. Setting up their own country and system of government isn't going to be easy. And for the people who don't believe that government should exist, this is going to be fucking hilarious!






Yeah who is the crazy ones here? Imagine if you will, living in the Continental United States and having a hostile foreign entity literally on your own border. And Texas is so poorly run that we can imagine there'd be tons of Texas refugees attempting to cross the border illegally. Because once again, conservatives fuck up and destroy just about everything that they touch. So if Marjorie Three Names wants a national divorce, they really ought to think about what they would stand to lose. It would be a hell of a lot, and don't say we didn't warn you!







[div style="padding: 20px; background-color: #ffffff; border-radius: 10px; box-shadow: 0px 2px 4px 1px #aaa;"][div style="font-family: arial, helvetica; font-weight: bold; border-bottom: 1px dotted #999; padding-bottom: 8px;"]
[font size="8"]I Need A Drink: The Oscars' Crisis Team

[br] [/font] [br]

Hey everyone I don't know about you, but I could really use a drink!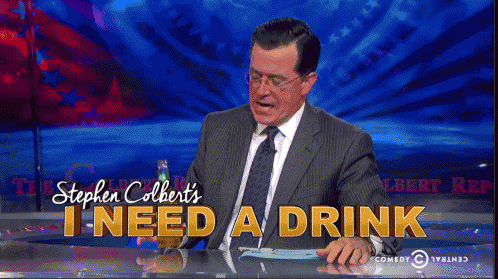 Of course you know the idea behind this segment is that we have some drinks. And while we're drinking we talk about literally anything in the news as long as it doesn't involve politics. Because there's a lot of incredibly dark shit in the news right now and our stance is that drinking and talking about politics usually never ends well for anybody involved. This week – folks, you know our firm stance here is that social media is probably going to kill us all, right? Well the latest Tik Tok challenge has people who participate in the challenge going to the emergency room in record numbers. It's called the "BORG" challenge, which stands for "blackout rage gallon". Which is basically just a mix of hard alcohol and energy drinks. So tell me bartender, what goes well with a story about a BORG? We're going to do an actual BORG? OK. Mixing hard alcohol and highly caffeinated energy drinks? What could possibly go wrong there? Well, a hell of a lot if you pay attention to the news headlines!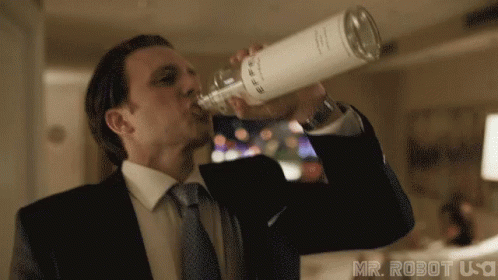 OK… Ok… OK. OK. First off, I can handily tell you, as someone who has had my fair share of drinks in my lifetime, that there's no such thing. Believe me, people have tried. There's no way you can drink a metric fuck ton of alcohol and not feel bad about it the next day. That's why god invented hangovers! And second, U Mass reported 28 ambulances? Holy shit, you can't just go from zero to 60 on alcohol, my friends! You have to build your tolerance levels. Just like eating spicy foods, you can't expect to have zero experience eating spicy foods, and then all of a sudden eat a Carolina Reaper. Because that will send you to the hospital. And probably destroy your digestive system on top of that. And this is also what happens when people aren't properly educated on the subject.






Yeah we need some Jack, that's more my wheelhouse! But seriously, in addition to the possibility of getting alcohol poisoning and severely damaging your liver, how do you not get severely dehydrated on top of that? That seems like that would just be a toxic formula for that. Look, here's our position on the subject – yes, our segment is called "I Need A Drink". Yes, we drink heavily! But we practice responsible drinking here! You guys may see our segment here, but you don't see the aftermath! Which I can assure you that I don't want to be the janitor who has to clean the bathrooms afterwards.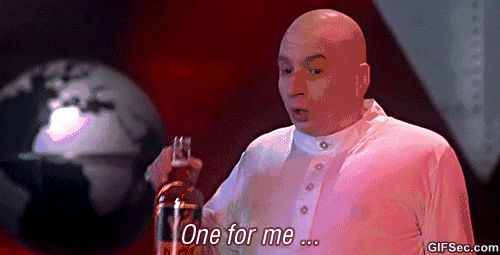 Yeah let's think about this here – it's a whole fucking GALLON of alcohol and potentially dehydrating beverages that you're consuming here. That fatigue you're experiencing? It's not from the booze, it's from the lack of water. But let's ask actual health experts what they think about the subject. And they'll probably mostly agree that consuming an entire gallon of alcohol and caffeine is bad for you no matter how you try to spin it. Needless to say if this trend keeps up, in a few years, I see ERs filling up with tons of potential liver transplants.







[div style="padding: 20px; background-color: #ffffff; border-radius: 10px; box-shadow: 0px 2px 4px 1px #aaa;"][div style="font-family: arial, helvetica; font-weight: bold; border-bottom: 1px dotted #999; padding-bottom: 8px;"]
[font size="8"]Stupidest State 2022: Round 1 Week 1: Single Elimination Round

[br] [/font] [br]

16 states will enter and only one state will become the new Top 10 Conservative Idiots Stupidest State!




Welcome back to Stupidest State 2023! This is it folks, we're here at the starting gate for exciting Round 1 Week 1 action! This week it's two heavyweights from the Fiscal Irresponsibility Conference going for broke in the first round, while over in the Gun Nut Conference, #3 Idaho takes on #4 Montana by bringing their big guns to the dance! We're live at the home of the world champion Los Angeles Football Club, the LAFC if you will, at the fabulous BMO Stadium in downtown Los Angeles for all of the exciting action! Let's go to the floor, shall we?

[font size="4"]Fiscal Irresponsibility Conference Round 1 Week 1: Kansas Vs Nevada [/font]

[font size="2"]Kansas [/font]

?v=1546976537

The Sunflower State is back for another year everybody. Of course Kansas is a long time favorite in the Fiscal Irresponsibility Conference. Once one of the reddest states in the country, Kansas is showing a bit of backlash against our billionaire overlords. But Kansas is hurting so much for money right now – again partly in thanks to our billionaire overlords – that they're resorting to finding money any way they could, and that includes selling fireworks year 'round. That's right – you'll be able to blow your thumbs off the entire year, not just on July 4th anymore!






Yeah I'm sure that guy is the poster child for greed. But greed isn't good! And the one thing we certainly can't do – though we absolutely should – is tax the damn billionaires! I mean come on, when guys like Jeff Bezos and Elon Musk have the gross domestic product of the entire continent of Africa, then that's a huge fucking problem. We should be going after them, not the people who need it the most. I mean come on, do we really need to be policing food stamps? In 2023? Seriously?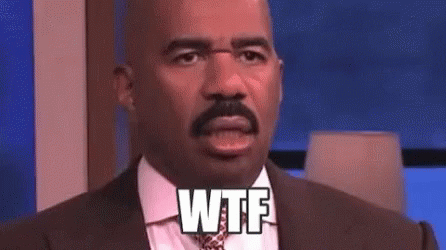 [font size="2"]Nevada [/font]



The Silver State is back for another year everybody! You know in the 2020 election, Nevada shocked the world by becoming a blue state. Even better, it turned even bluer in the 2022 election. Of course Nevada is one of the only states in this country that is home to legalized gambling. And of course with the casino industry comes rampant crime and corruption. Las Vegas is now also home to two major league sports teams – the Las Vegas Raiders and the Las Vegas Golden Knights. It's also the home of a greedy Mormon cult that ended about the same way that the cult in Kevin Smith's Red State ended.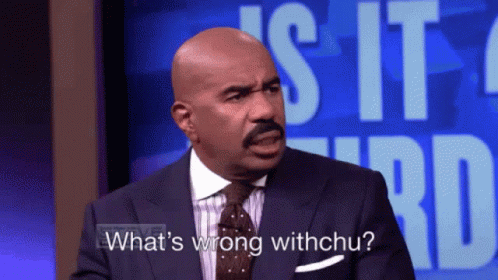 Yes that is a good question! What is wrong with you? I mean come on people, greed isn't always good – it's the opposite of what they preach in the movie Wall Street! By the way, in case you're wondering how bad deregulated capitalism is in the Silver State, well, it's pretty bad. Casinos aren't just limited to Las Vegas. They're also in Reno and Tahoe, and well Tahoe got hit pretty bad in the tourism industry after COVID hit and we're just beginning to see the after effects of the total shutdowns in 2020 and 2021. But you know what? We ain't seen nothing yet!






[font size="2"]And The Winner Is: [/font]

Ooh, ladies and gentlemen – we have our first round of 2023 in the books!! Kansas has the ball with less than a minute and a half remaining… the score… it's good! Now a foul… Kansas for two! Yes! And that's all she wrote, folks – Kansas wins this one, they advance to the next round! Final score: 80 – 73.

[font size="4"]Gun Nut Conference Round 1 Week 1: Idaho Vs Montana [/font]

[font size="4"]Idaho [/font]
http://1.bp.blogspot.com/-sthZX5CNfdw/T_SiqjVTvII/AAAAAAAAA0s/uy9JcPW6Dbk/s1600/idaho+XTRLG.jpg

The Gem State is back for another go round in this tournament. Idaho makes no contest about why they're one of the favorites in the Gun Nut Conference. Outside of Boise, Idaho is farm country, and farmers are packing some serious heat. Numerous attempts have been made to ban assault weapons in the Gem State, but instead the opposite has happened. The gun laws just keep getting nuttier and nuttier and nuttier. Like for instance this one that would just flat out allow guns to be carried on campuses, because you know, shall not be infringed. And what could possibly go wrong?






Yes, that is a good question! What could possibly go wrong? Well a hell of a lot. Even worse is that there's another bill that would allow public terrorist groups, er, militias. No, let's call them terrorists to meet on public grounds. Yes, we have our own versions of ISIS, the Taliban, and Al'Qaeda already operating on US soil. Last thing we need to do is give them permission to act out their own version of Project Mayhem. Like come on really, read the room people. Oh wait, conservatives are incapable of doing that.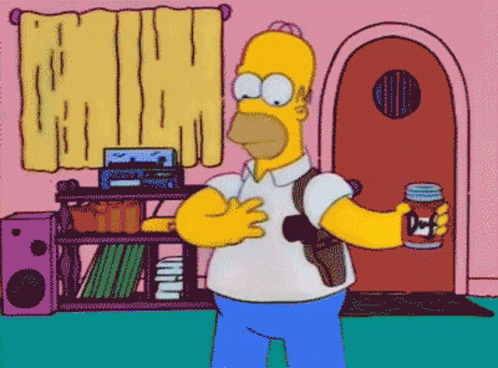 [font size="4"]Montana [/font]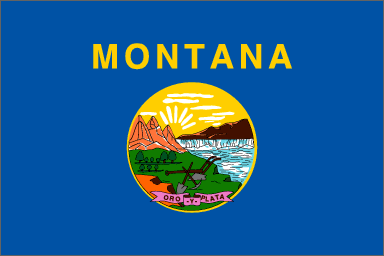 The Big Sky State is back for another go-round in this tournament. They've gone very far, but have yet to win it all. The state known for its' beautiful mountains, cowboys, and land as far as the eye can see, is also a hotbed for religious nationalist policies and a test market for how far the far right can go. Its' governor is Greg Gianforte, a guy who became famous for body slamming a reporter who asked an innocent question, while its' sole Congressional representative is Ryan Zinke, you may remember him from the Trump administration as their Parks Dept. head. So what nutty gun laws does Montana have on the books in 2023? Well for starters there's a bill that would ban gun "discrimination". Yeah that's apparently a thing among gun nuts!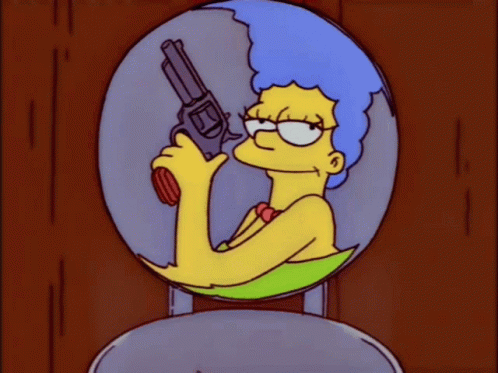 Come on, even Marge is packing some heat! In a time when mass shootings are at an all time high and people are afraid of leaving their houses in fear of getting shot, well, guess what? The Montana House of representatives plans on going full Dirty Harry. Because you know, it shall not be infringed! I mean come on, this is some next level batshit insanity. Guns have more rights than people do in this country and the last thing we need with a gun problem is more guns! That's like giving the alcoholic the keys to the liquor cabinet!






[font size="2"]And The Winner Is: [/font]

Oh this one is no surprise here - Montana has come out guns blazing, they have shot their way to the top! Final score – 91 – 85! They are celebrating on the court and they will advance to the Elite 8!

[font size="4"]Next Week: [/font]

Next week it's Round 1 Week 2 and we're live from the home of the Vegas Golden Knights, the amazing T-Mobile Arena in Las Vegas for all the action! It's a battle for Batshit supremacy as conference favorite #1 Florida takes on fan favorite #2 Kentucky! Meanwhile, over in the Family Values conference, red hot newcomer #3 Utah takes on finalist #4 Oklahoma! It's getting exciting, folks! Be sure to follow [email protected] on Mastodon for updated brackets, stats, and bracketology!


[font size="4"]And Now This: [/font]
[font size="4"]Anti-Flag[/font]




Folks, my next guest has a great new album out called "Lies They Tell Our Children", you can see them on tour with Flogging Molly through the end of March. Playing their song "The Fight Of Our Lives", give it up for Anti-Flag!



Thank you Washington DC! This was fun, we'll be back soon! We're off to Miami next! See you next week!


Credits

Host: Initech
Anti-Flag Appears Courtesy Of: Spinefarm Records
Top 10 Conservative Idiots Recorded In Front Of A Live Audience At: DC Improv, Washington, DC
Images: All images copyright belongs to respective copyright holders.
Videos: All videos copyright belongs to respective copyright holders
Articles: All article content copyright belongs to respective copyright holders
Writing: Top 10 Writing Department
Graphics: Top 10 Graphics Department
Research: Top 10 Research Department
Lighting & Stage Props: Top 10 Lighting Department
Legal: Top 10 Legal Department
Advertising: Top 10 Advertising Department
HR: Top 10 Human Resources Department
Initech's Wardrobe Provided By: JAB Inc.
Wheel Of Corruption By: Studio 1 Stage Props, Burbank, CA
Management: Initech Productions, CCC Management
Follow The Top 10 On Mastodon At: [email protected]
Follow The Holy Church Of The Top 10 On Mastodon At: [email protected]
Questions? Comments? Complaints? Hate mail? E-mail The Top 10 at: [email protected]



Initech Productions: Yes, We Got The Memo


0 replies, 356 views