Sun Dec 4, 2022, 11:14 PM
rpannier (23,956 posts)
Five People From WW II You Probably Should Know
5. Bernhard Arp Sindberg - Denmark
Sindberg rescued thousands of Chinese during and after the Nanjing in 1937.
Sindberg provided shelter and medical care for 6,000 to 10,000 civilians at a cement factory on the outskirts of the city, which he and a German colleague were protecting. (Chinese estimates put the number saved higher - at about 20,000)
Japan was on friendly relations with Denmark and Germany at the time. Sindberg painted a giant Danish flag on the cement factory roof, to ward off Japanese bombs. He and (his friend) Günther also placed the Danish flag and German swastika around the site, as a deterrent against the Japanese army.
According to eyewitness, Zhou Zhongbing, a 15-year-old boy at the time, said: "There was a refugee camp run by a Dane. The camp had people on guard duty and patrolling the area. When the Japanese arrived to make trouble, the Dane would walk out and stop them."
From Guo Shimei, a peasant woman who was 25 in 1937, "If the Japanese came looking for women, the foreigner would pull out a [Danish] flag, and after they had exchanged a few words, the Japanese would turn around and leave."
Though Sindberg did write a friend telling him of the horrors in Nanjing, he never spoke of it. He left China for the U.S. shortly after and died in poverty in1983.
In 2019, he was honored by the Danish Government.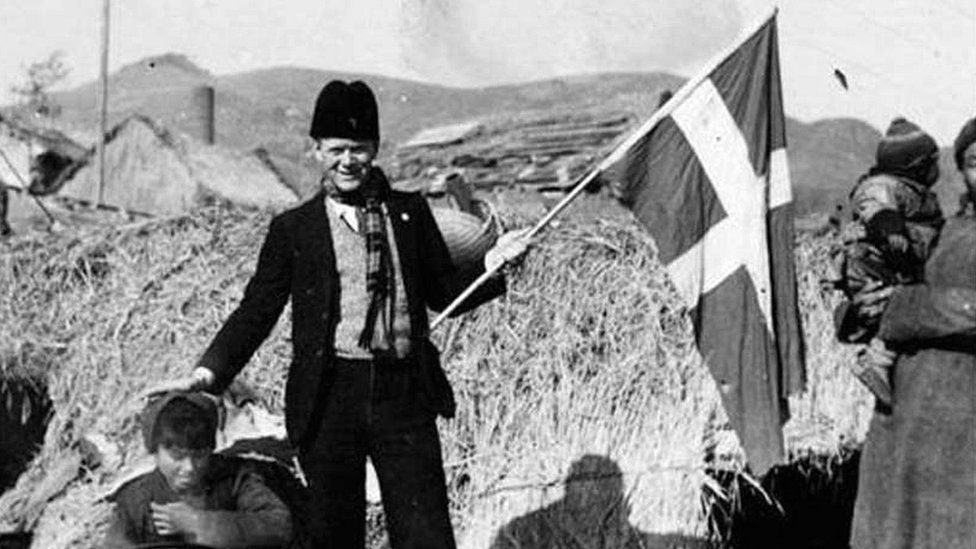 .webp
Sindberg with the Danish Flage he kept close by for when the Japanese army showed up
4. Karl Gerhart Fröbe
His is a name you may recognize; Fröbe was Auric Goldfinger in the Bond movies and Colonel Manfred von Holstein in Those Magnificent Men in Their Flying Machines. A member of the Nazi Party from 1928-37 (when he quit the party), his movies were banned in Israel until Mario Blumenau, a Jewish survivor, Fröbe had hid him and his mother from the Nazis until he was drafted into the army, thus saving their lives.
3. Carl Lutz
Carl Lutz was appointed in 1942 as Swiss vice-consul in Budapest, Hungary.
He issued Swiss safe-conduct documents that enabled almost 10,000 Hungarian Jewish children to emigrate, and saved over 62,000 Jewish people.
His scheme was actually quite brilliant; After the Nazis took Budapest in 1944, he negotiated a special deal with the Hungarian government and the Nazis which gave him permission to issue protective letters to 8,000 Hungarian Jews for emigration to Palestine.
Lutz used this permission for 8,000, applying them to families rather than individuals, and issued thousands of additional protective letters, all of them bearing a number between one and 8,000.
He also set up some 76 "safe houses" around Budapest, declaring them annexes of the Swiss legation and thus off-limits to the Hungarian army or the Nazis.
Lutz jumped into the Danube River to save a woman who had been shot and wounded by the Arrow Cross (Fascist) Party militiamen. He saved her and pulled her out of the Danube. He then confronted the leader of the militia, told him who he was, and that the woman was a foreign citizen under the protection of the Swiss Government. He then climbed into his car and drove away with the woman while the fascists stood uncertain what was going on, but unwilling to challenge a vice-consular.
Lutz organized with other neutral countries to work around the Nazi, and collaborator governments. His work was so effective, and at time so bold, that Proconsul Edmund Veesenmayer, the German representative in Hungary, asked permission to assassinate him; he never received a reply.
2. John Heinrich Detlef Rabe
John Heinrich Detlef Rabe was a businessman in China working Siemens, a member of the Nazi Party and the Nazi representative in China by virtue of him being there -- Rabe had not lived in Europe for over two decades. Though a party member, he was unaware of what was happening there.
As the Japanese approached Nanjing, Rabe set up an international zone to protect businessmen, government officials, and some missionaries from the advancing Japanese army. As a senior member of the Nazi Party, he carried a lot of weight with the Japanese. He also included Chinese in the international zone because what the Japanese had done, and were doing to the Chinese people.
A quote, "there is a question of morality here… I cannot bring myself for now to betray the trust these people have put in me, and it is touching to see how they believe in me"
As the Nanjing Massacre was happening, Rabe tried to use his position and influence to stop it. His efforts were not successful, but in some cases he was able to delay the actions of the Japanese army which allowed many to escape. He also sent word back to Germany detailing what was happening, certain that if Hitler knew he'd be outraged and intervene (how wrong Rabe was)
Rabe would regularly inspect the international quarter for Japanese soldiers. It was not uncommon for him to chase off Japanese soldiers who climbed the walls after dark to hunt down Chinese civilians and soldiers.
There are reports of high ranking Japanese officials in the area arguing with Rabe over who may be hiding in the quarter. Rabe continued to deny them access, citing the Anti-Comintern Pact between the two countries.
Rabe regularly contacted German authorities in Berlin, then tried contacting Hitler's office directly, to get word of what was happening in China. He was certain someone was preventing Hitler from knowing. The Japanese began protesting Rabe's actions to the German government and in 1938 he was recalled to Germany. Rabe returned to Germany with photos, movies and documents of the atrocities. He was arrested by the Gestapo. He was released, allowed to keep his documents, but ordered not to speak or write of it. Siemen's sent him to their offices in Afghanistan.
After the war he was denounced as a Nazi by someone he knew (likely someone trying to save themselves). He and his family lived in poverty and Rabe died in 1950. From 1948 until his death, survivors of the Massacre, upon learning of his poverty, would send money and food to him. The Mayor of Nanjing brought the equivalent of 23,000 dollars (in today's money) and food from China to Germany.
His tombstone was moved to Nanjing where it received a place of honor at the massacre memorial site.
Rabe's wartime diaries were published in English as either The Good German of Nanking (UK title) or The Good Man of Nanking (US title)
1. Albert Göring
If you haven't heard of him, you should know he is Hermann Göring's younger brother. And he is about as different from Hermann as you could probably get.
Albert opposed Nazism, he opposed anti-Semistism, and he helped Jews in Germany.
He was also more than willing to use his family connection to his advantage.
When he came across a group of Jewish women being forced to scrub the streets clean, he joined in the cleaning. The SS approached him, demanded to see his identification papers, seeing he was a Göring, nervously talked among themselves and then abruptly ended the humiliating activity for fear of earning Hermann's wrath. -- Who is stupid enough to arrest the brother of the 2nd most powerful man in Germany?
A few were bold (and stupid) enough to arrest him, and all received a Göring-gram from Hermann demanding that his brother be released. I have been unable to find anything on what happened to the brave and bold souls. Maybe winter boots, gloves, and a German-Russian dictionary?
Albert Göring used his influence to get his Jewish former boss Oskar Pilzer freed after the Nazis arrested him. Göring then helped Pilzer and his family escape from Germany.
He helped many German dissidents escape from Germany.
Göring was made export director at the Škoda Works in Czechoslovakia.
During his time there, he aided the Czech resistance. He would often forge his brother's name on transit documents to enable dissidents to escape. And he would send trucks to concentration camps with requests for laborers. The trucks would stop in an isolated area, and the people inside would escape.
In 1966, while in frail health, he married his housekeeper knowing that she would receive his pension when he died. Thus she would be taken care of. He d(His 1st wife divorced him over his many affairs). He died one week later.
In 2010, Edda Göring, the daughter of Hermann, said of her uncle Albert in The Guardian:
He could certainly help people in need himself financially and with his personal influence, but, as soon as it was necessary to involve higher authority or officials, then he had to have the support of my father, which he did get.
4 replies, 1691 views
Replies to this discussion thread
| | | | |
| --- | --- | --- | --- |
| 4 replies | Author | Time | Post |
| Five People From WW II You Probably Should Know (Original post) | rpannier | Dec 2022 | OP |
| | former9thward | Dec 2022 | #1 |
| | KS Toronado | Dec 2022 | #3 |
| | pansypoo53219 | Dec 2022 | #2 |
| | brush | Dec 2022 | #4 |
---
Response to rpannier (Original post)
Mon Dec 5, 2022, 12:27 AM
former9thward (28,482 posts)
1. At least two died in poverty.
So much for good deeds being rewarded.
---
Response to former9thward (Reply #1)
Mon Dec 5, 2022, 02:07 AM
KS Toronado (12,565 posts)
3. The BEST Rewards are not of this Earth.
---
Response to rpannier (Original post)
Mon Dec 5, 2022, 01:58 AM
pansypoo53219 (20,025 posts)
2. i was working on reading badass of the week + hit this russian, who w/ about 15 or so civilians i
think fought off the germans in ww2 from gaining access over a river from a building + it still stands. i bookmarked it somewhere.
---
Response to rpannier (Original post)
Mon Dec 5, 2022, 03:24 AM
brush (46,887 posts)
4. Thanks for this. I didn't know about Goring's brother.