Sat Oct 1, 2022, 10:13 AM
PCIntern (23,594 posts)
Some perspective...
I live at the New Jersey seashore on a property which literally faces the bay which extends between the Atlantic City island which includes Downbeach communities, and the mainland. My family and/or I have been in this house since 1984. When my mother moved here from an apartment down the street, the real estate agent disclosed appropriately that this particular block floods first before any other block in our area for a variety of reasons Which at this point are irrelevant. Even before the Internet, we had a system of informing all the people on the block when high tides would be expected that would cause a flood which occurred generally, before the seas changed, when there was a storm surge coupled with a full moon and/or heavy winds.
The front entrance to the house sits approximately 7 feet above street level and has only flooded once, during superstorm Sandy at which time we got about 5 inches of water in the house. As an aside, we were fortunate that it did not reach up to the electrical outlets or the utilities so all appliances survived miraculously. I would also say as an aside that if you dig down approximately 24 inches you will hit water under our very sandy soil. Today, with the remnants of Ian approaching, my cars are parked on other blocks and we know that high tide will occur one hour after the Atlantic city high tide because back bay tides are delayed approximately that amount of time and we work around it. I cannot tell you the number of times I've knocked on the neighbors' doors to tell them that flooding was imminent and to move their cars and of course have been the recipient of other people's goodwill as well. Interestingly it has unified the community of extremely diverse social and political orientations because, well, survival.
Now my circuitous point is that I was informed of the risks prior to moving in, was willing to accept them, and know that someday conceivably, I am going to have a problem associated with this house. I have insurance of course, and I am willing to live with the risk of catastrophe, because, well, lifestyle. Other than the roughly 10 weeks of the busy season down here, it is truly an idyllic place to live: minimal crime, virtually no violent crime, ease of vehicular transportation since I work in Philadelphia and commute three or four times a week which only takes me an hour and a few minutes, clean air and the ability to walk on streets or the boardwalk and enjoy the vista which is the Atlantic Ocean and the sky above.
Now in no way shape or form do I believe that my risk is anywhere close to those in Florida or the Gulf Coast given the change in the nature of the storms . I do believe personally that if the risk were at that great, I would not be living here. I say this because I believe that many people who move from the north down to Florida understand on an intellectual level the risk but do not really comprehend it until it happens to them or to a close family member. During my career I have had many patients tell me they were uprooting and moving to Florida and I invariably ask them where and if it's coastal I asked them if they understand the risks and very cavalierly they say yes but… And I smile grimly to myself and think do you, now?
Conversely, over the years a number of people have moved back and reconnected with me and are quite shaken and traumatized as they relate the story of their near miss or actual catastrophic loss from one of the hurricanes. One family was living with their elderly parents because they lost everything in hurricane Andrew, and I mean everything. They had the clothes on their backs and that was it. A lifetime of artifacts and possessions destroyed in a few hours.
Oh, and one more thing, which I have posted before but probably many years ago: on my block in 1984 we flooded perhaps five or six times annually and the water perhaps exceeded the height of the curb once or twice during that time and moseyed up the driveway perhaps a couple of feet, the driveway being inclined up toward the house. During the last 10 years we flood anywhere between two and five times monthly and several of them may come halfway up the driveway such that if my low slung sports car were parked there I would have a problem, and of course it's salt water which is not great in any event. Anyone who tells me that there is no such thing as climate change does not live on my block clearly And even the right wingers here, you know the ones with the Trump flag when they go to the beach or at their house, absolutely concede that things are not what they were in the "old days".
I will leave you with a photo taken of sunset from my front porch overlooking the bay at low tide.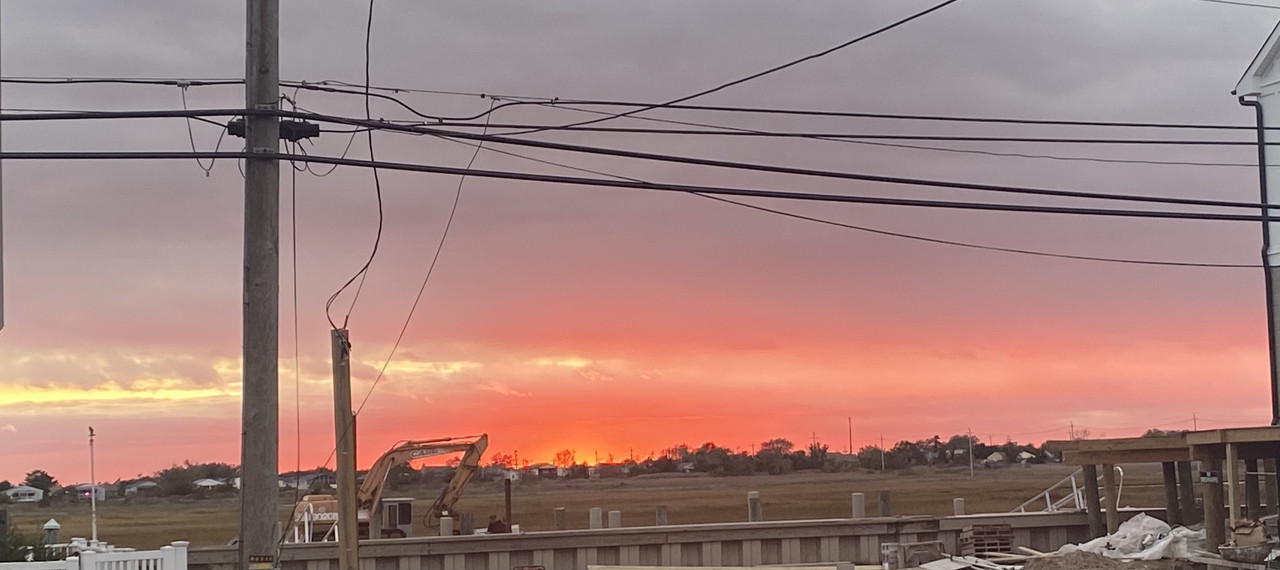 7 replies, 895 views
Replies to this discussion thread
| | | | |
| --- | --- | --- | --- |
| 7 replies | Author | Time | Post |
| Some perspective... (Original post) | PCIntern | Oct 2022 | OP |
| | CaliforniaPeggy | Oct 2022 | #1 |
| | PCIntern | Oct 2022 | #2 |
| | CaliforniaPeggy | Oct 2022 | #3 |
| | SheilaAnn | Oct 2022 | #4 |
| | wendyb-NC | Oct 2022 | #5 |
| | S/V Loner | Oct 2022 | #6 |
| | PCIntern | Oct 2022 | #7 |
---
Response to PCIntern (Original post)
Sat Oct 1, 2022, 10:26 AM
CaliforniaPeggy (145,017 posts)
1. You are wise beyond your years, my dear PCIntern.
This is an excellent, well-written post. I am truly glad I read every word.
And of course, you are correct.
Thank you!
---
Response to CaliforniaPeggy (Reply #1)
Sat Oct 1, 2022, 10:29 AM
PCIntern (23,594 posts)
2. Always a pleasure to hear from you,
My long-time friend here…
Thank you for your thoughts…
---
Response to PCIntern (Reply #2)
Sat Oct 1, 2022, 10:31 AM
CaliforniaPeggy (145,017 posts)
3. And I thank you for yours!
---
Response to PCIntern (Original post)
Sat Oct 1, 2022, 10:48 AM
SheilaAnn (8,933 posts)
4. I lived in Absecon for my youthful years and know exactly where you are. Good luck to you and yours
---
Response to PCIntern (Original post)
Sat Oct 1, 2022, 10:48 AM
wendyb-NC (2,617 posts)
5. Very informative post
Thank you, for it. Climate Change is definitely real. It's progressing, before our eyes.
---
Response to PCIntern (Original post)
Sat Oct 1, 2022, 11:28 AM
S/V Loner (8,934 posts)
6. I hear you... I sold a waterfront in...
Avalon in 2017 and climate change was one of the factors. My home was, what was considered, high ground though high ground there is only a matter of inches. The only damage we had from Sandy was our floating dock. We lucked out but I thought the time was right to sell the house while the market was good rather than wait for a catastrophe. I had lived on that property since 1963 though the original bungalow was long gone and replaced with duplexes which have now been replaced by the new owner.
Funny, I don't miss it and maybe it is because the make-up of the town itself had changed dramatically from what it was years ago.
---
Response to S/V Loner (Reply #6)
Sat Oct 1, 2022, 12:28 PM
PCIntern (23,594 posts)
7. Gotcha and you're quite right about the populace