Sat Nov 3, 2012, 11:19 PM
1monster (11,012 posts)
Inflatable Plugs Might Have Minimized New York City Subway Flooding
http://www.huffingtonpost.com/2012/11/03/hurricane-sandy-subway-plug_n_2067524.html?icid=maing-grid10%7Chtmlws-main-bb%7Cdl2%7Csec1_lnk2%26pLid%3D229696
(video demonstration at link)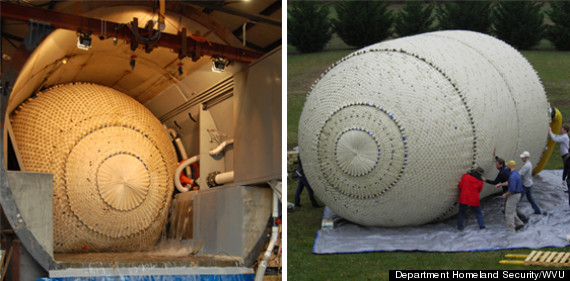 ?4
an ounce of prevention is worth a pound of cure, a new technology developed by the Department of Homeland Security might have been worth its weight in gold during Hurricane Sandy.
That technology is a gigantic inflatable plug that might have prevented the massive flooding of New York City's subway system caused by the storm. In simulations, the plugs--originally developed to combat terrorist attacks and now being evaluated at West Virginia University--have proven to be effective at limiting flooding in tunnels.
Developed as part of the "Resilient Tunnel Project," the plugs are actually enormous balloon-like capsules, according to a department press release. When filled with air or 35,000 gallons of water, the plugs measure 32 feet by 16 feet. Unfilled, they take up little space and can be stashed throughout tunnels, waiting to be inflated remotely at a moment's notice.
They're tough, too. The plug's engineering uses the same design and manufacturing processes as space suits and inflatable space habitats.
more at link
7 replies, 1397 views
Replies to this discussion thread
| | | | |
| --- | --- | --- | --- |
| 7 replies | Author | Time | Post |
| Inflatable Plugs Might Have Minimized New York City Subway Flooding (Original post) | 1monster | Nov 2012 | OP |
| | MADem | Nov 2012 | #1 |
| | hollysmom | Nov 2012 | #2 |
| | alcibiades_mystery | Nov 2012 | #3 |
| | Science Geek | Nov 2012 | #6 |
| | EC | Nov 2012 | #4 |
| | The Roux Comes First | Nov 2012 | #5 |
| | markpkessinger | Nov 2012 | #7 |
---
Response to 1monster (Original post)
Sat Nov 3, 2012, 11:20 PM
MADem (135,421 posts)
1. What a great idea!
I will bet there will be plenty of adolescent jokes about them if they are ever deployed, but what a GREAT idea nonetheless!!!!
---
Response to 1monster (Original post)
Sat Nov 3, 2012, 11:34 PM
hollysmom (5,946 posts)
2. I don't think it works for the subway
They tried it in the tunnels, but I think the air vents got flooded there as well.


The subways are very open, it is not only the track tunnels or the stairs, there are grates every where and air vents. It is very open to the street level, and water always finds the lowest point. It needs to be rethunk as a whole and all the variables taken into account.

One thing I had read last month (should have triggered something in my mind. ) On the beach where I vacation, the island is not falling to rising water so much as sinking because of all the buildings on it. They said all the weight is causing the sand underneath to move out very slowly.
---
Response to hollysmom (Reply #2)
Sat Nov 3, 2012, 11:38 PM
alcibiades_mystery (36,437 posts)
3. I spent a lot of time walking the NYC subway tunnels in my youth
(I was, well, being bad)

You're absolutely right. It's a complex system. You can't prevent it from flooding with tunnel plugs. Most of it isn't even one-tube tunnels of this kind.

Not feasible.
---
Response to alcibiades_mystery (Reply #3)
Sun Nov 4, 2012, 03:00 AM
Science Geek (161 posts)
6. Flood resistance is something that would have to be...
...designed into the system at the very start and incorporated at every step of construction at all times.

You could build a flood-proof subway system, it would be more expensive, but it's hard to say if it would save money or not in the long run. I bet there will be studies done.

These tunnels have square and rectangular sections, air vents, elevators, escalators, staircases, street grates, manholes, you name it...
---
Response to 1monster (Original post)
Sun Nov 4, 2012, 12:00 AM
EC (12,287 posts)
4. Yes...
I was wondering why they didn't have anything to seal the entrances and some other areas to protect against terrorism, like poison bombs or even just to seal off explosions. They had Homeland Security money and I would have thought they would have done this. The British have the ability to seal areas off.
---
Response to 1monster (Original post)
Sun Nov 4, 2012, 12:22 AM
The Roux Comes First (305 posts)
5. Not a Complete Solution, but Definitely Interesting
Doubtless there are plenty of other passageways, utilidors and the like connected with the subway system, and plugs like this would likely at best only be capable of semi-closing off the main tunnels. But even that could be very helpful. Wide open tunnels are basically a potential conduit capable of allowing flooding water to flow far more easily than via the other primary transport pathways. So blockages like this could at least in theory be capable of greatly reducing the chance for floodwaters to be carried with little resistance throughout the area served by the tunnels.
---
Response to 1monster (Original post)
Sun Nov 4, 2012, 03:18 AM
markpkessinger (7,227 posts)
7. This might work in some parts of the subway system...
... but not in most. First of all, most subway tunnels are not round tunnels with a single track running through. MOst have three or four tracks, separated by steel support columns. I seriously doubt this would work.