Sat May 21, 2022, 12:01 PM
packman (15,612 posts)
Pro-Trump counties continue to suffer far higher COVID death tolls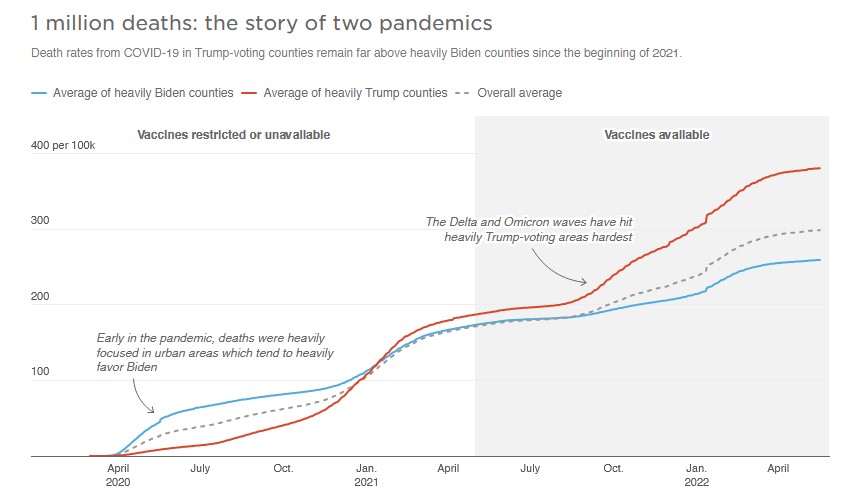 E
ven with widely available vaccines and newly effective treatments, residents of counties that went heavily for Donald Trump in the last presidential election are more than twice as likely to die from COVID-19 than those that live in areas that went for President Biden.
That's according to a newly-updated analysis from NPR, examining how partisanship and misinformation are shaping the pandemic.
PR examined COVID deaths per 100,000 people in roughly 3,000 counties across the U.S. from May 2021, the point at which most Americans could find a vaccine if they wanted one. Those living in counties that voted 60% or higher for Trump in November 2020 had 2.26 times the death rate of those that went by the same margin for Biden. Counties with a higher share of Trump votes had even higher mortality rates.
The scale of the preventable loss of life is staggering. According to a recent analysis by Brown University, nearly 320,000 lives nationwide could have been saved if more people had chosen to get vaccinated. The Brown analysis also shows a partisan split in how those preventable deaths are distributed.
States that went most heavily for Trump – including Wyoming and West Virginia – have among the highest rates of preventable deaths, while states that voted heavily for Biden – such as Massachusetts and Vermont – had among the lowest.
https://www.npr.org/2022/05/19/1098543849/pro-trump-counties-continue-to-suffer-far-higher-covid-death-tolls
4 replies, 490 views
Replies to this discussion thread
| | | | |
| --- | --- | --- | --- |
| 4 replies | Author | Time | Post |
| Pro-Trump counties continue to suffer far higher COVID death tolls (Original post) | packman | May 2022 | OP |
| | Bettie | May 2022 | #1 |
| | Best_man23 | May 2022 | #2 |
| | TheBlackAdder | May 2022 | #3 |
| | keep_left | May 2022 | #4 |
---
Response to packman (Original post)
Sat May 21, 2022, 12:02 PM
Bettie (13,928 posts)
1. Couldn't happen to a better group of ...as-um, people
I have zero patience left for them. Make your choices, take the consequences, isn't that what they are always talking about?
---
Response to packman (Original post)
Sat May 21, 2022, 12:32 PM
Best_man23 (4,333 posts)
2. Many of the unvaccinated in TFG Country are anxious to meet Jeebus, so
COVID is quietly arranging those meetings.
---
Response to Best_man23 (Reply #2)
Sat May 21, 2022, 12:58 PM
TheBlackAdder (24,561 posts)
3. But does Jesus want to meet them? Their eulogies will claim God or Jesus called them up to Heaven...
.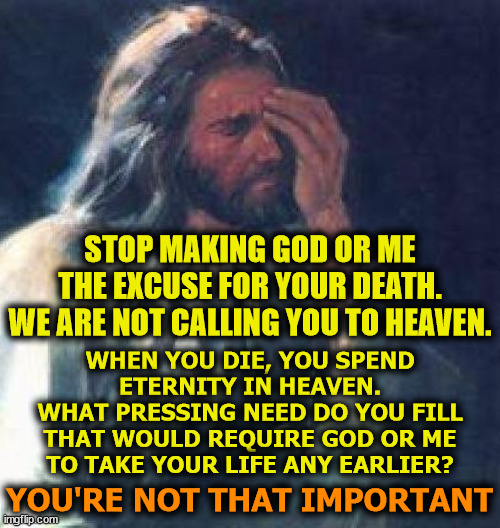 .
---
Response to packman (Original post)
Sat May 21, 2022, 01:01 PM
keep_left (858 posts)
4. They have completely siloed information systems. ONAN...er...OANN, NewsMax,...
...WorldNetDaily, and now even more insane "news" sources like LindellTV--Fox News is considered liberal. There's no way through to these people short of a cult deprogramming. LindellTV now has a daily show with the execrable Emerald Robinson, who got fired from NewsMax for being too extreme in her antivax activism--which is really saying something.