Fri May 13, 2022, 12:43 AM
Celerity (29,070 posts)
The Tuned-Out Generation
With politics becoming nonstop culture war aggression against citizens, more and more Americans are tuning out.
https://theliberalpatriot.substack.com/p/the-tuned-out-generation
A foul wind blows across the political landscape. You won't read much about it in the pages of America's newspapers or see many segments about it on 24-hour cable news or scroll through much about it on amped-up social media feeds. That's because the most important if unrecognized trend in American life today is the widespread tuning out of politics by huge numbers of Americans who—with good reason—are disappointed, fed up, or just plain uninterested with what passes for democratic discourse today. A Knight Foundation
study
released earlier this year shows that only one third of Americans report paying a great deal of attention to national news, with just one fifth of Americans paying close attention to local news and a scant 1 in 10 keeping up with international events. These are the lowest reported figures of engagement with national news in four years.
As seen below, younger people ages 18-34 report the lowest levels of interest in national news, including less than one fifth of young Independents, around one quarter of young Democrats, and about 3 in 10 young Republicans. But disaffection and disinterest crosses generational lines. Older people, those ages 55+, traditionally hold greater interest in national news and current events. Yet even among this group, less than half of older Americans of any party persuasion say they pay a great deal of attention to national news.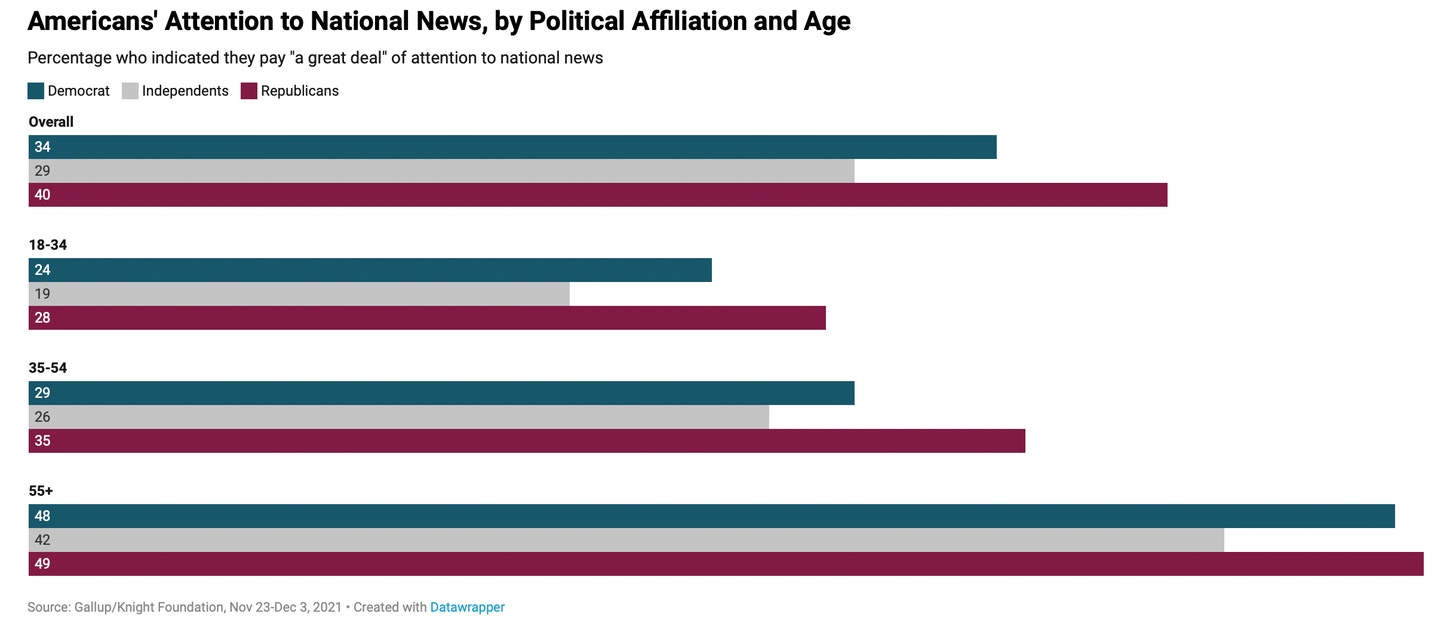 Looking in more depth at the overall landscape of citizen interest in politics at the start of the year, an NBC News poll
reported
striking displeasure and negativity among Americans about the country and its politics:
Overwhelming majorities of Americans believe the country is headed in the wrong direction, that their household income is falling behind the cost of living, that political polarization will only continue and that there's a real threat to democracy and majority rule. What's more, the nation's top politicians and political parties are more unpopular than popular, and interest in the upcoming November midterms is down—not up. And when Americans were asked to describe where they believe America is today, the top answers were "downhill," "divisive," "negative," "struggling," "lost" and "bad."
snip
3 replies, 658 views
Replies to this discussion thread
| | | | |
| --- | --- | --- | --- |
| 3 replies | Author | Time | Post |
| The Tuned-Out Generation (Original post) | Celerity | May 13 | OP |
| | Historic NY | May 13 | #1 |
| | Hassler | May 13 | #2 |
| | Hassler | May 13 | #3 |
---
Response to Celerity (Original post)
Fri May 13, 2022, 12:48 AM
Historic NY (35,369 posts)
1. They better wake up soon or the rights they think they have will be gone.
---
Response to Celerity (Original post)
Fri May 13, 2022, 01:03 AM
Hassler (2,335 posts)
2. Apparently, when the going gets tough, Americans go streaming, then shopping
---
Response to Celerity (Original post)
Fri May 13, 2022, 01:04 AM
Hassler (2,335 posts)
3. Apparently, when the going gets tough, Americans go streaming, then go shopping