Wed Oct 24, 2012, 06:26 AM
HiPointDem (20,729 posts)
Recovered History: How Wall Street-Funded Self Help Propaganda Greased the Real Estate Bubble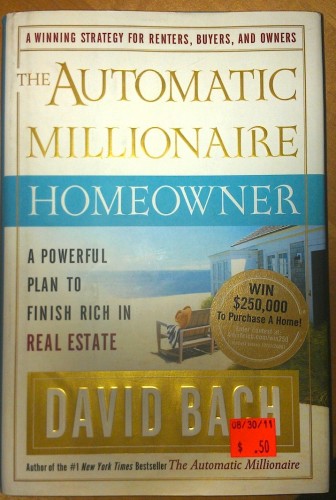 I was passing through the Mojave Desert and by chance stopped by a local thrift store in Joshua Tree. Iím glad I did, because I spotted a book that I just had to own. At $0.50, it was priced to sell. And as you can tell from the title above, the bookís a classic. Itís bound to remain fresh and relevant through the agesónot as a useful guide to homeownership, but as a fossil record of the biggest real estate scam in the history of the United States...
The Automatic Millionaire Homeowner hit the front bookcase displays at Barnes and Noble in March 2006, at the very top of the real estate market and just a few months before the whole thing crashed and burned. Its main message was simple: If you take out a mortgage to buy a home, you will always make money. There is no way you can loseóno matter when you buy, how much you pay or what type of loan you get. And the kicker is: both the book and finance expert who wrote it were bankrolled by Wells Fargo and Bank of America...Crack open the book and turn to the introduction, it begins like this:
What if I told you the smartest investment you would ever make during your lifetime would be a home!

What if I told you that in just an hour or two I could share with you a simple system that would help you become rich through homeownership?

Would you be interested? Would you be willing to spend a few hours with me? Would you like to become an Automatic Millionaire Homeowner?
Just a few months after the book came out, the real estate market went into a death-spiral...The only Automatic Millionaires created by this book were David Bach and the financial oligarchy he served.
See, before David Bach began his bright career as a New York Times bestselling author dedicated to spreading the gospel of homeownership, he was a senior vice president of Morgan Stanley and a partner of The Bach Group, a wealth management outfit started by his father...
Read more at
http://www.nakedcapitalism.com/2012/10/recovered-history-how-wall-street-funded-self-help-propaganda-greased-the-real-estate-bubble.html#i4kTX2oALgoRLMLc.99
The author notes that Bach has a new schtick: still on tv, but now his advice is to debtors, telling them to get multiple jobs & live like monks.
"The day that degenerate shysters like David Bach are afraid to show their faces in public and feel the need to flee across the border is the day that weíll know that we as a country are making progress towards a brighter future."

1 replies, 414 views
Replies to this discussion thread
| | | | |
| --- | --- | --- | --- |
| 1 replies | Author | Time | Post |
| Recovered History: How Wall Street-Funded Self Help Propaganda Greased the Real Estate Bubble (Original post) | HiPointDem | Oct 2012 | OP |
| | Starry Messenger | Oct 2012 | #1 |
---
Response to HiPointDem (Original post)
Wed Oct 24, 2012, 06:01 PM
Starry Messenger (32,230 posts)
1. k&r