Wed Oct 24, 2012, 05:16 AM
HiPointDem (20,729 posts)
C-Span anchors notes Social Security has long-term $22T surplus
When Peter Coy, the Bloomberg Businessweek Economics Editor, appeared this morning on "Washington Journal," he brought along a chart for his discussion of the magazine's cover article, "Why the Debt Crisis is Even Worse Than You Think." But, the chart, purported to show a national fiscal gap, did not match Coy's talking points. As Coy concluded commenting that cuts would be needed to Social Security and other entitlements, C-SPAN moderator Susan Swain pointed out that Coy's chart showed a long-term surplus for Social Security of $22 trillion. Coy confirmed as accurate her interpretation of the chart and, after some stumbling, admitted that, "The trust fund is not the crucial issue." Indeed, his own figures show that it is not an issue at all. So, why did he continue to insist that Social Security cuts are needed?
Following is my transcript of the interview...
SWAIN: Well one thing just to note..as you're saying Social Security is part of the solution.
In this illustration you have here...social security...taxes..is, uh...let's see...one side is revenue and one side is debt. It shows social security in a surplus. Right? In what it receives....132 in versus 110 trillion? Am I reading that correctly? [Coy responds, "Yeah."] So, people might...who argue social security should be set aside...we've paid into, it it's really solvent for right now. Why should that be part of the discussion?

Transcriber's note: The left side of the chart (debt) reads, "Social Security $110 tn." The right side (receipts) reads "Social Security taxes $132 tn."
COY: That's a...That's a good point.
The social security numbers are...the trust fund for Social Security is not the crucial issue. That's why people say that Medicare is where the bigger problem...but, Social Security...um...[is] probably going to have to have a higher...um...retirement age..but, you know...funny thing...I think...I think that's a good point you're making there, and I'm going to go back and look at that more closely
for next week's story.
SWAIN: Well, thank you very much for outlining the concerns of the financial market, which you say right now are more muted than you expected, and for giving us some background on your cover story, "Why the Debt Crisis is Even Worse Than You Think," as Washington continues to find a solution for the current debt ceiling. Peter Coy, joining us for Bloomberg Business Week, thanks for your time.
http://www.dailykos.com/story/2011/07/29/1000366/--22-trillion-Social-Security-surplus-revealed-on-C-SPAN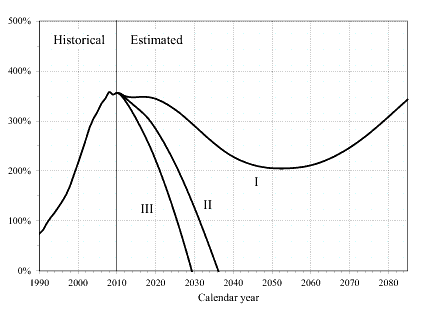 Hi-cost, low-cost, & intermediate cost forecasts for SS finances
FYI, that $22 trillion surplus comes when the trustees extend their forecast into infinity. Yes, not only do they forecast in a ridiculous 75-year window, they also use an even more ridiculous infinity window.
1 replies, 917 views
Replies to this discussion thread
| | | | |
| --- | --- | --- | --- |
| 1 replies | Author | Time | Post |
| C-Span anchors notes Social Security has long-term $22T surplus (Original post) | HiPointDem | Oct 2012 | OP |
| | snacklechunks | Oct 2012 | #1 |
---
Response to HiPointDem (Original post)
Wed Oct 24, 2012, 06:47 AM
snacklechunks (1 post)
1. Assuming the analysis is correct...
it looks like they should lower FICA taxes for workers and employers