Thu Nov 11, 2021, 09:20 AM
left-of-center2012 (31,560 posts)
COVID-19 surging faster in N.M. than in any other state
In a COVID-19 update Wednesday, New Mexico health officials said the state's cases are on the rise and hospitals are filling up, again. According to
The New York Times
, COVID-19 cases are surging faster in New Mexico than in any other state in the country.
At this time, about 73% of New Mexicans 18 and older are fully vaccinated. So why is the state seeing a surge?
According to the New Mexico Department of Health, there are multiple factors contributing to the spike. Officials pointed to reduced compliance with COVID-safe practices. There is a public health order in place requiring masking indoors, but often those requirements are going to the wayside. That – coupled with the Delta variant, which is more contagious – is putting even more stress on local hospitals.
"They are seeing way more patients than they thought possible,
ICU occupancy rates are over 120%
," said Dr. David Scrase, NMDOH acting secretary. "We are struggling to try to make ends meet. I want to try and make sure people understand what this means. I don't know how many people are watching this press conference, but what it means is
if (someone) has a heart attack right now, there's a good chance we won't have an intensive care unit for that person here in New Mexico."
The NMDOH expects those hospitalizations to continue to increase.
In order to combat the surge, they are asking New Mexicans to do more in the way of personal responsibility – getting vaccinated, avoiding large crowds, wearing a mask and getting tested. State health officials plan to renew the public health order requiring masks indoors. They also said the number of breakthrough cases are increasing – another component to this surge.
https://www.kob.com/albuquerque-news/state-health-officials-plan-to-renew-new-mexicos-indoor-mask-mandate/6297309/
"Cases rise sharply in New Mexico despite a relatively strong inoculation rate."
https://www.nytimes.com/2021/11/10/us/covid-new-mexico.html
A billboard bore a warning in Rio Rancho, N.M., near Albuquerque.
Credit Susan Montoya Bryan/Associated Press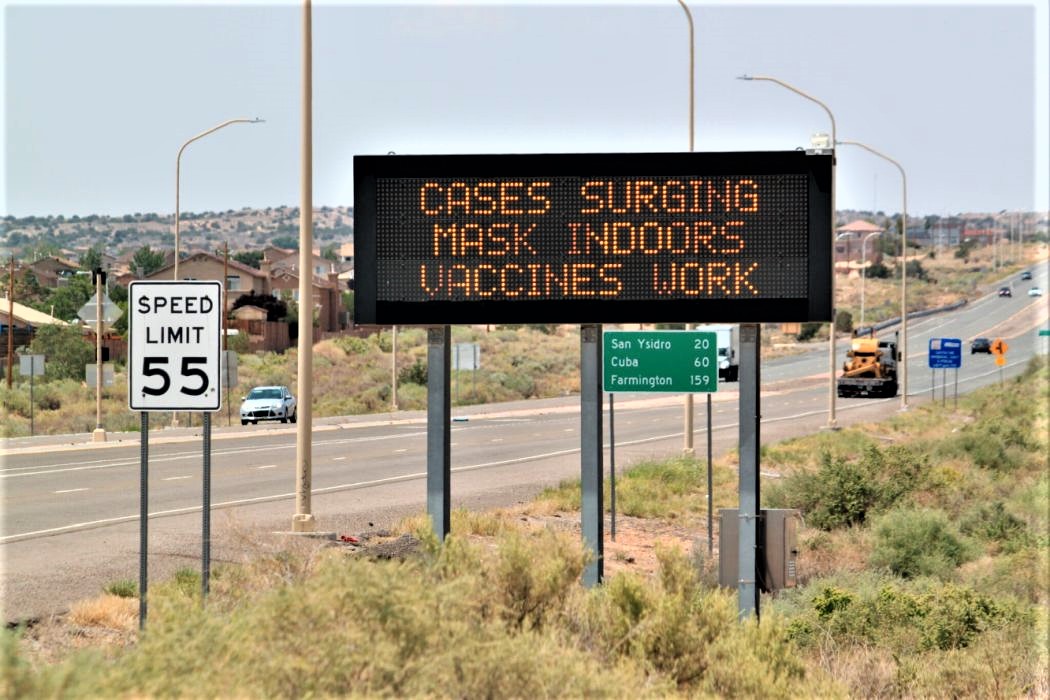 4 replies, 589 views
Replies to this discussion thread
| | | | |
| --- | --- | --- | --- |
| 4 replies | Author | Time | Post |
| COVID-19 surging faster in N.M. than in any other state (Original post) | left-of-center2012 | Nov 11 | OP |
| | JanMichael | Nov 11 | #1 |
| | Raftergirl | Nov 11 | #2 |
| | marked50 | Nov 11 | #3 |
| | left-of-center2012 | Nov 11 | #4 |
---
Response to left-of-center2012 (Original post)
Thu Nov 11, 2021, 09:27 AM
JanMichael (23,251 posts)
1. I wonder when NC will start its next surge? Our vax rate is about 66% fully and 54% one dose.
Maybe because our large urban areas are still requiring masks (although not more than maybe 70% compliance) and our urban school districts require masks in class? Rural areas are a mixed bag with some using public safety measures but most are not.

NC is 40% rural and 60% urban so maybe that mix is keeping us down now?
---
Response to left-of-center2012 (Original post)
Thu Nov 11, 2021, 10:23 AM
Raftergirl (637 posts)
2. People don't seem to get they
still need to wear masks indoors, avoid crowded indoor places, etc. They see numbers going down and they abandon all precautions. Plus, anti vaxxers have never taken any precautions and with Delta being more contagious there will be more cases - especially now with that it is getting colder in most states.

Rinse and repeat.
---
Response to left-of-center2012 (Original post)
Thu Nov 11, 2021, 10:42 AM
marked50 (1,061 posts)
3. The health folks here in NM have posited a theory about this. Unproven at this time.
They say that this may be due to lowering immunity levels from all the early vaccinations. NM was a high vax rate state early on. That means that the 6mo timing for boosters may have come a little late for the early people. I haven't seen any data on booster rates at this time (we had ours a few weeks ago).

I agree with the lowering of mask compliance as a contributor. From my observations in Albuquerque, it has been pretty good. Always the crazy outliers - mask under nose, mask under chin, some no mask, but these were few. This is based on trips to grocery stores, drug stores, home improvement stores, a few restaurants, and big box retails. The outlying east mountain area is a different matter. A high red zone.

We visited the grocery store about a week ago and compliance didn't seem too bad but not as good as in Albuquerque but we visited it again yesterday and I was totally shocked. I would estimate that over 50% were not wearing masks at all, many with poor compliance and even many of the employees were giving masks the chin treatment. It was fairly busy too. Very scary. Almost like overnight things changed. We spent little time there.
---
Response to left-of-center2012 (Original post)
Thu Nov 11, 2021, 10:53 AM
left-of-center2012 (31,560 posts)
4. I live in Albuquerque
I live in an eleven-story 'senior citizen' apartment building.
There are many notices that the state mandates we wear masks when we are out of our apartments and in a public area (hallways, elevator, lobby, etc).

None of the office staff, and none of the building's maintenance crew, wear masks.
80% of the residents don't wear masks.

I asked the maintenance supervisor one day why his crew don't wear the required masks.
His response was:
"The governor can take her mask mandate and shove it up her ass."

I asked the building's manager one day why she and her staff don't wear masks.
Her response:
"Oh, I'll have to remind everyone."

They still don't wear masks.