Wed Oct 13, 2021, 01:18 PM
Celerity (22,454 posts)
Smug Liberals Empower The Far Right? Fuck You
There is no liberal plot to kill Republicans. There is a Republican plot to kill Republicans; a cruel and inhuman sacrifice to regain power.
https://thebanter.substack.com/p/smug-liberals-empower-the-far-right
The liberal plot to kill Republicans
Last week on
The Banter Roundtable
(
go listen to it now!
) Ben, Bob, and I discussed how the press has an incredibly irritating habit of laying all of the blame for the current wave of Covid deaths at the feet of Democrats. Or the left in general, really. While we are living through a pandemic of the unvaccinated, somehow, the unvaccinated have been stripped of all agency. They can be assigned no responsibility for their actions and lack thereof. Instead, they are the victims of, and I kid you not, liberal smugness. Therefore, all of the death and suffering is my fault. And yours. And, naturally, Joe Biden's. Since I am not allowed to write a page full of colourful and extremely vivid profanity to share my feelings about this narrative, I will do the next best thing: Explain what is behind this bullshit and what you can do about it. The spectrum of "blame the left" is pretty wide. It starts from liberals are smug so the right has no choice but to commit suicide by the thousands to a deliberate plot by the left to trick the right into committing suicide by the thousands. Do not be confused, though. It is all the same argument. Consider the really insane version: Liberals are tricking the right into killing themselves in droves. This idiocy flows from the open sewer pit that is
Breitbart
so expect it to be a mainstream Republican talking point in the near future. I am not going to link to the article any more than I would hose you down with toxic sludge, but I will give you a tiny peek inside the mind of a deranged monster:
"The left's morality is guided only by that which furthers their fascist agenda." Please repeat after me: Every Republican accusation is a confession. There are vanishingly few times this is not true. Putting that massive amount of projection aside, notice how MAGAs are the victims? There is not a single mention throughout the entire
Breitbart
screed of Republicans and their ongoing efforts to stifle vaccinations. They are simply erased from the equation. All of the fault lies with the "organized left". That was the hysterical conspiracy lunacy version from the far right. The "rational" version of, quite literally, this same narrative is even worse. Instead of histrionics, Simon Copland at
The Atlantic
casually absolves the right of any role in the spread of Covid and vaccine disinformation. It's not even really the fault of the far-right for taking advantage of the situation because if the left hadn't been such assholes, the far-right would have been impotent. No, seriously,
this is a real argument being made
:

Copland is writing about Australia but he is doing exactly the same thing for his country that is being done here in America: Skipping over the entire opening act of this unfolding nightmare. Why are there protests in the first place? Why is Australia, like America,
having so much trouble
getting a significant holdout chunk of its population vaccinated? The answer, to the surprise of no one, is Rupert Murdoch's right wing media empire. Both spreading misinformation and egging on violence, Murdoch's
Sky News
(Australia's version of
Fox
) has been more than happy to feed the fascists new recruits
according to
The Daily Beast
: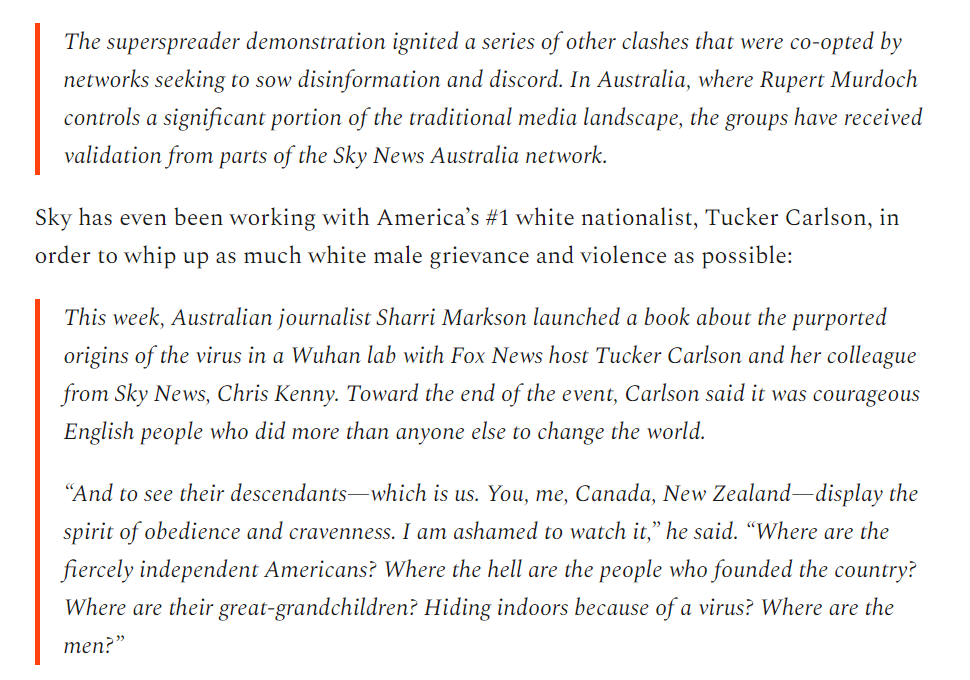 You see, you are not a real man if you take steps to stop the spread of a deadly virus that has killed millions. What are you? Some kind of sissy boy liberal?! We expect rags like
Breitbart
to engage in whitewashing because
Breitbart
is pure propaganda for white nationalists.
The Atlantic
, on the other hand, is supposed to be a serious publication. Yet, the only significant difference between the two articles other than tone is that
Breitbart
assumes a level of diabolical intent that
The Atlantic
does not. The mainstream media landscape has not been much better in regards to the right's anti-vaxxer madness. For months, the press has been either
praising
Florida governor Ron DeSantis for "beating Covid", or they've been
erasing
his ongoing efforts to kill as many Floridians as humanly possible. But it gets worse. The blame for the red state Covid surge lies almost entirely with President Joe Biden. Eric Boehlert's
Press Run
has been all over this
: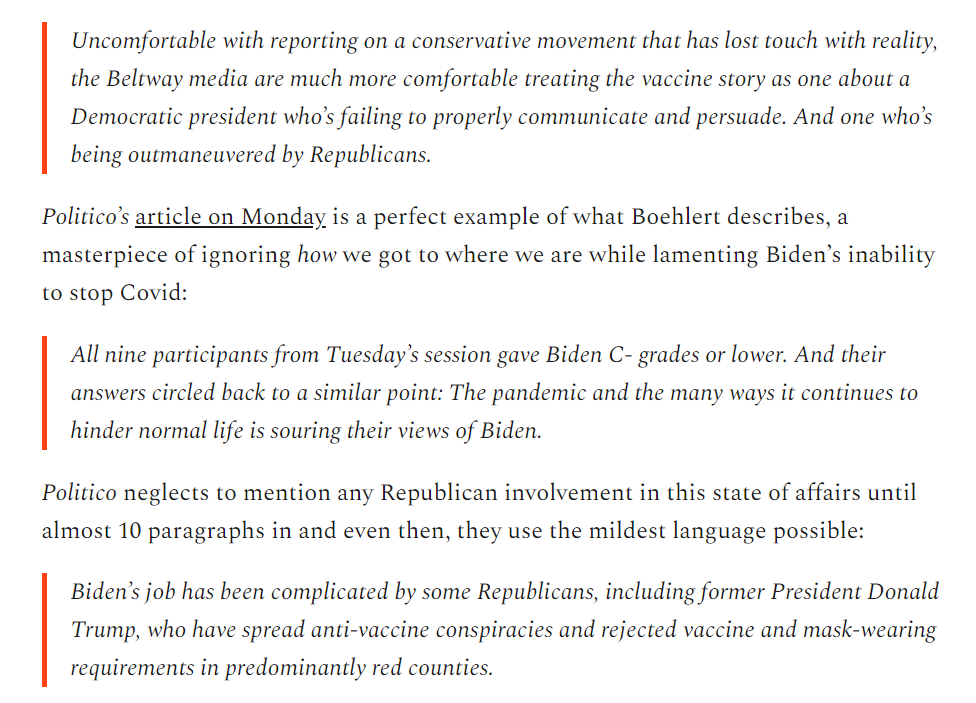 snip
more at the link
6 replies, 541 views
Replies to this discussion thread
| | | | |
| --- | --- | --- | --- |
| 6 replies | Author | Time | Post |
| Smug Liberals Empower The Far Right? Fuck You (Original post) | Celerity | Wednesday | OP |
| | JHB | Wednesday | #1 |
| | gratuitous | Wednesday | #2 |
| | underpants | Wednesday | #4 |
| | Midnight Writer | Wednesday | #3 |
| | Caliman73 | Wednesday | #5 |
| | Buckeye_Democrat | Wednesday | #6 |
---
Response to Celerity (Original post)
Wed Oct 13, 2021, 01:26 PM
JHB (34,158 posts)
1. We probably could, because they've proven that they'll swallow...
...any amount of horseshit (and -paste) like it's chocolate and demand seconds.

But heaven forfend them simply not doing batshit crazy stuff.
---
Response to Celerity (Original post)
Wed Oct 13, 2021, 01:27 PM
gratuitous (75,560 posts)
2. Sounds like these rugged individualists are confessing to just how easy it is to manipulate them
We don't even have to do anything, they'll self-destruct all by themselves.

Real life representation of these dimwits:


---
Response to gratuitous (Reply #2)
Wed Oct 13, 2021, 01:53 PM
underpants (165,411 posts)
4. Oh yeah. Libs looking down there noses at real people
How do you expect him to get his bricks dry? Oooh wind? Solar?
---
Response to Celerity (Original post)
Wed Oct 13, 2021, 01:42 PM
Midnight Writer (13,503 posts)
3. I have no desire to hurt Republicans.
However, I have run out of give-a-shit if they insist on killing themselves.
---
Response to Celerity (Original post)
Wed Oct 13, 2021, 01:55 PM
Caliman73 (8,595 posts)
5. Exactly.
I do think that there are ways that Democrats can get better at messaging, but not at all in the way that a lot of critics are using that talking point.

Conservatives simply lie. Their goal is to arouse their followers emotionally. The mainstream media, driven by profit as much as by providing information in an accurate, honest, and ethical manner, help spread the right wing message by not simply squashing right wing talking points.
---
Response to Celerity (Original post)
Wed Oct 13, 2021, 02:00 PM
Buckeye_Democrat (13,102 posts)
6. "It's your fault because they HATE you!"
"So when you encourage vaccinations, of course they won't do it... because they HATE you! Shame on you!"
Most Republicans see Democrats not as political opponents but as enemies
https://www.washingtonpost.com/politics/2021/02/10/most-republicans-see-democrats-not-political-opponents-enemies/
... Most Democrats say that they tend to view Republicans as political opponents. Most Republicans say that they tend to view Democrats as enemies.
... The gap between the two parties on this question is stark. There's a 32-point difference on net between how Democrats view Republicans and vice versa, on a question positing that members of a political party might be viewed with overt hostility. It's grim — and it is consistent with increasingly hostile partisan views over time.
Edit: Breitbart's accusation of fascism against liberals is yet another example of the right-wing trying to justify fascism among themselves.